All dressed up and ready to party! Your favorite Chocolate chip cookie topped with holiday sprinkles for an easy treat at any holiday occasion.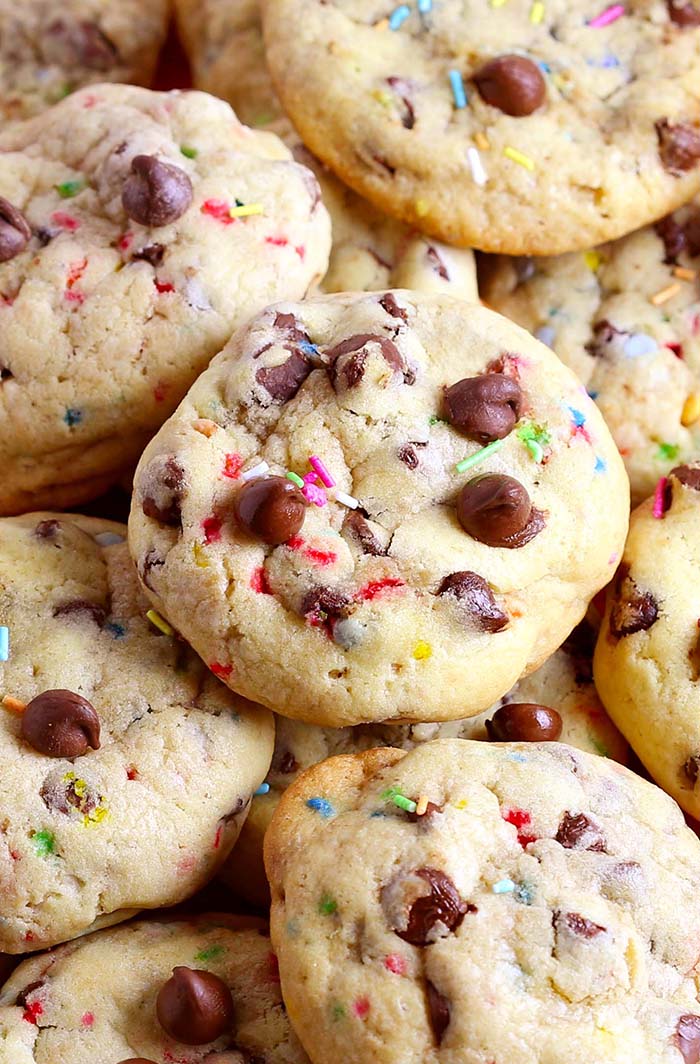 Let's celebrate….Christmas is approaching.
Men in red suits roam the streets, and bargain hunters crowd the stores. Yard displays and flickering Christmas lights brighten the night. Evergreens,striped mint candy and sugar cookies are suddenly in high demand. I know what you're thinking. "No way, another cookie recipe?"( A quick reminder for you, if you love cookies, don't forget to check out my, Italian Christmas Cookies, Hershey's Secret Kisses Cookies, Peppermint Meltaway Cookies and Christmas Sugar Cookies too ).
Well, to tell you the truth, When it comes to cookies, in all this pre-Christmas excitement I kind of lost track myself. Thats right, and I'm sure you'll hear a lot of excuses, but this Christmas Chocolate Chip Cookies are the Best lol.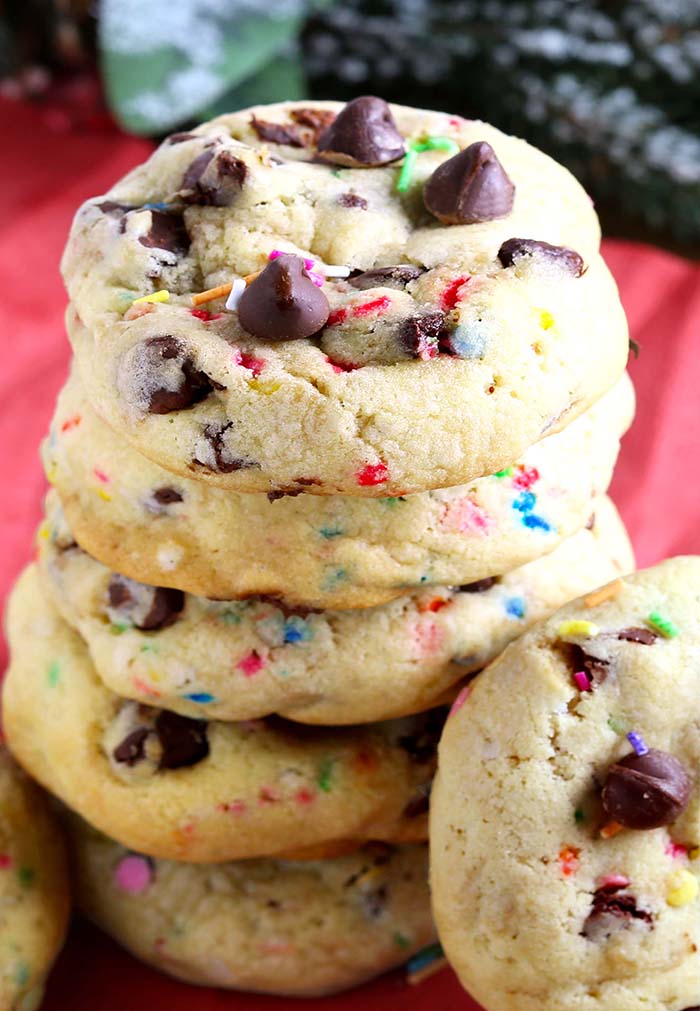 Let's celebrate…
Because Christmas is approaching….
If 22 days till Christmas isn't reason enough for you, let's bake & celebrate wonderful Christmas Chocolate Chip Cookies. Now.
Celebrate good times. C'mon…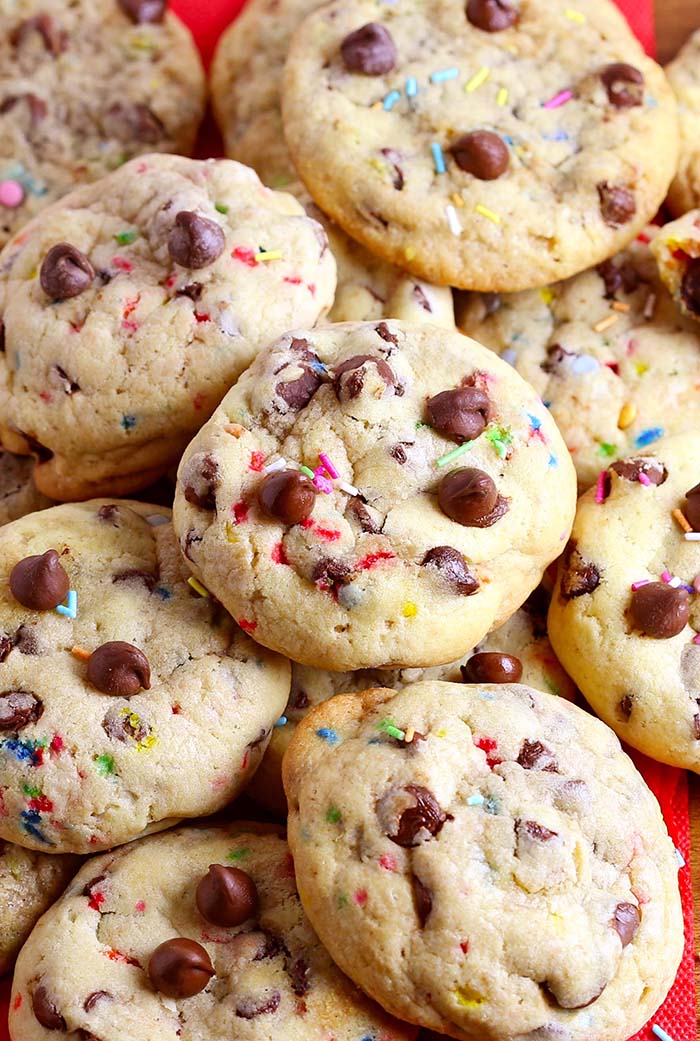 Christmas Chocolate Chip Cookies
All dressed up and ready to party! Your favorite Chocolate chip cookie topped with holiday sprinkles for an easy treat at any holiday occasion.
Ingredients
2¼ - 2½ cups all-purpose flour (for a thicker cookie use 2½)
1 cup (2 sticks) butter, softened
¾ cup granulated sugar
¾ cup packed brown sugar
1 teaspoon baking soda
½ tsp salt
1½ teaspoons vanilla extract
2 large eggs, at room temperature
1 cup semi-sweet chocolate chips, (reserve some to lightly press into the tops of cookies before/after baking so they show through more, this is totally optional)
½ cup christmas sprinkles
Instructions
Combine flour, baking soda and salt in small bowl.
Beat butter and both sugars in large mixer bowl until creamy. Add eggs, one at a time, beating well after each addition. Scrape down the sides and bottom of the bowl as needed. Add the vanilla and beat on high until combined.
Gradually beat in flour mixture, and mix until crumbles form.
Add the chocolate chips and sprinkles, and incorporate with your hands.
Use your hands to press the crumbles together into a dough.
It should form one large ball (right at the stage between "wet" dough and "dry" dough).
Cover tightly with plastic wrap and refrigerate dough for at least 2 hours.
Preheat oven to 350°F. Line cookie sheets with parchment paper.
Scoop dough out 1 - 1 . 5 Tbsp at a time and shape into a ball, transfer to baking sheets.
Press a few chocolate chips and sprinkles into the tops of the cookie dough balls, if desired.
Bake for 9-11 minutes until the cookies look puffy and dry and just barely golden.
DO NOT OVERBAKE. They should look like they're not done yet.
At this point You can also press a few more chips into the tops of the cookies, if desired.
After cooling off they will sink down and turn into these dense, buttery, soft cookies.
Store in an airtight container.