Quick, Easy & No bake Blueberry Delight Dessert! A great dessert to take to a potluck, family reunion, and any other occasion. It always gets rave reviews.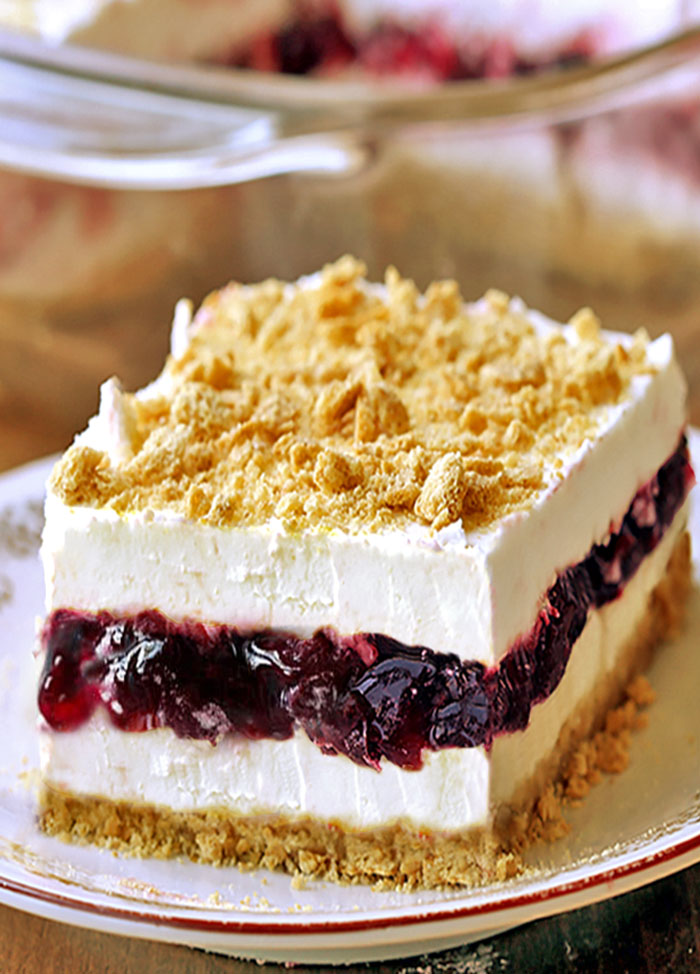 Who doesn't love a deliciously creamy layered no-bake dessert?
I love a layered dessert in the summer time.
Wait, who am I kidding? I love a layered dessert anytime!
Based on the huge success of my Oreo Delight Dessert and my No Bake Summer Berry Icebox Cake, I'm bringing you a fun new layered dessert called Blueberry Delight Dessert.
HOW TO MAKE BLUEBERRY DELIGHT
Layered desserts in general are very easy to make, it is made up of four layers: graham cracker crust, a cream cheese and cool whip mix, blueberry pie filling, and cool whip. You don't even need to warm up that oven to bake up the graham cracker crust.
Make a No-Bake Crust
This delicious buttery crust is super easy:
Place graham crackers in a blender or food processor to make crumbs. Alternatively, you can make crumbs by placing them in a plastic bag and use a rolling pin to smash them into crumbs. Mix with softened butter and sugar (per recipe below). Press the mixture into a plate and refrigerate to solidify.
Can You (or Should You) Bake Crust?
This is a totally optional step. There's really no compelling need to pre -bake Graham cracker crust since the crackers are already baked. However, if your filling needs baking, then naturally the crust will need to go in the oven too. Many cream and layered desserts don't require baking at all, so why not make it easy on yourself?
Some people like the way prebaking makes a crispier crust with more developed flavor, so it's up to you. If you decide to bake it, place it in a 350°F oven for 8-9 minutes, being careful not to over-brown it.
How to make blueberry pie filling
It's so easy to make this homemade blueberry pie filling. It's made completely from scratch, and it's one of the most simple things you could ever make. I love to use fresh blueberries when they're in season, but when they're not, frozen berries work just as well. You don't even need to thaw them first!
Toss the berries together in a large bowl with sugar, cornstarch, water, and lemon juice. Just place the mixture in a pot and simmer it over medium heat until the berries start to burst and it looks syrup-y. Once it comes to a bubble, it will thicken up, and it will continue to become even more thick as it cools.
Should I Use Fresh or Frozen Blueberries?
I used frozen blueberries because they're cheaper, readily available year-round,  and went straight from freezer to mixing bowl. If you have fresh, they'd be lovely too.
It's highly recommended to make this dessert a day ahead of time and refrigerate it overnight. This will allow it to thicken and makes it easier to cut into slices.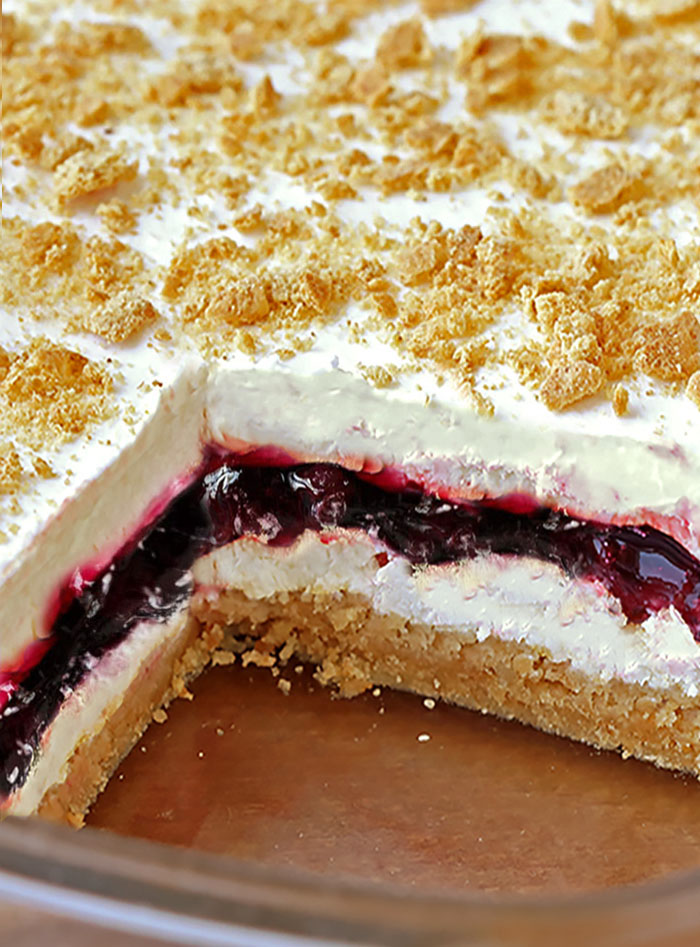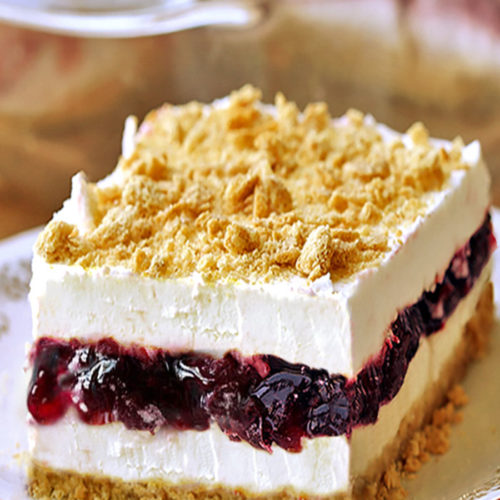 Blueberry Delight Dessert
Quick, Easy & No bake Blueberry Delight Dessert! A great dessert to take to a potluck, family reunion, and any other occasion. It always gets rave reviews. 
Ingredients
2 1/2

cups

graham cracker crumbs

divided

1

stick

butter

melted

1/4

cup

granulated sugar

8

oz

cream cheese

softened

1

cup

powdered sugar

16

oz

frozen whipped topping

thawed
for the blueberry layer ( homemade blueberry filling)
1/3

cup

water

1/3

cup

sugar

3

tbsp

cornstarch

2

tbsp

lemon juice

3

cups

fresh or frozen blueberries
for the blueberry layer ( canned blueberry filling)
21

oz

blueberry pie filling can
Instructions
In a medium bowl, combine 2 cups of graham cracker crumbs, sugar and melted butter. Firmly press into a crust in the bottom of 9 x 13 glass or porcelain dish, let it chill in the freezer for about 10-15 minutes to firm up.

Meanwhile, if making the blueberry filling, In a saucepan whisk water, sugar, cornstarch, and lemon juice until the cornstarch is dissolved, then add the berries and bring to a simmer over medium to medium-high heat.

With a potato masher (or the back of a spoon) mash the berries to your desired consistency.

Allow the mashed berry mixture to simmer for another minute (so that it simmers for a total of 2-3 minutes), until it is glossy and thickened, then remove from heat and allow to cool.

Combine the cream cheese, powdered sugar and 1/2 of the whipped topping. Spread onto the cooled graham cracker crust. Carefully, spread the blueberry pie filling (homemade or canned) on top of the cream cheese mixture.

Top with remaining whipped topping. Refrigerate for at least 2 hours, preferably overnight. Sprinkle with reserved graham cracker crumbs (you may not use it all), before serving.