All the Best Fall Flavors in One Perfect Bite! Pumpkin and Cream Cheese combine with White Chocolate, Graham Crackers, and Gingersnaps for the Ultimate Fall dessert.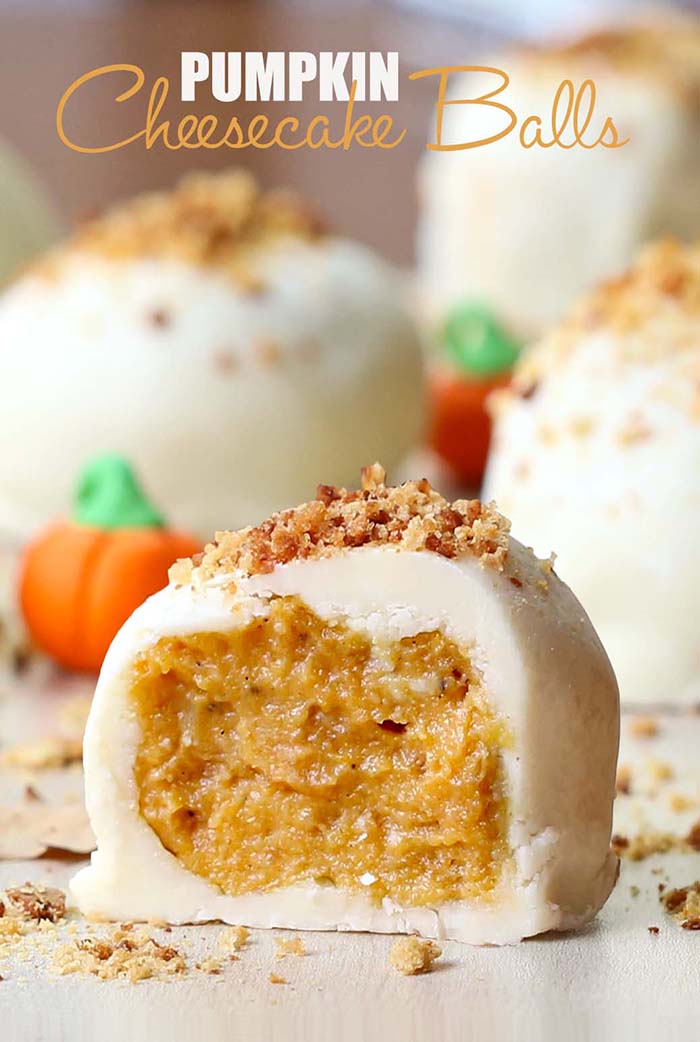 I can't believe it's September.
Two seconds ago I was saying my goodbyes to spring and now we're in the thick of fall. Summer seriously flew by way to fast, and that is killing me because it is my favorite time of year. Don't get me wrong, I adore fall time almost as much and everything that comes with it. Something about the words "apple crisp" and "pumpkin spice" just makes me feel all cozy inside. I immediately think about colorful fall leaves, comfy sweaters, and crisp autumn air.
Yep, I love it.
I love making anything pumpkin too.
And I love making anything cheesecake.
And it's pretty clear by now how obsessed I am with No Bake treats.
So save the springform pan for another day. These pumpkin cheesecake balls are no-bake.
( A quick reminder for you, if you love cheesecake or no bake desserts, don't forget to check out my Gingersnap Pumpkin Cheesecake,  Caramel Apple Crisp Cheesecake, No Bake Summer Berry Icebox Cake too )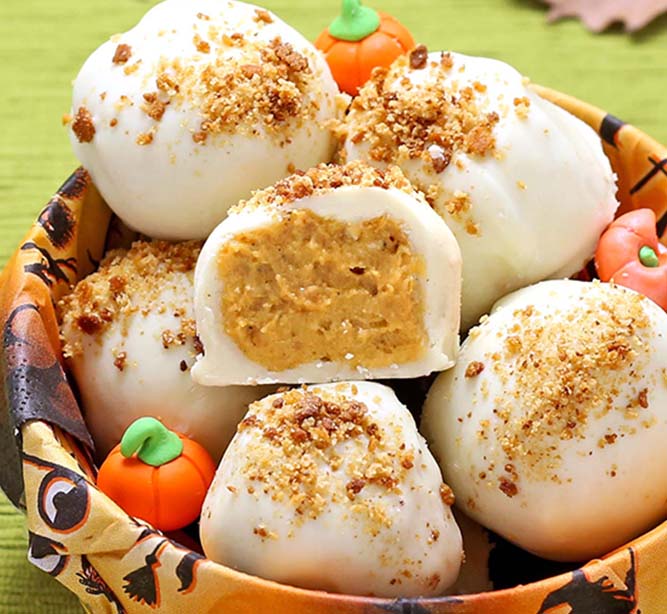 They are so easy and taste amazing. I had a hard time getting a picture of these because my family members kept trying to steal them. Bring these Pumpkin Cheesecake Balls to a party and you'll be a hero forever!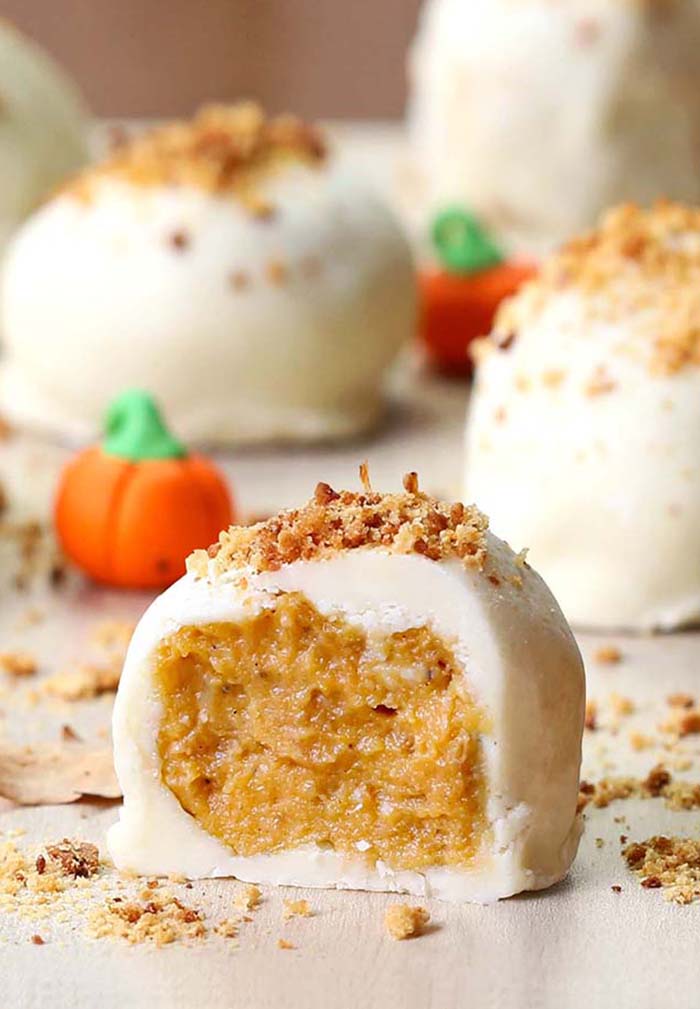 Pumpkin Cheesecake Balls
These pumpkin cheesecake balls are no-bake. They are so easy and taste amazing. Bring them to a party and you'll be a hero forever!
Ingredients
2 ounces cream cheese, softened
1 tablespoon confectioners' sugar
2½ cup white chocolate, coarsely chopped, divided
¼ cup pumpkin puree
⅔ cup gingersnap cookie crumbs, plus more for garnish
¼ cup graham cracker crumbs, plus more for garnish
1 teaspoon pumpkin pie spice
pinch of fine sea salt
Instructions
In a large bowl, add cream cheese and confectioners' sugar and beat until creamy.
Melt the ½ cup of the white chocolate in a double boiler over medium-low heat or in the microwave for about 1 minutes.
Stir often to keep the chocolate from burning.
Transfer to a large bowl, add pumpkin and beat until combined.
Add the gingersnap cookie crumbs, graham cracker crumbs, pumpkin pie spice and sea salt.
Beat until everything is combined.
Cover and chill until just solid enough to roll into balls, about 2 hours.
Shape mixture into balls (about 1 teaspoon per ball) by rolling a spoonful in the palm of your hand.
Place onparchment paper-lined baking sheets. Loosely cover and refrigerate for 15-20 minutes or until firm again.
Melt remaining 2 cups white chocolate in small, deep bowl. (Its depth makes it easier for dipping the truffles).
Dip the pumpkin balls into the chocolate and place on parchment paper.
Garnish with reserved gingersnap/graham crumbs before the chocolate sets up.
Let chocolate set, refrigerate and enjoy!
These can also be frozen for longer storage.