Double dipped and deliciously crunchy pork chops, coated in a sticky honey garlic sauce that is out of this world. So good, you'll want to use this sauce on everything!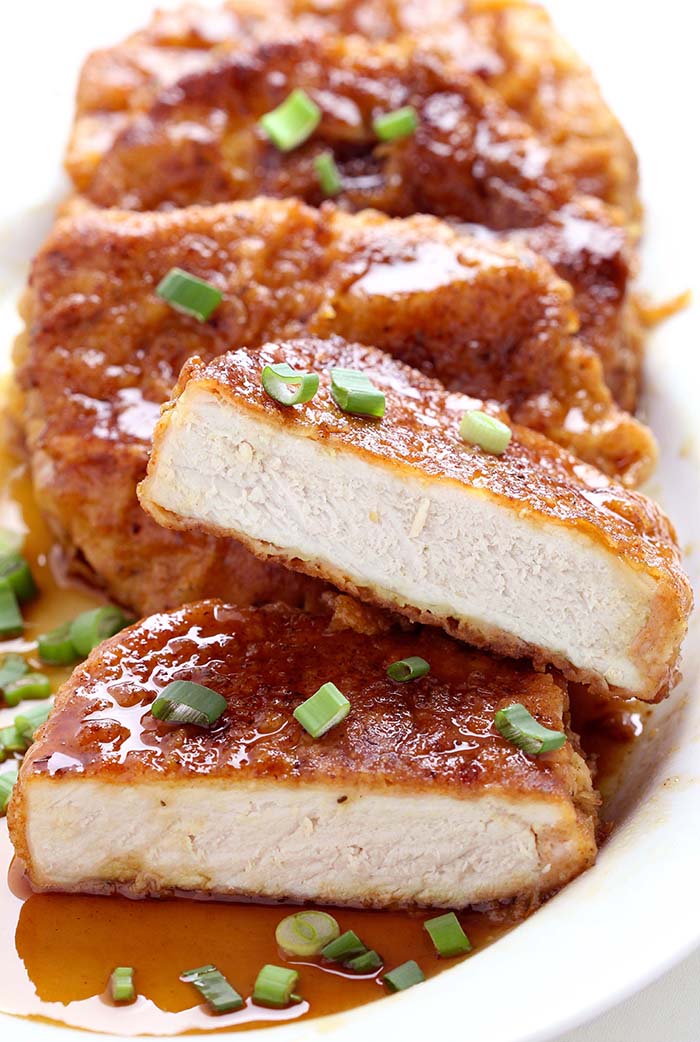 My aunt visited me yesterday for lunch. Yes….She has been my favorite aunt since my teenage years.

She is a kind, honest older woman, plump and funny, she likes to make jokes at her own expense, she has never gotten married, but she has always seemed satisfied with her life.
She would often tease me:
– Dan, you're a handsome boy, smart and interesting, but you're weak. However, you're still young, there's time….Eat more pork so that you remain healthy, strong and even more handsome!
Many years have passed since then, and I've decided to surprise her. I've prepared pork chops for lunch, but in such a way that I will like them, too – with my sweet and salty combination: honey, soy and garlic.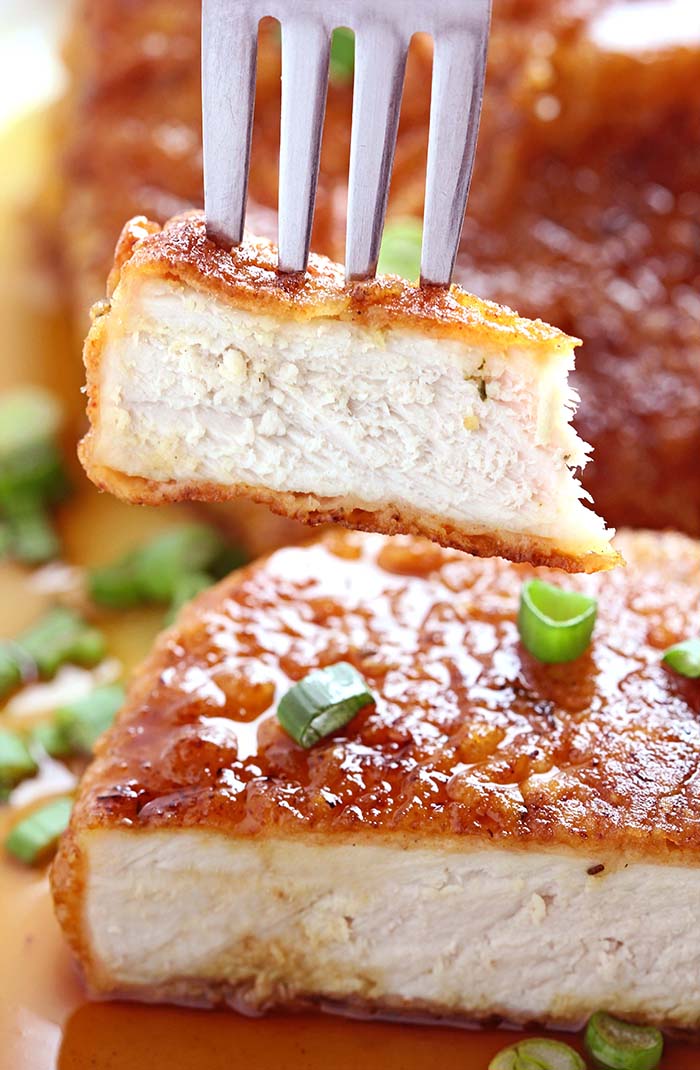 As soon as she appeared on the doorstep, as a great gourmet, she immediately recognized the smell of meal ingredients and said with a huge smile:
– Well, this is going to be a pleasant surprise for me, because it seems to me that you've finally started discovering real things in life!
She liked the lunch so much that she couldn't move from the table. She kept eating and talking at the same time.
While I was watching her eating the meal with gusto, I was under the impression that she was talking to herself, and I could only envy her how she had found a simple way of enjoying life… So simple, yet so important….just like Honey Garlic Pork Chops !!
Honey Garlic Pork Chops
Double dipped and deliciously crunchy pork chops, coated in a sticky honey garlic sauce that is out of this world. So good, you'll want to use this sauce on everything!
Recipe type:
Main Dish, Dinner
Ingredients
Glaze
½ cup honey, or more, to taste
4 cloves garlic, minced
2 tablespoons soy sauce
1 tablespoon cornstarch
¼ cup water
Pork Chops
2 cup all-purpose flour
1 teaspoon dried thyme
1 teaspoon dried oregano
½ teaspoon paprika
¼ teaspoon cayenne pepper
2 large eggs, beaten
4 tablespoons water
6-9 pork chops, not too thick, you can use boneless pork loin
Kosher salt and freshly ground black pepper, to taste
1 cup vegetable oil, for frying
green onions, sliced
Instructions
Glaze
In a medium saucepan over medium high heat, combine honey, garlic and soy sauce.
In a small bowl, combine cornstarch and water.
Stir mixture into the saucepan until thickened, about 1-2 minutes. Set aside.
* I added a Tbsp of cornstarch in the sauce to thicken it for a little and used it for dipping
Pork Chops
In a medium bowl combine flour and seasonings. Divide into 2 small bowls, working with just half at a time kept the flour from getting clumped or wet. Set aside.
Whisk the eggs and 4 tablespoons of water together in a separate small bowl. Season pork chops with salt and pepper, to taste.
Dip the chops in the flour, then over into the egg, and then back over into the flour mixture once again. This is what puts the extra crispy coating on the chops. Be sure to get plenty of flour on in this last coating.
Shake off any excess. Place on a wire rack and continue until all meat is coated.
Heat vegetable oil in a large skillet to a medium temperature.
Working in small batches, add chops to the skillet, 2 or 3 at a time, and cook until evenly golden and crispy, about 5-6 minutes on each side. Drain on paper towel-lined plate.
Try not to turn more than twice or your breading will come off.
Place cooked chops in a large bowl, pour warm sauce over and toss well to coat.
Top with green onions if desired and serve immediately.