With a touch of paprika, bbq sauce and bacon paste, this Bacon BBQ Chicken Kabobs takes your traditional chicken kabobs and elevates it to a whole new level.
Cookout/picnic/warm weather/fun time food!!
Summertime "Dynamite" !!
Bacon BBQ Chicken Kabobs !!
Please tell me you guys are all on board with this?? Like please?
Cause I have caught the warm weather food bug, (a quick reminder for you, if you love summertime desserts, don't forget to check out my No Bake Summer Berry Icebox Cake too), and I am pretty sure there is no turning back, like none. The fresh, summertime, fun food is here to stay and man, I am so excited.
The weather has been particularly wonderful these past two weeks. It is sunny, not too warm, and dry. Definitely a great excuse to fire up the grill, particularly during the weekend.
For our first grilling of the season, we decided on Bacon BBQ Chicken Bombs, it has chicken, cheese, bbq sauce, bacon and jalapeno…and yes, it's as good as you are dreaming it is! So we are continuing with the theme and for this week we decided on Summertime "Dynamite" twist on classic chicken kabobs. You guys need to make these kabobs at your next out door BBQ! What makes this BACON BBQ CHICKEN KABOBS "dynamite" for the summertime? The entire symphony of flavors from marinated chicken in spicy bacon paste (The bacon does keep the chicken from drying out, while simultaneously giving it a smoky flavor), brushed with barbecue sauce and a perfect temperature and time used for grilling these finger lickin' delicious Chicken Kabobs. There's something about summer and food on a stick, right? It makes dinner more fun, feel more like a party or just a fun night.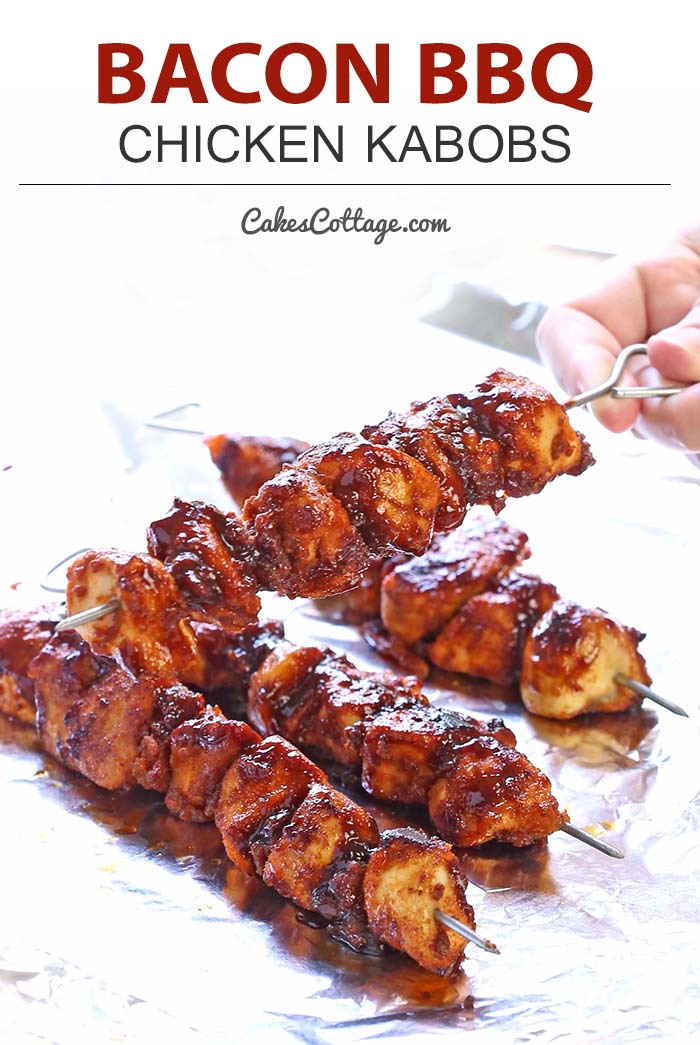 Bacon BBQ Chicken Kabobs
With a touch of paprika, bbq sauce and bacon paste, this Bacon BBQ Chicken Kabobs takes your traditional chicken kabobs and elevates it to a whole new level.
Ingredients
2 pounds boneless, skinless chicken thighs or breasts, trimmed and cut into 1" pieces
2 teaspoons kosher salt
1 teaspoon fresh black pepper
1 tablespoons packed dark brown sugar
½ tablespoon smoked paprika
1½ tablespoon sweet paprika
4 slices bacon, cut into ½-inch pieces
1 cup of your favorite BBQ sauce
4 - 6 metal or wooden skewers
Instructions
Light the grill and heat to medium-high.
In a large bowl, toss the chicken with the salt.
Cover with plastic wrap and refrigerate for at least 30 minutes and up to 1 hour.
In a food processor, process the raw bacon until a smooth paste forms, 30-45 seconds, scraping down the bowl during processing.
Mix in fresh black pepper, sweet paprika, dark brown sugar and smoked paprika. Pulse until completely smooth.
Add the bacon paste and spice mixture to the chicken.
Mix with hands or spatula until the chicken is well coated.
Once well-coated, thread the chicken pieces onto skewers (pre-soaked, if they're wooden).
The chicken pieces should be just touching each other, if the bacon paste didn't completely coat the chicken, just place little bits of it in between the chicken on the skewers.
Place the kebabs on the preheated grill.
Cook for about 8-10 minutes, turning one-quarter turn every 2 to 2½ minutes until nearly cooked through.
Brush the kebabs with the barbecue sauce and cook for an additional minute on each side.
Remove the kebabs from the grill and let rest for 5 minutes.
Serve with the BBQ sauce, if desired.