Get your tastebuds ready for a Bacon BBQ Chicken Bombs, it has chicken, cheese, bbq sauce, bacon and jalapeno…and yes, it's as good as you are dreaming it is!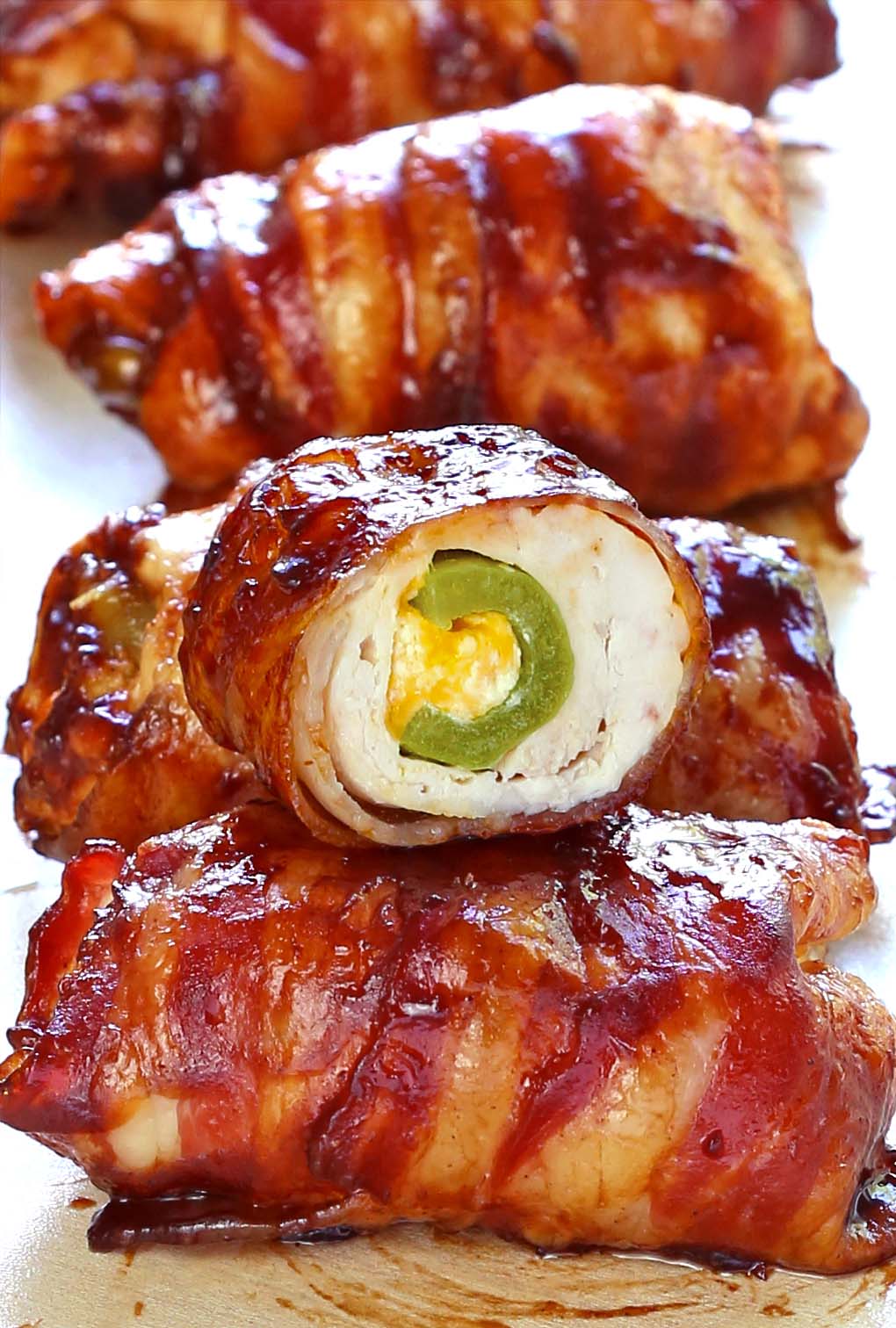 BBQs. I mean, barbecues. One of summer's most essential meals.
We all love 'em and need 'em. We all inhale roughly a ton of smokin' hot chicken/meat/veggies (sometimes skewered all together) during these warm, ripe months that are ahead of us.
So head out to that grill of yours, fire it up and get your tastebuds ready for a BBQ Chicken Bombs recipe that you'll want time and time again.  Yes, it has chicken, cheese, bbq sauce, bacon and jalapeno…and yes, it's as good as you are dreaming it is!
They'd be great for a kids' party, but grown-ups will love them, too. Put out a plate on your 4th of July party, or during a football game or TV marathon and watch them disappear. Just bring a big stack of napkins to manage the sticky fingers!
Even though Fourth of July is a big grilling holiday, and Summer means grilling, that doesn't mean that everyone: has a grill, wants to grill or enjoys sweating, coughing and inhaling grill smoke. For all of them outhere here is the recipe for BBQ Chicken Bombs made right in the comfort of your own kitchen too. I know you'll love it!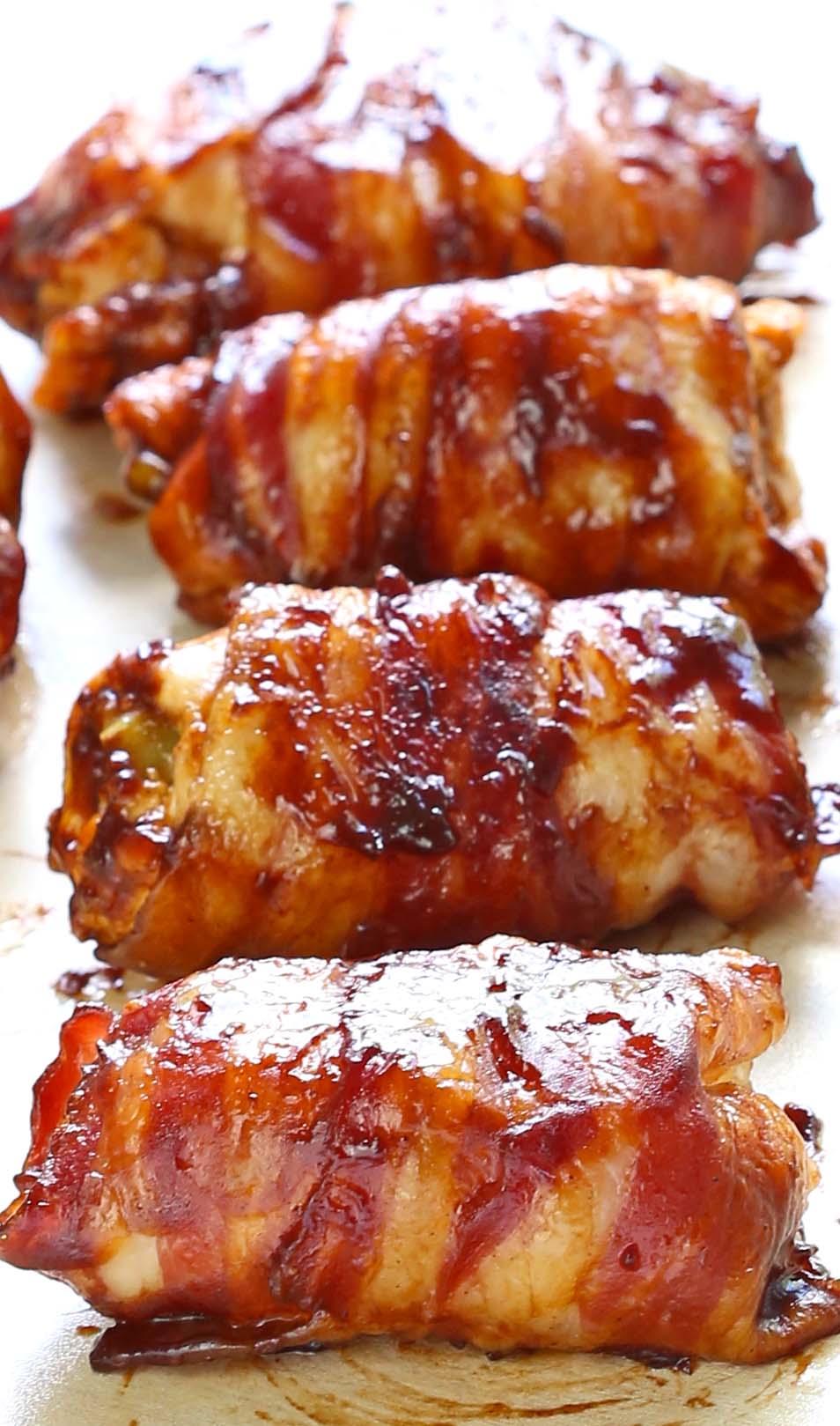 Bacon BBQ Chicken Bombs
It has chicken, cheese, bbq sauce, bacon and jalapeno...and yes, it's as good as you are dreaming it is!
Recipe type:
Appetiser, Main Dish
Ingredients
5 boneless skinless chicken breasts or 10 fillets
5 jalapenos, de-seeded, sliced in half lengthwise
4 ounces cream cheese, softened
1 cup cheddar cheese, shredded
salt and pepper to taste
20 slices bacon
1 cup barbecue sauce
Instructions
If using chicken breasts, cut them lengthwise into thin fillets, each fillet will make one bomb.
Pound the chicken fillets between parchment paper until about ¼ inch thin.
Season each with salt and pepper.
Wash jalapenos, cut stem off, slice lengthwise, remove seeds and clean out center
Rinse jalapenos a second time.
In a mixing bowl, mix cream cheese and chedder cheese until well blended.
Fill each jalapeno half with about 1 Tbs or little more of cheese mixture.
Place filled jalapeno half, cheese side down on chicken fillets and roll chicken around jalapeno.
It doesn't always close the way you think it should. No worries! The bacon will pull it all together.
Wrap 2 pieces of bacon (one at a time) tightly around the rolled chicken, start at one end, wrap half the fillet and finish the 2nd half with the other piece of bacon, and tuck bacon into itself to seal ends closed.
You do not need toothpicks, because it all comes together in the cooking process.
FOR GRILL VERSION :
Preheat grill to 350 degree and place chicken bombs on the grill to cook over indirect for approximately 25-30 minutes.
Turn chicken bombs on the grill every 5 minutes to ensure it is cooking evenly, and baste with barbecue sauce each time you turn it.
Just before the chicken bombs are done, baste one last time.
Be sure chicken is cooked through and juices run clear.
If you have a meat thermometer, chicken is ready when it reaches an internal temp of 165 F, otherwise pierce chicken bombs with a fork.
When they are done, remove from the grill, let them rest 5 minutes or so and serve and get ready to hear some accolades because these babies are very very tasty ... and Happy Grillin'
FOR OVEN VERSION :
Preheat oven to 400 degree and place chicken bombs on a foil lined baking sheet.
Bake for 20 minutes, turning once to help cook the bacon.
*I suggest to change baking sheets/pans in order to loose some of the bacon fat.
Reduce heat to 375 degree, line another baking sheet or pan, and place chicken bombs in a new one.
Brush each chicken bomb with barbecue sauce, then use a spatula to flip them over to the other side, and brush the tops with more sauce and return to the oven for 5-6 minutes.
Remove from oven, brush on more sauce, and place under broil setting for a few minutes so bacon can crisp completely, and the chicken is totally cooked through.
Remove from the oven and let sit for at least 10 minutes before serving.
Slice into ½-1 inch slices and ENJOY!