Honey Garlic Pork Chops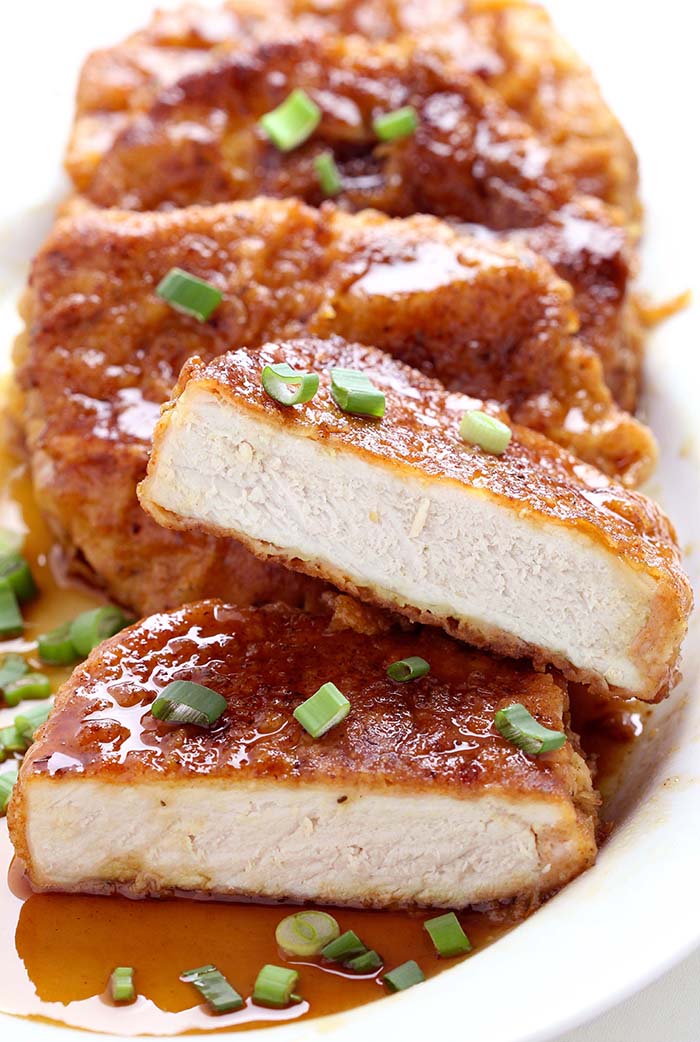 Recipe type:
Main Dish, Dinner
Glaze
½ cup honey, or more, to taste
4 cloves garlic, minced
2 tablespoons soy sauce
1 tablespoon cornstarch
¼ cup water
Pork Chops
2 cup all-purpose flour
1 teaspoon dried thyme
1 teaspoon dried oregano
½ teaspoon paprika
¼ teaspoon cayenne pepper
2 large eggs, beaten
4 tablespoons water
6-9 pork chops, not too thick, you can use boneless pork loin
Kosher salt and freshly ground black pepper, to taste
1 cup vegetable oil, for frying
green onions, sliced
Glaze
In a medium saucepan over medium high heat, combine honey, garlic and soy sauce.
In a small bowl, combine cornstarch and water.
Stir mixture into the saucepan until thickened, about 1-2 minutes. Set aside.
* I added a Tbsp of cornstarch in the sauce to thicken it for a little and used it for dipping
Pork Chops
In a medium bowl combine flour and seasonings. Divide into 2 small bowls, working with just half at a time kept the flour from getting clumped or wet. Set aside.
Whisk the eggs and 4 tablespoons of water together in a separate small bowl. Season pork chops with salt and pepper, to taste.
Dip the chops in the flour, then over into the egg, and then back over into the flour mixture once again. This is what puts the extra crispy coating on the chops. Be sure to get plenty of flour on in this last coating.
Shake off any excess. Place on a wire rack and continue until all meat is coated.
Heat vegetable oil in a large skillet to a medium temperature.
Working in small batches, add chops to the skillet, 2 or 3 at a time, and cook until evenly golden and crispy, about 5-6 minutes on each side. Drain on paper towel-lined plate.
Try not to turn more than twice or your breading will come off.
Place cooked chops in a large bowl, pour warm sauce over and toss well to coat.
Top with green onions if desired and serve immediately.