Want a sweet way to say Happy Valentine's Day? Chocolate Cherry Brownie Truffles are the perfect way to do it!

Recently, I set myself the task of creating a duo of chocolate recipes for Valentine's Day.
I was determined to come up with something decadent, something spectacular, something alluring that was, at the same time, mouth-watering. After a brief Google search on two terms "Love" and "Chocolate", yes, yes you are right, I opted for the truffles again.
Truffles seems like a perfectly logical choice to me, they are quite simply the best and easiest thing to make on earth. That being said, I wish I could go back and find pictures of my very first batch of OREO truffles from some two or three years ago. They were hideous and disfigured but they're insanely delicious regardless of appearance.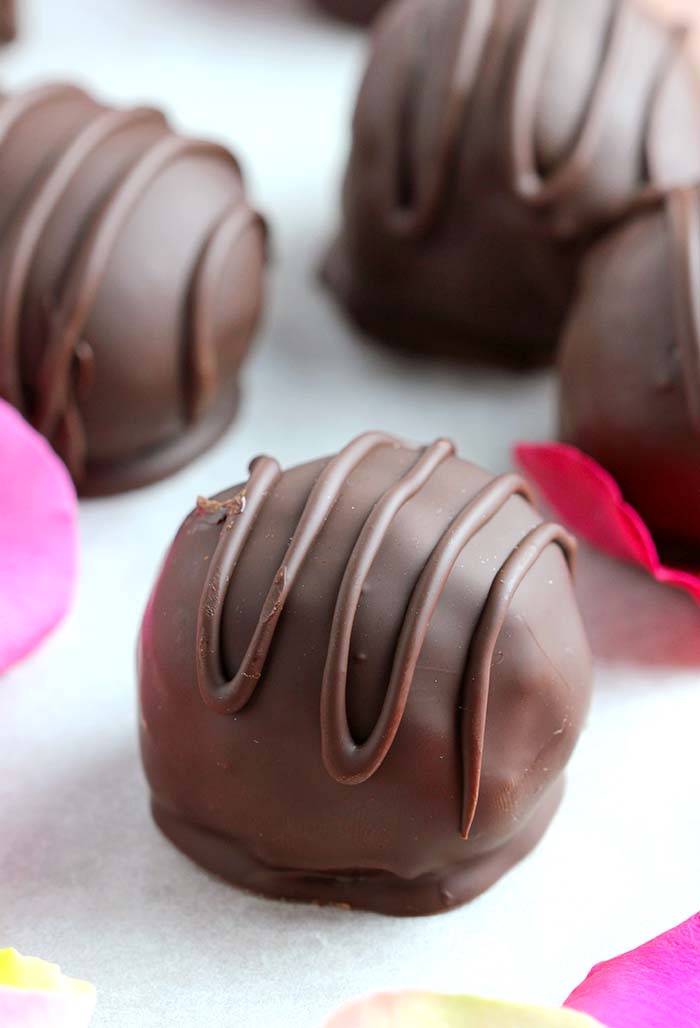 Why Chocolate Cherry Brownie Truffles?
Well, to begin with, this is for Valentine's Day–which can mean only two one thing : love and chocolate, or loving chocolate 🙂
Chocolate awakens all our senses, making us happy and in love. Love is a basic, simple sense, which we should carefully listen to, constantly nurture, celebrate it daily and discreetly. And these babies spell "LOVE": they're rich-tasting, they're chocolately, fine crispy outside and soft inside, and somehow juicy.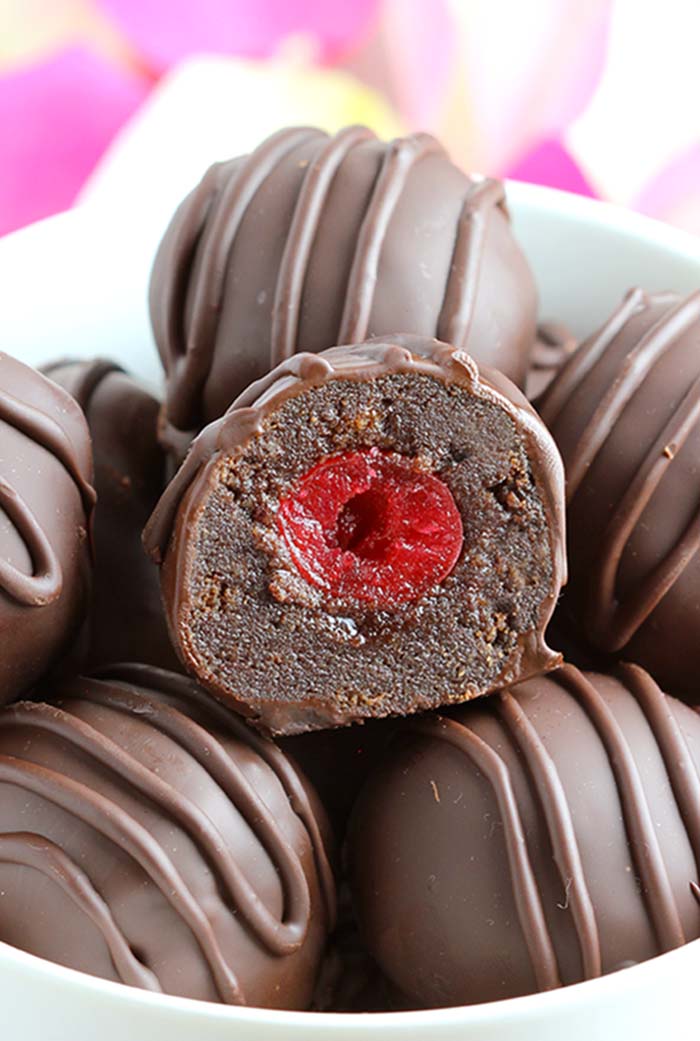 It's a real chocolate cherry explosion!
Happy Valentine's Day to you all!
Chocolate Cherry Brownie Truffles
Ingredients
¾ cup flour
1 cup sugar
¼ cup unsweetened cocoa powder, sifted
1 tsp baking powder
¼ tsp salt
4 ounces butter, melted
2 large eggs, beaten
2 tsp vanilla
10 oz Maraschino Cherries
1 can chocolate frosting
4 cups of semi-sweet chocolate chips or chocolate candy coating
Instructions
Preheat the oven to 350 degrees F.
Lightly grease an 8×8 brownie pan with nonstick baking spray.
Whisk together the flour, sugar, cocoa powder, baking powder and salt in a bowl.
Beat together the butter, eggs and vanilla.
Add to the dry ingredients and mix until smooth.
Pour into the prepared pan.
Bake on a middle shelf of the oven for 20 to 25 minutes, or until a toothpick inserted in the center comes out mostly clean (a few crumbs are recommended).
Allow the brownies to cool completely on a wire rack.
Using a fork, break the brownie into crumbs, avoiding the outer edges.
You should try using only the center of the brownie for this recipe since the edges bake up crunchy.
Place brownie crumbs in a medium bowl and mix in about ¾ a cup of chocolate frosting. (You may need to add a little more, but you start with ¾ a cup and add more if you need it.)
Once you have it the consistency needed (stays together easily but isn't too sticky to roll into balls),
Scoop about 1 Tbsp of brownie-chocolate frosting mixture, and form it into a ball.
Make a hole in the middle of a ball, and drop one cherry into.
Top with a little more of the brownie-chocolate frosting mixture and do your best to seal the cherry in.
Place on a parchment-paper lined baking plate.
Repeat with the remaining cherries and brownie-chocolate frosting mixture.
Place the brownie balls in the freezer to chill for 30 minutes.
Meanwhile melt the chocolate according to the directions on the back of the package. I use the microwave.
Dip balls in chocolate with a fork, shaking off excess and return to prepared sheet.
Refrigerate the chocolate covered brownie cherries for 20 minutes.
Carefully drizzle chocolate over truffles.
Store in the refrigerator and serve cold.
These can also be stored in an airtight container in the refrigerator for up to 7 days.