This Easy Overnight French toast bake just happens to be perfect for cold winter mornings, lazy weekend mornings, or as an easy, make-ahead Christmas morning breakfast.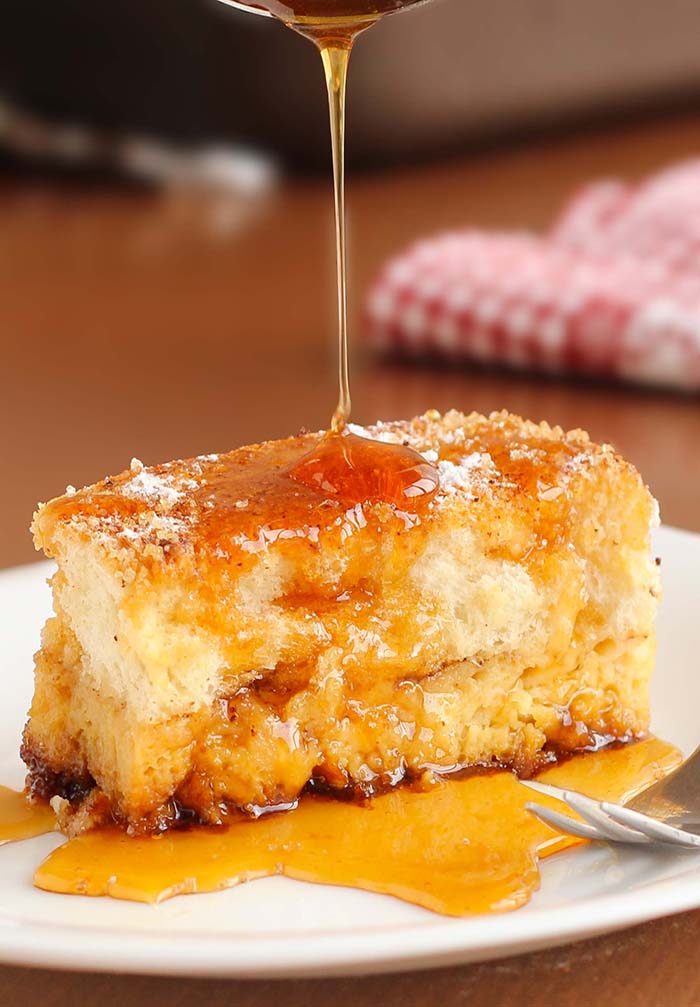 Weekend mornings are the best! So let us enrich them with a tasty breakfast.
Remember my Blueberry Croissant Bake ?  Well, I thought I'd sneak in one more breakfast-themed recipe. You will agree that breakfast in bed is pure luxury today. But luxury you can afford at least on Sundays.  Just think of the smell of buttery french toast and freshly brewed coffee that tickles your senses while slowly awakens you …
Well, this french toast bake is the perfect way to start your day and meet your hedonistic sense. Topped with a little maple syrup or honey is simply overwhelming. Not to mention it could feed your entire family and most of your neighbors.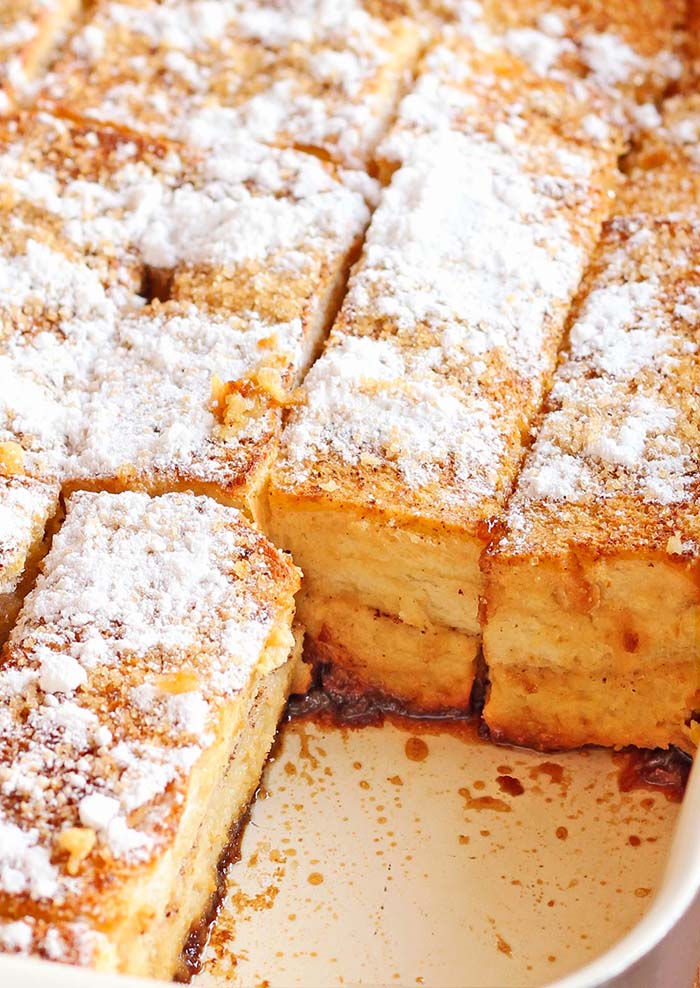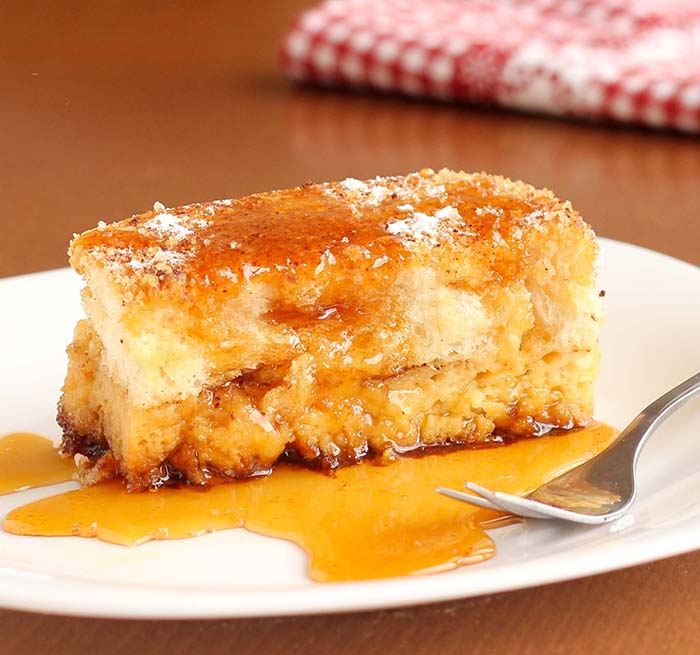 Need I say more? let's prepare some delicious French Toast Bake…..
Easy Overnight French Toast Bake
Ingredients
½ cup melted butter (1 stick)
1 cup brown sugar + 3 tablespoons brown sugar
1 loaf Texas toast cut off the crusts, this is NOT necessary but I just think it looks nicer.
4 eggs
1½ cup milk
1 teaspoon vanilla
2 teaspoons of cinnamon
1 tablespoon of powdered sugar plus more for sprinkling
honey or maple syrup for topping
Instructions
Put the butter in a microwave safe bowl, melt it in the microwave and add 1 cup of brown sugar. Stir until combined.
Pour the mixture evenly over the bottom of 9 x 13 baking pan.
In a large bowl, whisk eggs, milk, 1 tablespoon of powdered sugar and vanilla.
Place toast bread in a single layer in the pan so that it covers the whole area.
Pour half the egg-milk mixture over the entire layer of toast bread.
In a small bowl, combine the 3 tablespoons of brown sugar and 2 teaspoons of cinnamon.
Sprinkle half the mixture on a layer of toast bread.
Then arrange the second layer of toast bread and pour the rest of the mixture of eggs and milk.
Repeat with the rest of the sugar and cinnamon.
Cover with aluminum foil and leave to cool in the fridge overnight.
* You can leave it for a couple of hours in the refrigerator, but the best effect is achieved if you leave it overnight.
Preheat oven to 350 F.
Leave chilled toast bread at room temperature for a few minutes.
Put it in the oven and bake for 45 minutes, so that the first 30 minutes it is baked with aluminum foil.
Bake it until the top is crispy and golden brown and the inside is soft.
Sprinkle with powdered sugar. Serve with honey or maple syrup.
Notes
TOTAL TIME: 1 hour plus 6 to 24 hours, for marinating