A soft sugar cookie with a Reese's miniatures in the center ? Trust me, You need this in your life!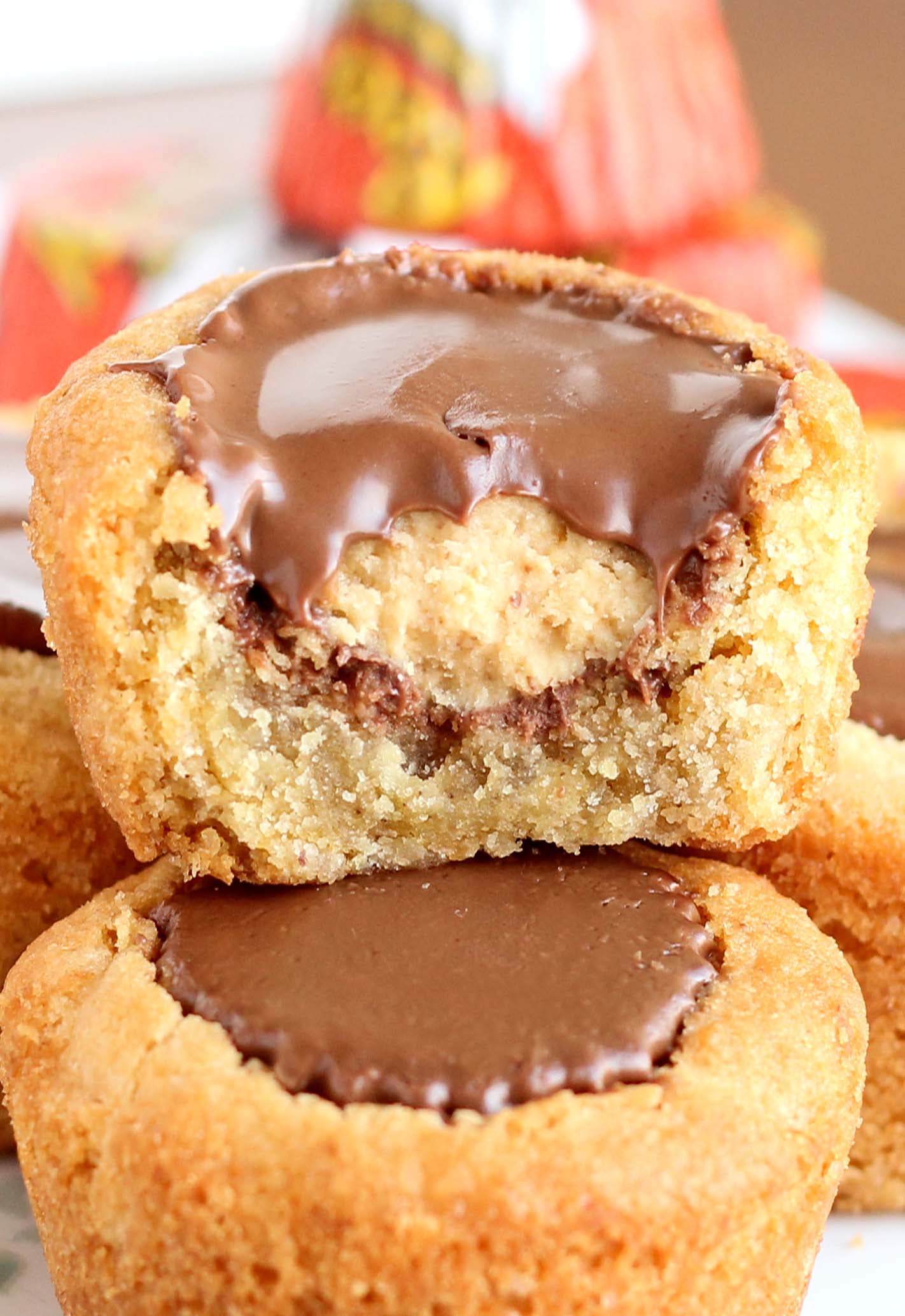 Now that Halloweekend is well behind us, costumes, the parties and the decorations are gone, but you'll likely have some candy leftovers well after the 31st.
Instead of keeping the bowl of candy and slowly grazing on it until New Year's, try turning these tasty treats into a delicious dessert.
"How do You eat a Reese's?" and directly after " There's no wrong way….to eat a Reese's" – does anyone else remember those commercials? They make me think of saturday morning cartoons. the BEST day of the week! And these commercials bring up interesting questions of how different people eat certain foods.
So how do You eat your Reese's peanut butter cup ? Two bites ? Poke out the middle ? I would like to hear from you, don't hesitate to comment.
Before I go any further, I'm going to answer how I eat a Reese's.
I rip open the package then slowly take them out, eat around the edges and save the middle. I usually only have two at a time, but if you have more, the better 🙂
Then I take the middle pieces and put peanut butter between them, stack 'em up and enjoy !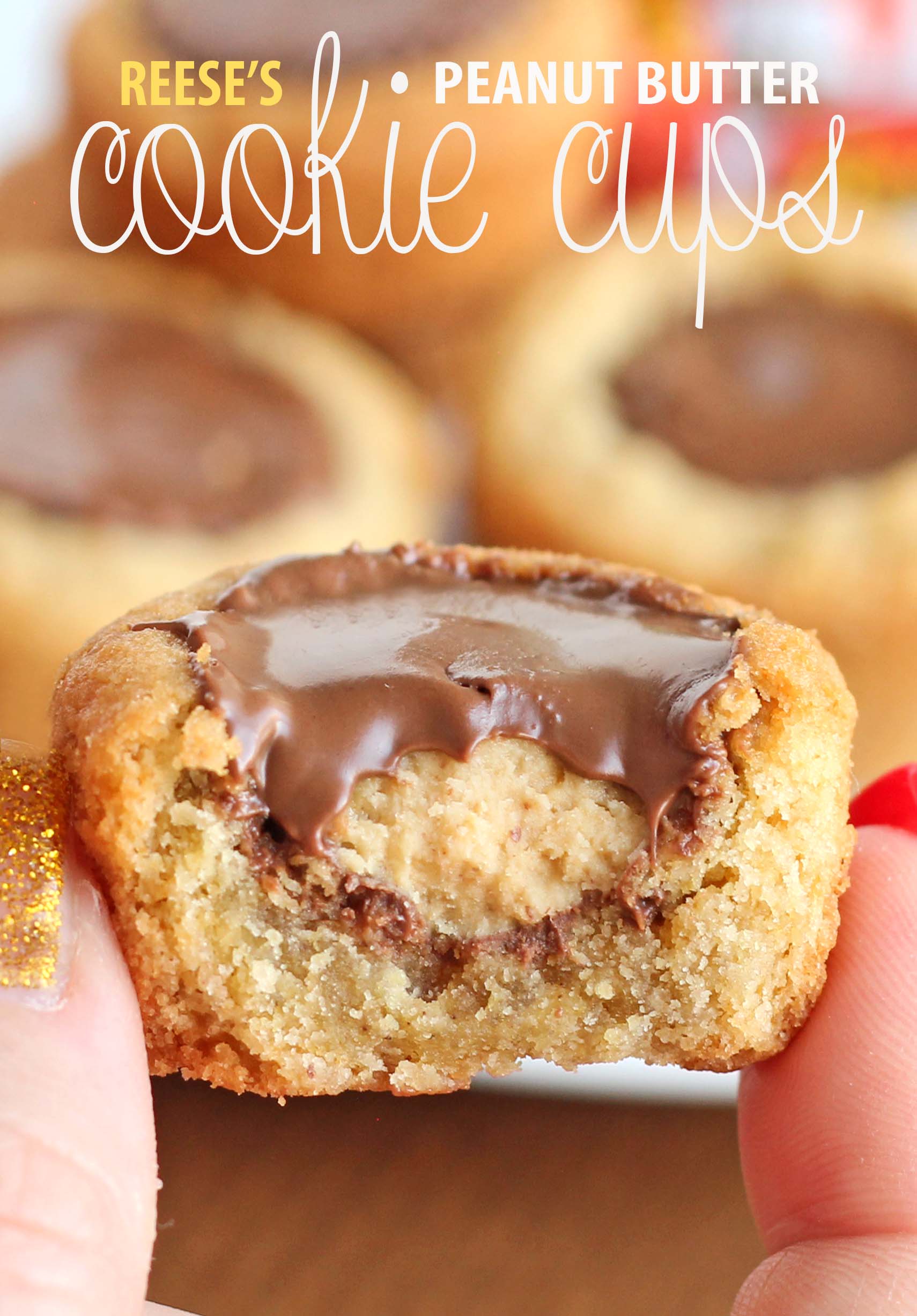 OK, let's get back to the today recipe, Can i suggest you yet another delicious way to eat Your Reese's, Or should I say HEAVEN!? This is one of those cookies you can eat a dozen before you even realize it, so watch out.
Reese's Peanut Butter Cookie Cups
Author:
CakesCottage - adapted from all recipes
Ingredients
1¾ cups all-purpose flour
1 teaspoon baking soda
½ teaspoon salt
½ cup unsalted butter , softened
½ cup peanut butter
½ cup white sugar
½ cup brown sugar
1 egg
1 teaspoon vanilla extract
2 tablespoons milk
48 miniature Reese's peanut butter cups, unwrapped
Instructions
Preheat oven to 375 degrees F.
Lightly spray (2x24) mini muffin pans with baking spray or use silicone muffin pan.
In a small bowl, whisk together the flour, baking soda and salt. Set aside.
In medium bowl, beat butter,white sugar,peanut butter and brown sugar with electric mixer on medium speed until light and fluffy, about 3 minutes.
Add the eggs, vanilla and milk and on low speed add the flour mixture and beat just until incorporated.
Fill each miniature muffin cup with about one tablespoon of batter.
Bake the cookie cups for about 8-10 minutes, or until the cookie cups are lightly browned around the edges but still soft in the center.
Remove from oven and immediately press a miniature Reese's into each cookie cup.
Let cool 15-20 minutes in pan.
Remove cookie cups from baking pan (At first the Reese's miniatures are nice and melty – be sure to eat at least one cup this way!), and serve.
Store leftovers in an airtight container for 3-4 days, or freeze for a convenient treat.