Hooked on traditional holiday baking? These candy cane oreo truffles could be new Christmas tradition that you could start with your family.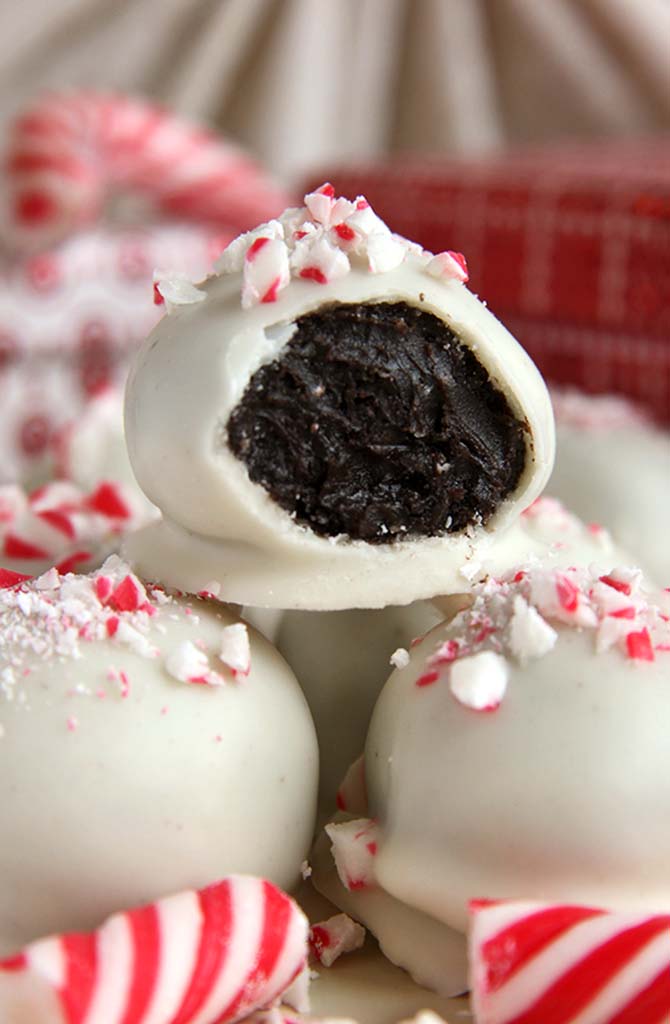 Let's celebrate……
Christmas is approaching. Have you noticed? Men in red suits roam the streets, and bargain hunters crowd the stores.
Yard displays and flickering Christmas lights brighten the night. Evergreens, striped mint candy, sugar cookies and candy cane are suddenly in high demand. Well, I love any excuse I can come up with for posting all seasonal treats that can be quickly thrown together. I try to keep a few of these 'recipes' in my arsenal for last minute gift and anything involving Oreo, peppermint – from Candy Canes to Peppermint Mochis and melted chocolate clearly a winner.
Truffles seems like a perfectly logical choice to me, they are quite simply the best and easiest thing to make on earth. That being said, I wish I could go back and find pictures of my very first batch of OREO truffles from some two or three years ago. They were hideous and disfigured but that is the beauty of OREO truffles, they're insanely delicious regardless of appearance.
I haven't reinvented the wheel with this recipe, but I have found a few tricks through the years which give them a better end result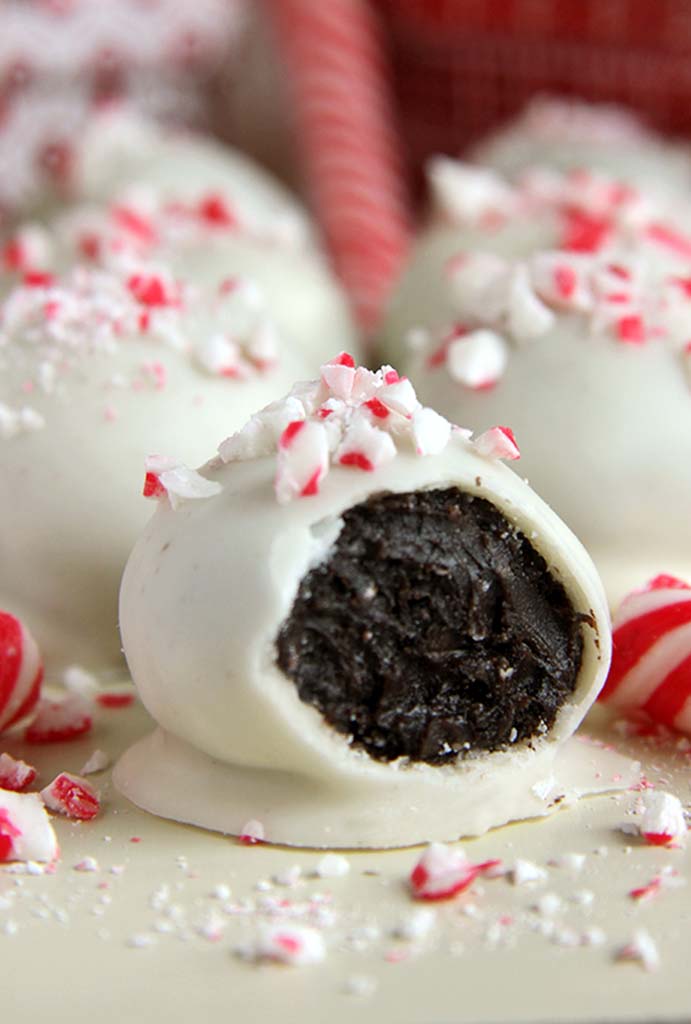 So, I came up with the idea, Why not change up the classic delicious Oreo Truffle to become a little more festive this holiday season. More importantly, option to make or bring to Christmas dinner. Candy Cane Oreos truffles certainly provide all of this and more. Mixed with cream cheese, dipped in melted white chocolate chips and topped with crushed candy cane, these little poppers are nothing short of decadent—or addicting.
Candy Cane Oreo Truffles
Ingredients
36 Oreos (I used mint filled Oreos instead of the original, but you can use either. I just wanted to make mine extra minty )
8 oz cream cheese, softened
16 oz. white chocolate chips
¼ cup crushed candy canes or peppermint candies, for decorating
Instructions
Place the Oreo cookies in the bowl of a food processor and pulse until finely ground.
Add the cream cheese and pulse until the mixture is well combined and smooth.
Line a rimmed baking sheet with parchment paper.
Scoop the mixture into balls about 1-inch in diameter. I like to use cookie scoop.
Place the cookie balls in the freezer until well chilled, at least 1 hour.
Remove truffles from freezer and dip in melted chocolate.
Return to baking sheet, immediately sprinkle tops with crushed candy canes then allow chocolate to set.
Store the truffles in an airtight container in the fridge for up to 5 days.