Looking for a fun and simple appetizer idea for the holiday season? Make this Christmas tree from different flavored cheese cubes and grapes.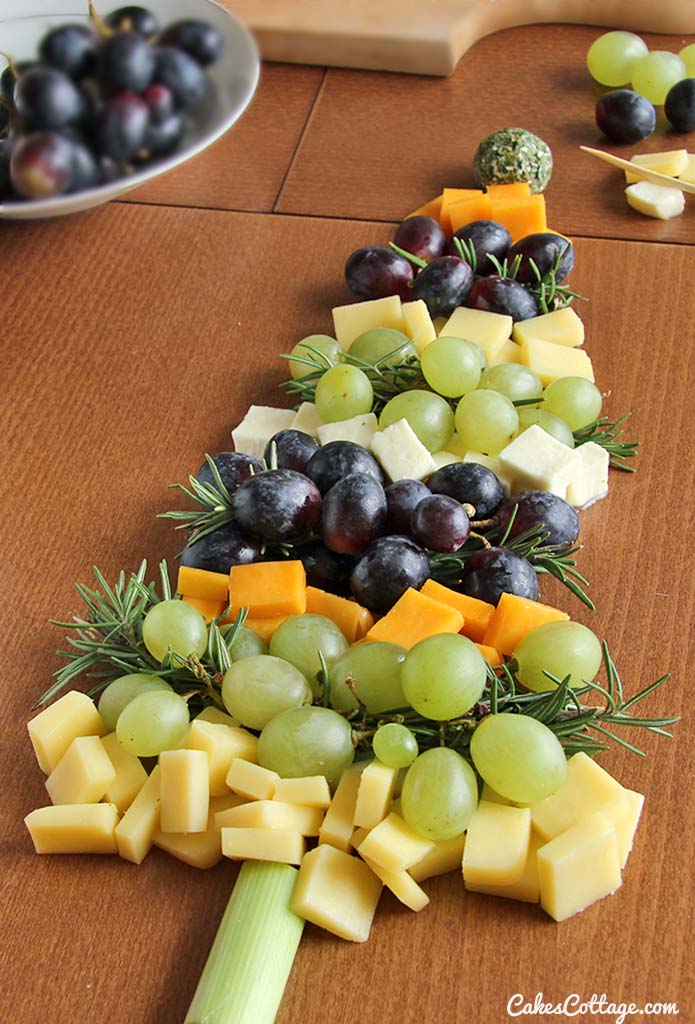 Now that Halloween is over, I'm all about everything Christmas!
While I was browsing  Pinterest the other day, I noticed that Christmas related recipes bashfully began to appear. So i guess this is a perfect time of year to introduce Christmas Tree Cheese Board…..

Well, I love any excuse I can come up with for posting, and subsequently devouring, all sorts of christmas traditions. Looking back, Christmas traditions were always a part of my childhood from decorating the Christmas tree as a family,  to our traditional Christmas Eve dinner.
I love decorating our home, Christmas tree, making gifts for my loved ones and, of course, being with my family at this very Holy and special time of year.
I'm already making my bucket list, digging some easy Christmas recipes, and I thought maybe I could offer a few traditions that you could start with your family. Making and decorating Christmas Tree Cheese Board could be one of them.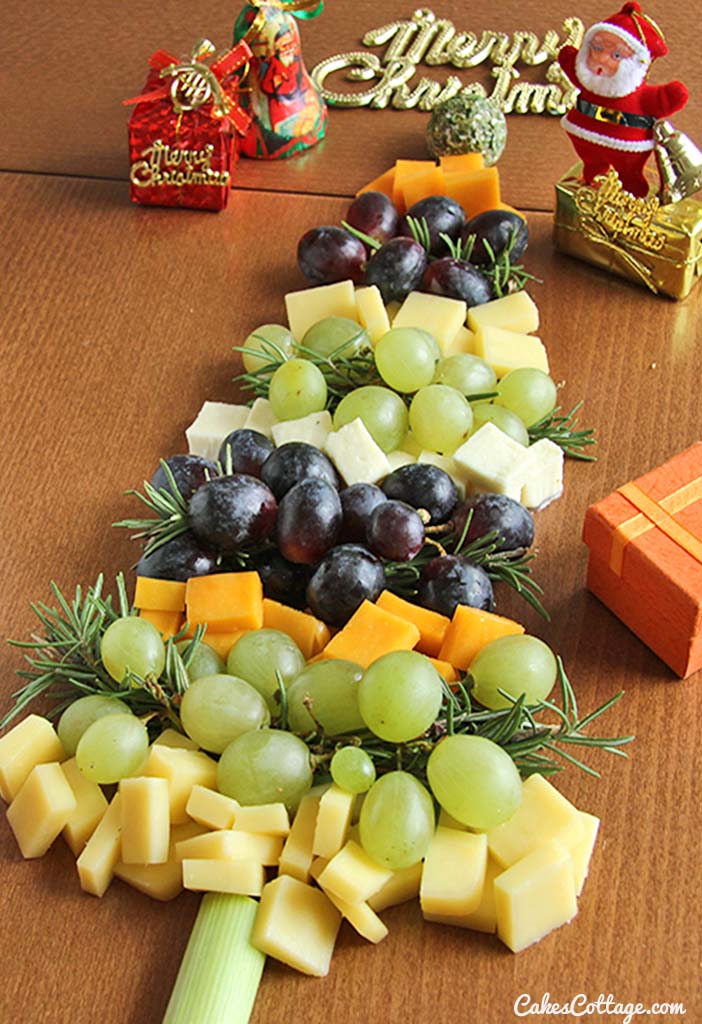 There's nothing cheesy about it: this Christmas tree made from different flavored cheese cubes and grapes makes a charming impression. If there are any leftovers, you can make cheese omelets or a mini-fondue.
Christmas Tree Cheese Board
Ingredients
½ lb / 200 g Cheddar Cheese, cut into ¾-inch cubes
½ lb / 200 g Smoked Gouda Cheese, cut into ¾-inch cubes
½ lb / 200 g Monterey Jack Cheese, cut into ¾-inch cubes
½ lb / 200 g Mozzarella Cheese, cut into ¾-inch cubes
1 lb (450 g) each seedless green and black or red grapes
1 pkg (40 g) fresh rosemary or thyme sprigs
1 stalk celery
2 Tbsp. Cream Cheese
2 Tbsp. finely chopped fresh parsley
1 piece celery (2 inch)
Instructions
Arrange cheese cubes and grapes in rows on platter or cutting board to resemble a Christmas tree shape, rows should get smaller as you move up the platter, starting with Monterey Jack and ending with a row of Cheddar at the top.
Add rosemary sprigs between rows as shown in photo.
Roll cream cheese into ball, then coat with parsley; place at top of tree.
Place celery at bottom for the tree trunk.
Serve with crackers on the side.