Christmas Tree Cheese Board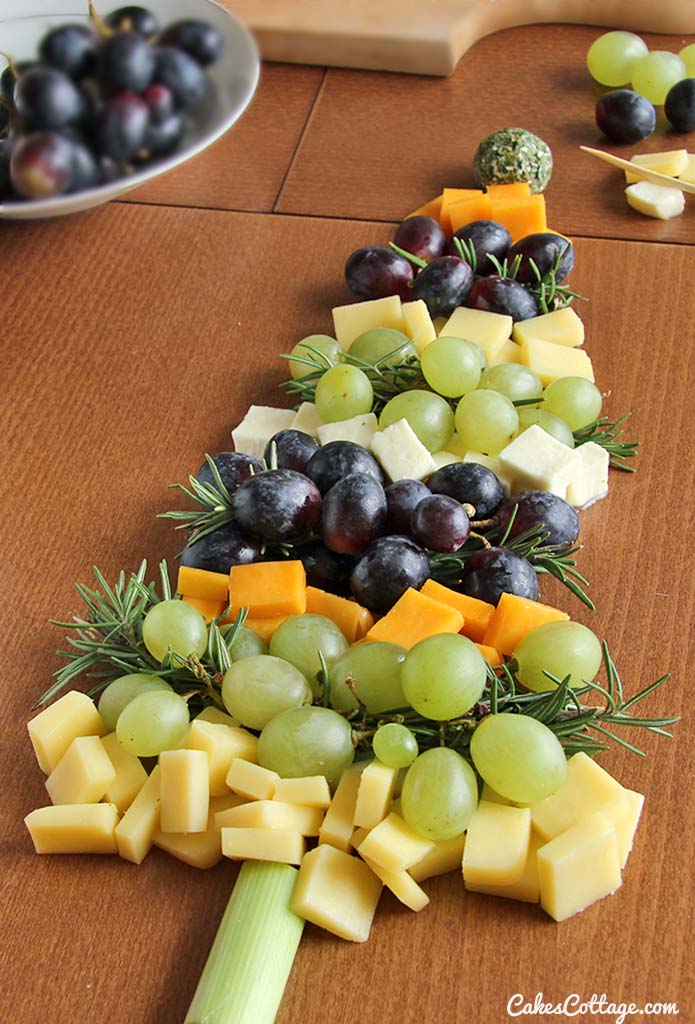 ½ lb / 200 g Cheddar Cheese, cut into ¾-inch cubes
½ lb / 200 g Smoked Gouda Cheese, cut into ¾-inch cubes
½ lb / 200 g Monterey Jack Cheese, cut into ¾-inch cubes
½ lb / 200 g Mozzarella Cheese, cut into ¾-inch cubes
1 lb (450 g) each seedless green and black or red grapes
1 pkg (40 g) fresh rosemary or thyme sprigs
1 stalk celery
2 Tbsp. Cream Cheese
2 Tbsp. finely chopped fresh parsley
1 piece celery (2 inch)
Arrange cheese cubes and grapes in rows on platter or cutting board to resemble a Christmas tree shape, rows should get smaller as you move up the platter, starting with Monterey Jack and ending with a row of Cheddar at the top.
Add rosemary sprigs between rows as shown in photo.
Roll cream cheese into ball, then coat with parsley; place at top of tree.
Place celery at bottom for the tree trunk.
Serve with crackers on the side.
Recipe by
Cakescottage
at https://cakescottage.com/2014/11/10/christmas-tree-cheese-board/