These pumpkin cheesecake bars are the PERFECT fall dessert. From their crunchy ginger cookie crust,  creamy pumpkin cheesecake filling, to the buttery streusel, the textures and flavors are simply divine.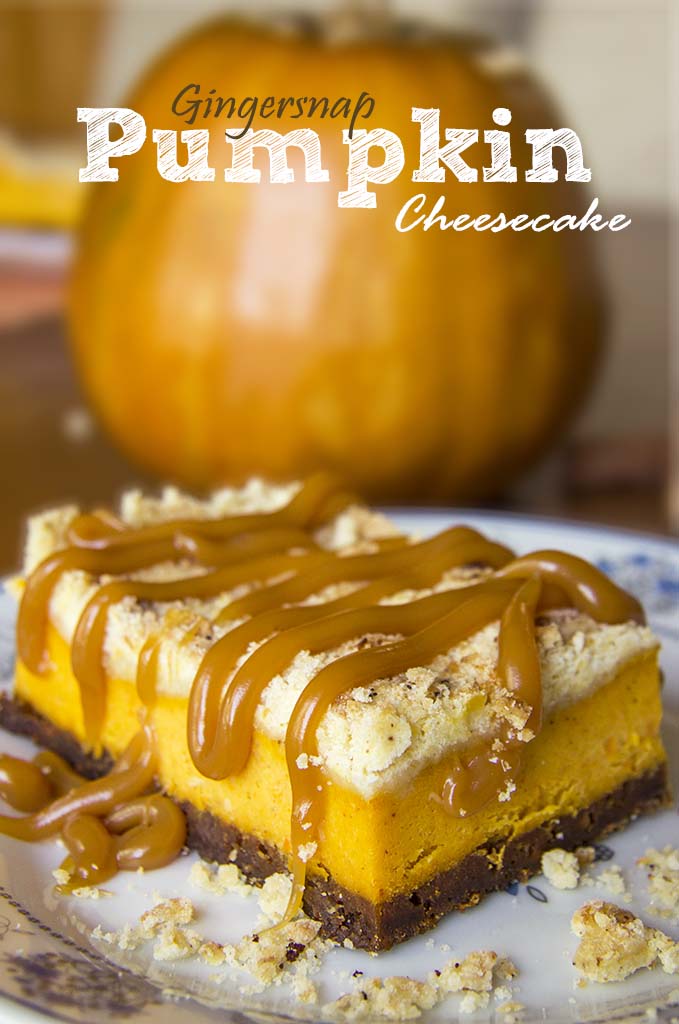 Well…It's some pumpkin dessert, okay? And it's SO, SO, SO good, that You won't even believe how good it is.

Autumn is, without a doubt, my favorite time of year, there are plenty of reasons….perhaps because it is the season of my birth, maybe because brilliant fall foliage, leaves display on a show of color, from bright yellows to vibrant reds, or freshness and fragrances in the crisp, clean, chilly air. The season bursts with beauty.
And of course…..Fall foods are- undoubtedly- the best foods of the year. Apple, pumpkin, maple, pecan, and butternut squash have made several welcome appearances in my house lately. It feels comforting to eat them, and I cherish their special time. But before you know it, pumpkin will be out of style… out of season, so we must savor every bite.
So, this season I began making the pumpkin puree when I made Impossible Pumpkin Pie Cupcakes and Pumpkin Chocolate Chip Bars. Luckily, there was so much puree left that I had to think of other recipes to put it in. These days on Pinterest, when you begin looking for inspiration, you can always find a whole bunch of beautiful photos and recipes, so i didn't need much time to solve this problem.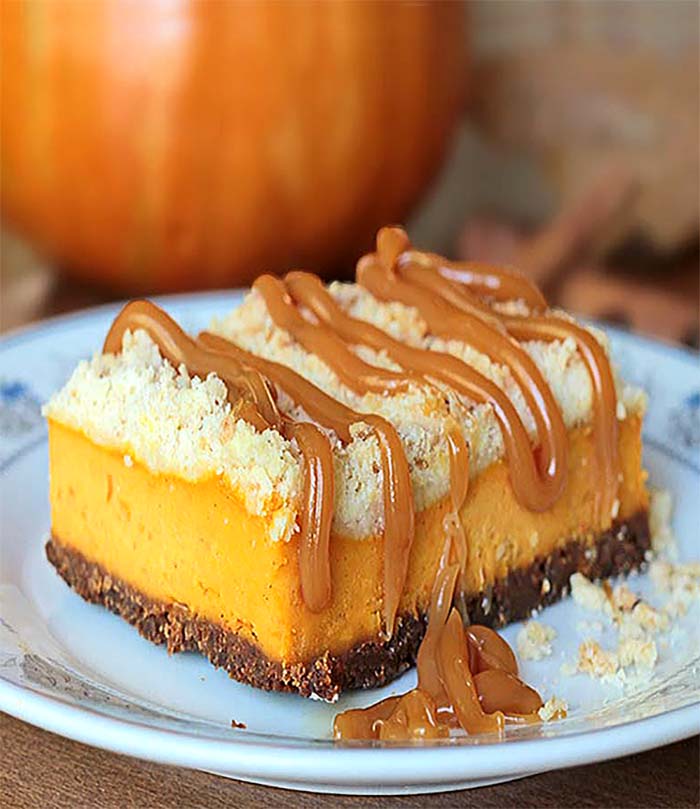 Pumpkin puree will be spent on Pumpkin Cheesecake Bars !
I was going to just call it "Pumpkin Cheesecake Bars", because that's pretty much what it is. But it's also Buttery Streusel and Caramel Pumpkin Cheesecake, for important reasons you'll understand shortly. Then again, it contains gingersnaps—hence the inclusion of "Gingersnap" in the name. So "Buttery Streusel Pumpkin Gingersnap crust Cheesecake" it is. And until it's possible to pass food through the computer, I will have to do the next best thing and share the recipe with you on here. I hope you enjoy it.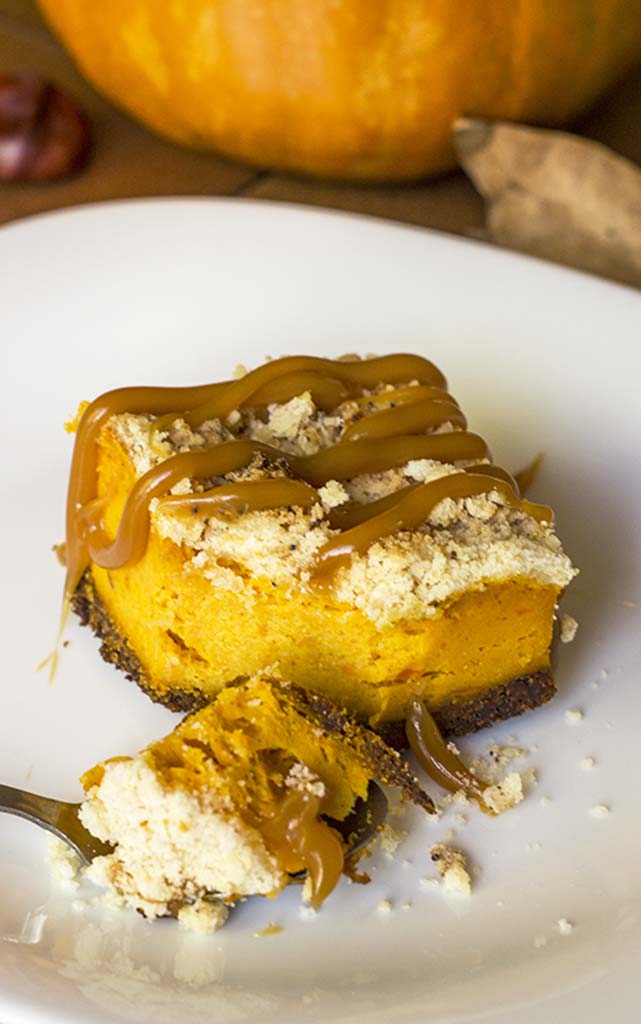 I hope you love this delicious and easy recipe – be sure to give it a review below!
Also don't forget to follow cakescottage on Facebook, Pinterest and Youtube
Pumpkin Cheesecake Bars with Gingersnap Crust
Ingredients
For the gingersnap crust:
2 cups gingersnap cookies, crumbed
4 tablespoons butter, melted
¼ cup dark brown sugar
For the Pumpkin Cheesecake Filling
16 oz cream cheese, softened
⅓ cup sugar
⅓ cup sour cream
2 large eggs
1 cup pumpkin puree
1 teaspoon cinnamon
½ teaspoon ground nutmeg
⅛ teaspoon ground cloves
1 teaspoon of vanilla
For the Buttery Streusel
¼ cup brown sugar
½ cup all purpose flour
4 tablespoons cold unsalted butter cut into pieces
caramel sauce - optional
Instructions
Preheat the oven to 350°F.
Line a 8″x8″ glass pan or light-colored metal baking pan with foil, (be sure to cover the sides, you are going to use this to lift the cheesecake out of the pan), or you can use silicone pan.
In a bowl, stir together the crushed gingersnap cookies, melted butter, and dark brown sugar until completely combined.
Press the mixture evenly into the bottom of the prepared pan.
Bake for 10 minutes in the preheated oven. Remove from oven and let cool completely while you prepare the filling.
In the bowl of a standing mixer beat the cream cheese on medium speed just until it is lump free and smooth. Add the sugar and beat again until well combined, about 2 minutes.
Beat in sour cream, vanilla, eggs, pumpkin puree, cinnamon, nutmeg and cloves.
Beat on medium-low speed until completely combined.
Pour mixture onto gingersnap crust.
In another bowl combine flour and brown sugar. Using a pastry cutter cut cold butter into the mixture until crumbly.
Sprinkle mixture over the top of the cheesecake mixture.
Bake for 40 - 50 minutes or until a toothpick inserted in center comes out mostly clean you are good to go.
Transfer the pan to a cooling rack and allow the bars to come to room temperature, about 30-40 min, then refrigerate until chilled, at least 2 hours.
Using a very sharp knife, cut, drizzle with caramel sauce and serve.
Enjoy!
The bars can be stored in the refrigerator, tightly covered, for up to 3 days.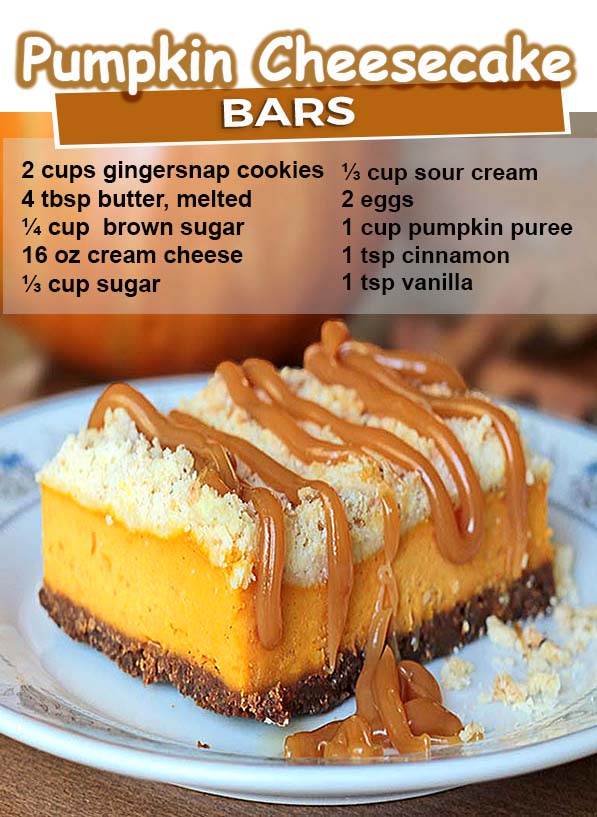 So now you know a few of the reasons I love Autumn. What do you love about Autumn? Is it also your favorite season?
Please share your thoughts here. Thank you very much!