A fuss-free Pumpkin Chocolate Chips recipe that I know everyone will love.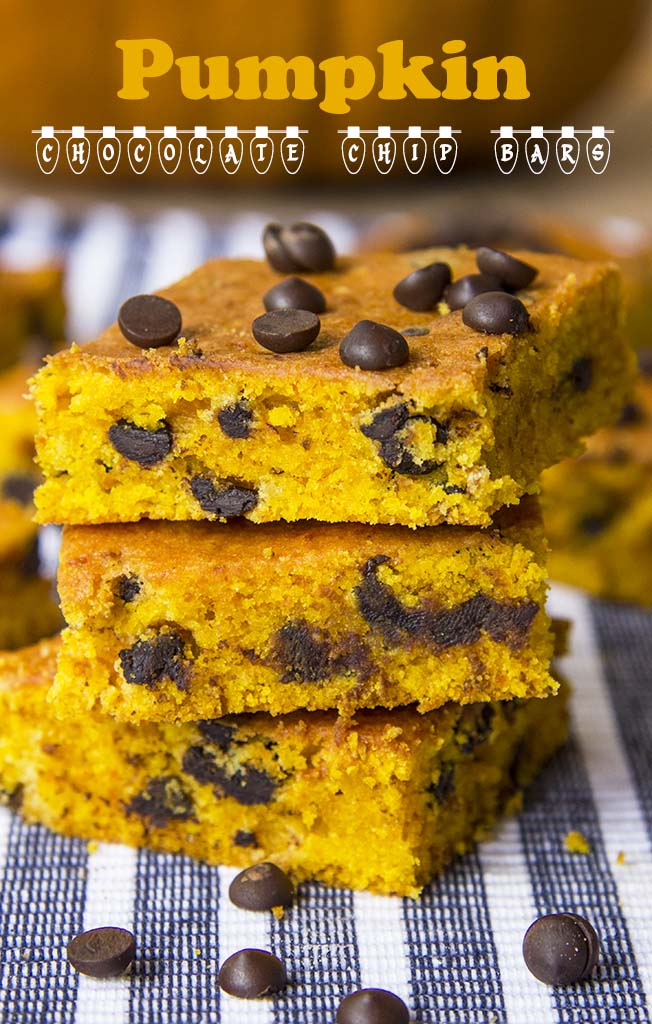 Have you ever noticed "The Little Voice" inside your head telling you to consume all chocolate, in all forms, all of the time?

Oh… ummm… me neither. No, of course not…
*shifts awkwardly*
Anyways…
Are you happy to see the return of pumpkin season? Me too, there are about a million new pumpkin recipes I've been holding onto since June that I've wanted so badly to share with you all, and finally I can post them!
Pumpkin bars, this was just what I was looking for! – pass through my mind, but suddenly the same "evil" taunting voice :
" Go ahead, grab a chocolate bar".
" but I've already decided to do something pumpkin-y ? "
" Have both… You know you want to! "
Oh….Just in time for Halloween….weird, freaky….
No, of course not…
*shifts awkwardly*
What should i do with pumpkin and chocolate bars??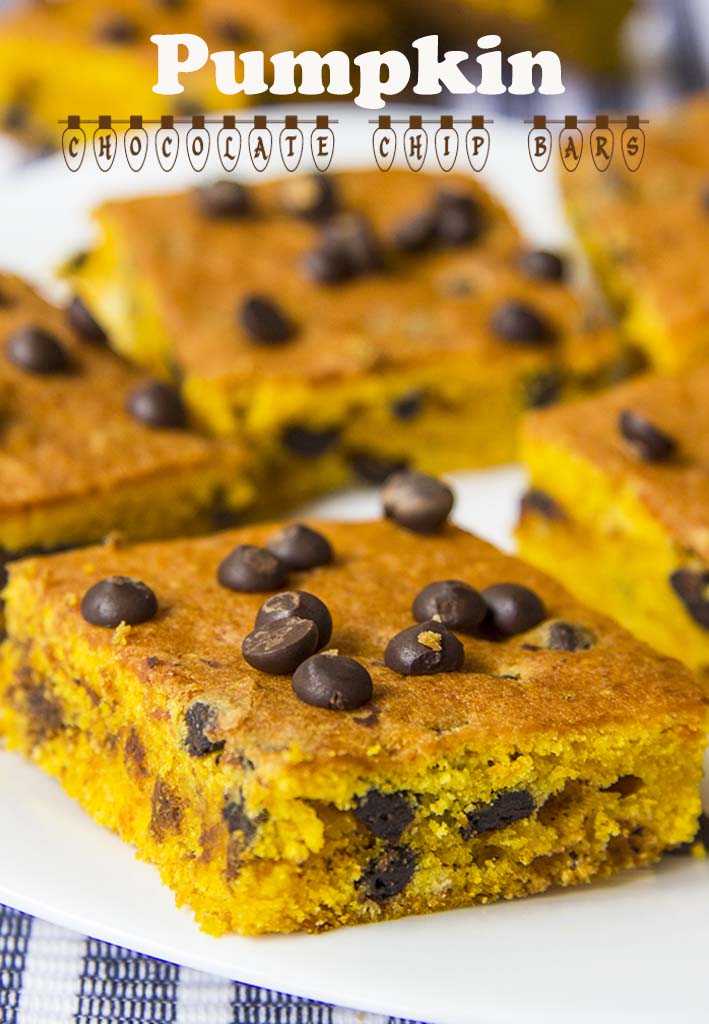 The first thing I look for a solution is the internet. My favorite food blogs, Pinterest or Facebook are all full of Pumpkin-y related recipes….and to make a long story short I decided to make a small tweak and instead of chocolate bars put chocolate chips and try Chocolate Chips Pumpkin Bars Recipe. Hope you're hungry, cause today recipe makes a whopping four dozen of Pumpkin Chocolate bars!
Pumpkin Chocolate Chip Bars
Ingredients
2 cups flour
1 cup (2 sticks) unsalted butter, room temperature
½ tbsp pumpkin-pie spice
1 tsp baking soda
1 tsp cinnamon
¾ tsp salt
1¼ cups granulated sugar
1 egg
2 tsp vanilla
1 cup canned pumpkin pure
2 cups chocolate chips
Instructions
Preheat the oven to 350°F.
Line a 9-inch x 13-inch pan with foil and spray the foil.
Make sure to leave an overhang of foil on either side of the pan.
In a medium size bowl, mix together the flour, cinnamon, pie spice, baking soda and salt. Set aside.
Beat the butter and the sugar with an electric mixer until smooth, Beat in the vanilla and egg until combined.
Beat in the pumpkin. Mix in the dry ingredients until just combined – do not over mix. Fold in the chocolate chips.
Spread the batter in the prepared pan. Bake until a toothpick comes out with just a few crumbs, 35-40 minutes.
Cool completely and cut into 24 small squares.
shhhh……hope that my "little voice" will agree too 🙂