Southern classics such as this fried cabbage, is in fact the way to introduce cabbage to even the pickiest of eaters.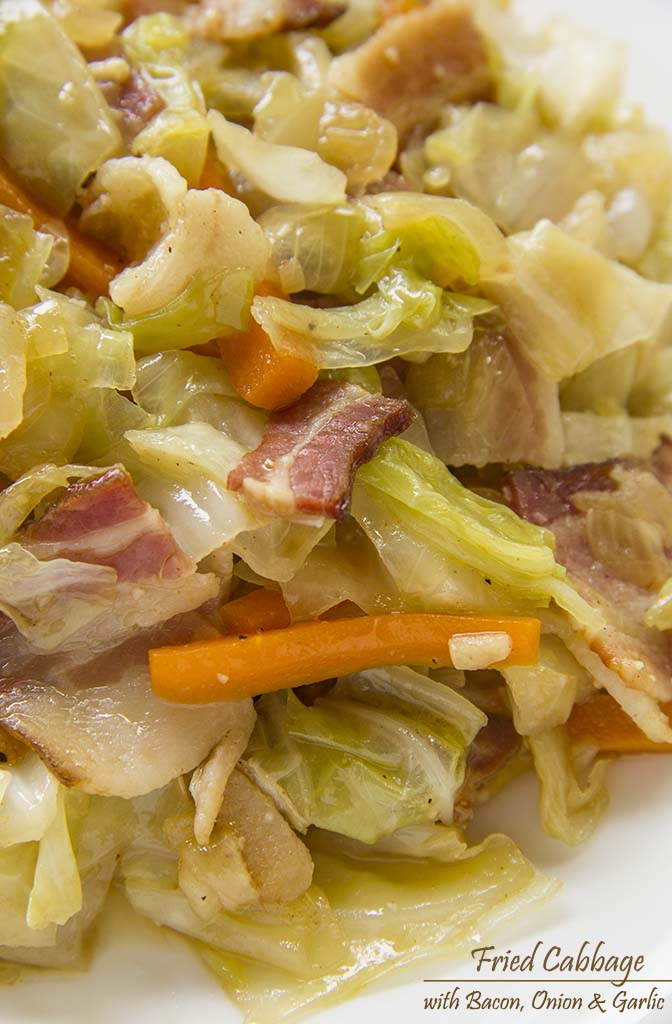 Cabbage, along with Spring Greens and Brussels Sprouts, probably have the worst reputation of any vegetable. They're the classic example of the vegetable hated by both kids and adults, only eaten because they're so good for you.
Its not surprising really – I am sure we have all eaten really awfully cooked cabbage, greens or sprouts at one time or another … overcooked, watery, tasteless, colourless…It's no wonder that generations of children rebel!
However, you can use the cooking magic to turn their thoughts around, these green vegetables can be really tasty. How ??! Did i mentioned bacon ?? ( Everything is always better with bacon, right? ) Yes, this recipe calls for bacon and bacon grease which is part of what makes it a truly Southern dish in my opinion, while using bacon grease might not be the healthiest of choices it is the most flavorful.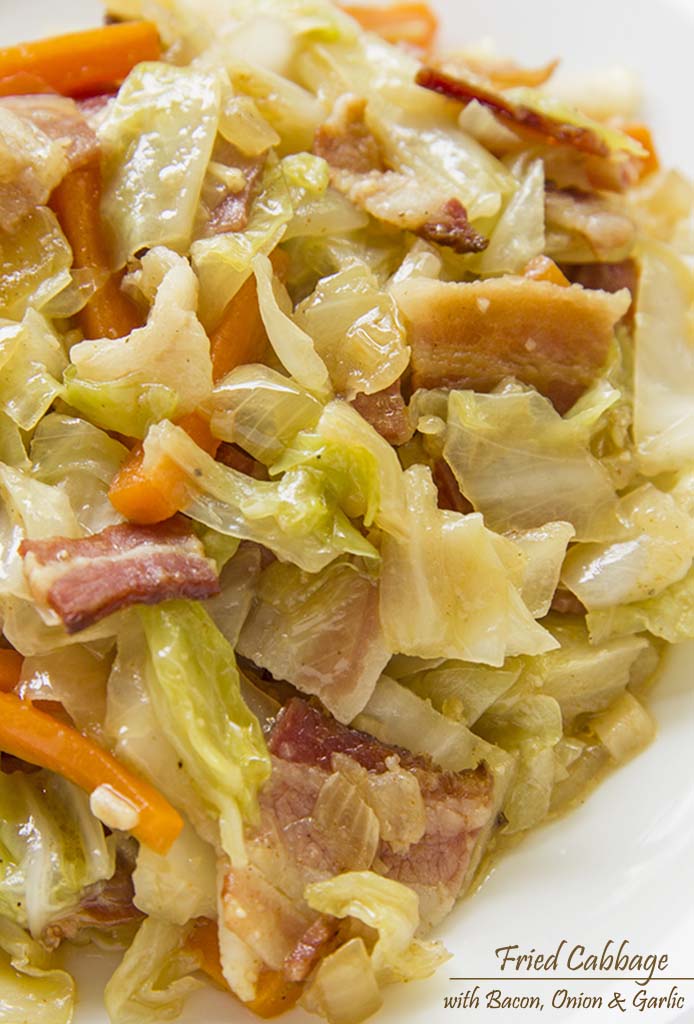 Even if you don't think you like cabbage you definitely have to give this recipe a try, with a good reason, because it's absolutely delicious, very easy to make and hearty enough to be a meal on it's own. let's face it…..how can you go wrong with bacon, garlic and onions?
Fried Cabbage with Bacon, Onion & Garlic
Ingredients
6 slices bacon
1 large onion, diced
2 cloves garlic, minced
1 large head cabbage, cored and sliced
1 tablespoon salt, or to taste
1 teaspoon ground black pepper
½ teaspoon onion powder
½ teaspoon garlic powder
⅛ teaspoon paprika
Carrots optional
Instructions
Cook the bacon in a large skillet over medium heat until crispy and cooked through.
Remove the bacon and place it on paper towels to drain. Chop into crumbles.
Stir garlic and onion into the skillet with the bacon grease and cook, stirring often, for 5 minutes, or until tender.
Now add the cabbage immediately and continue cooking for another ten minutes, or untill softened.
Add the bacon crumbles on top, ⅓ cup of water as needed to steam the cabbage, salt and pepper to taste, onion powder, garlic powder and paprika.
Stir to combine, lessen the flame and cook for another couple of minutes or until the liquid evaporates, and keep stirring at regular intervals.
Taste and re-season if needed. Serve immediately. Enjoy.
Note - do get some carrots in the mix, that just adds a little something extra to the dish.