Pumpkin Cheesecake Bars with Gingersnap Crust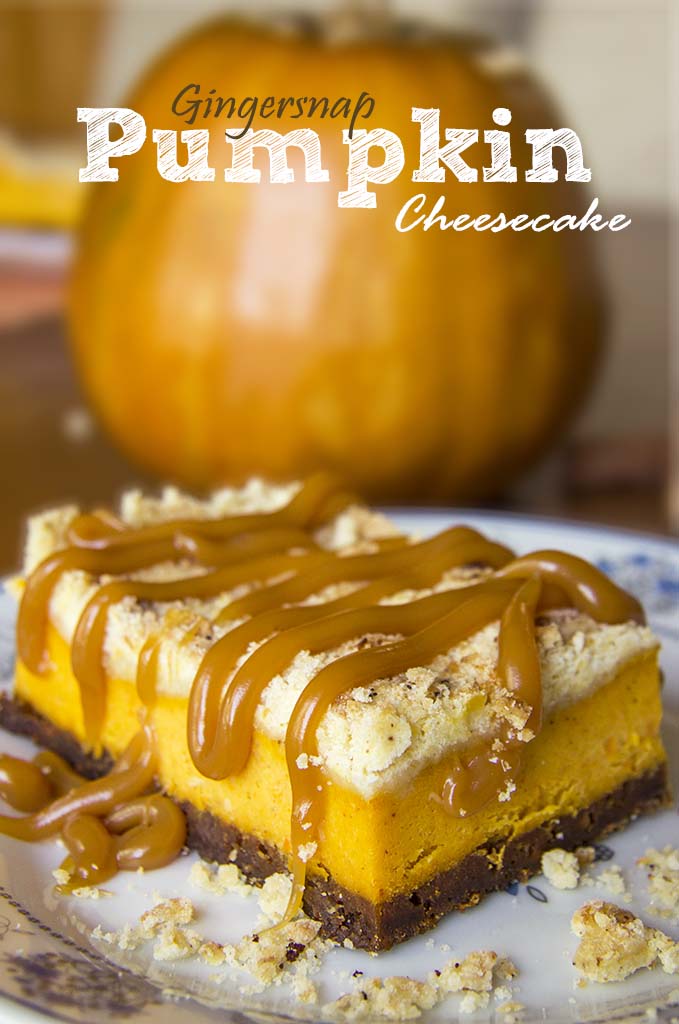 For the gingersnap crust:
2 cups gingersnap cookies, crumbed
4 tablespoons butter, melted
¼ cup dark brown sugar
For the Pumpkin Cheesecake Filling
16 oz cream cheese, softened
⅓ cup sugar
⅓ cup sour cream
2 large eggs
1 cup pumpkin puree
1 teaspoon cinnamon
½ teaspoon ground nutmeg
⅛ teaspoon ground cloves
1 teaspoon of vanilla
For the Buttery Streusel
¼ cup brown sugar
½ cup all purpose flour
4 tablespoons cold unsalted butter cut into pieces
caramel sauce - optional
Preheat the oven to 350°F.
Line a 8″x8″ glass pan or light-colored metal baking pan with foil, (be sure to cover the sides, you are going to use this to lift the cheesecake out of the pan), or you can use silicone pan.
In a bowl, stir together the crushed gingersnap cookies, melted butter, and dark brown sugar until completely combined.
Press the mixture evenly into the bottom of the prepared pan.
Bake for 10 minutes in the preheated oven. Remove from oven and let cool completely while you prepare the filling.
In the bowl of a standing mixer beat the cream cheese on medium speed just until it is lump free and smooth. Add the sugar and beat again until well combined, about 2 minutes.
Beat in sour cream, vanilla, eggs, pumpkin puree, cinnamon, nutmeg and cloves.
Beat on medium-low speed until completely combined.
Pour mixture onto gingersnap crust.
In another bowl combine flour and brown sugar. Using a pastry cutter cut cold butter into the mixture until crumbly.
Sprinkle mixture over the top of the cheesecake mixture.
Bake for 40 - 50 minutes or until a toothpick inserted in center comes out mostly clean you are good to go.
Transfer the pan to a cooling rack and allow the bars to come to room temperature, about 30-40 min, then refrigerate until chilled, at least 2 hours.
Using a very sharp knife, cut, drizzle with caramel sauce and serve.
Enjoy!
The bars can be stored in the refrigerator, tightly covered, for up to 3 days.
Recipe by
Cakescottage
at https://cakescottage.com/2014/09/25/pumpkin-cheesecake-bars-gingersnap-crust/