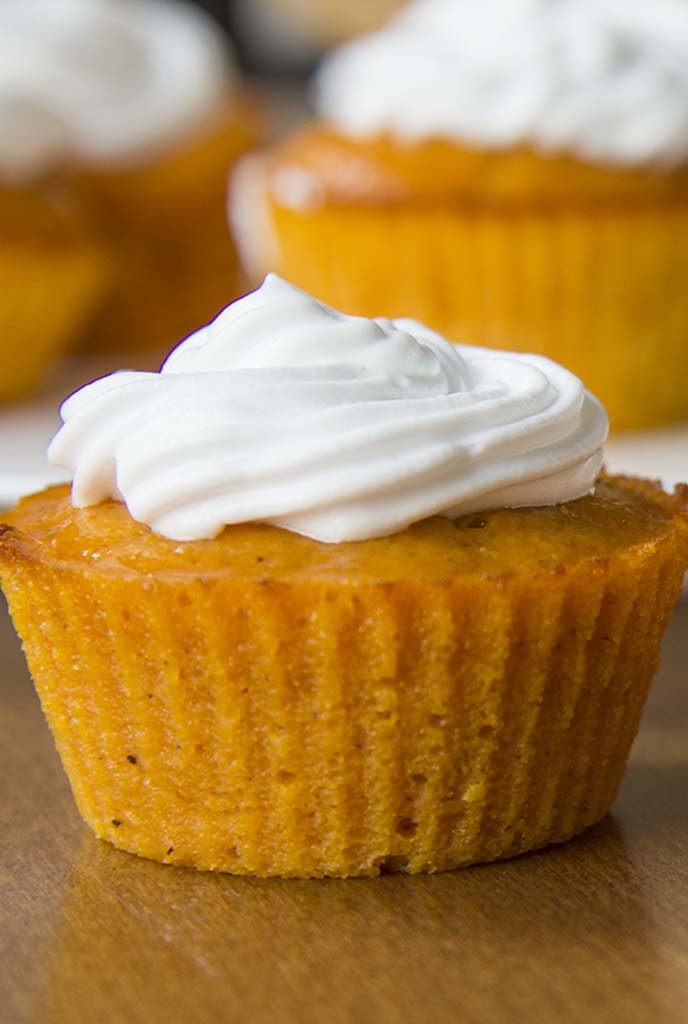 Impossible Pumpkin Pie Cupcakes
Ingredients
⅔ cup all purpose flour
15 oz pumpkin puree
¾ cup sugar
2 large eggs
1 teaspoon vanilla
¾ cup evaporated milk
2 teaspoons pumpkin pie spice
¼ teaspoon salt
¼ teaspoon baking powder
¼ teaspoon baking soda
Whipped cream
Instructions
Line a 12-cup muffin tin with paper or silicone liners.
Preheat oven to 350 degrees.
In a bowl, whisk together flour, baking powder, baking soda, salt and pumpkin pie spice.
In a large bowl, whisk together pumpkin puree, sugar, eggs, vanilla and evaporated milk until well combined.
Add in dry ingredients and whisk until no streaks of flour remain and batter is smooth.
Fill each muffin cup with approximately ⅓ cup of batter.
Bake for 20 minutes and let cool for 20 minutes.
Remove cupcakes from pan and chill in the fridge for 30 minutes.
Top with whipped cream and sprinkle with more pumpkin pie spice or cinnamon on top and before serving.

FYI: The scent of Pumpkin has been reported to stimulate the attraction of men….so watch out ladies!
Note : This post contains two pages
Read our blog about  Impossible Pumpkin Pie Cupcakes, with additional photos, at Page 1.