Miniature bits of banana heaven.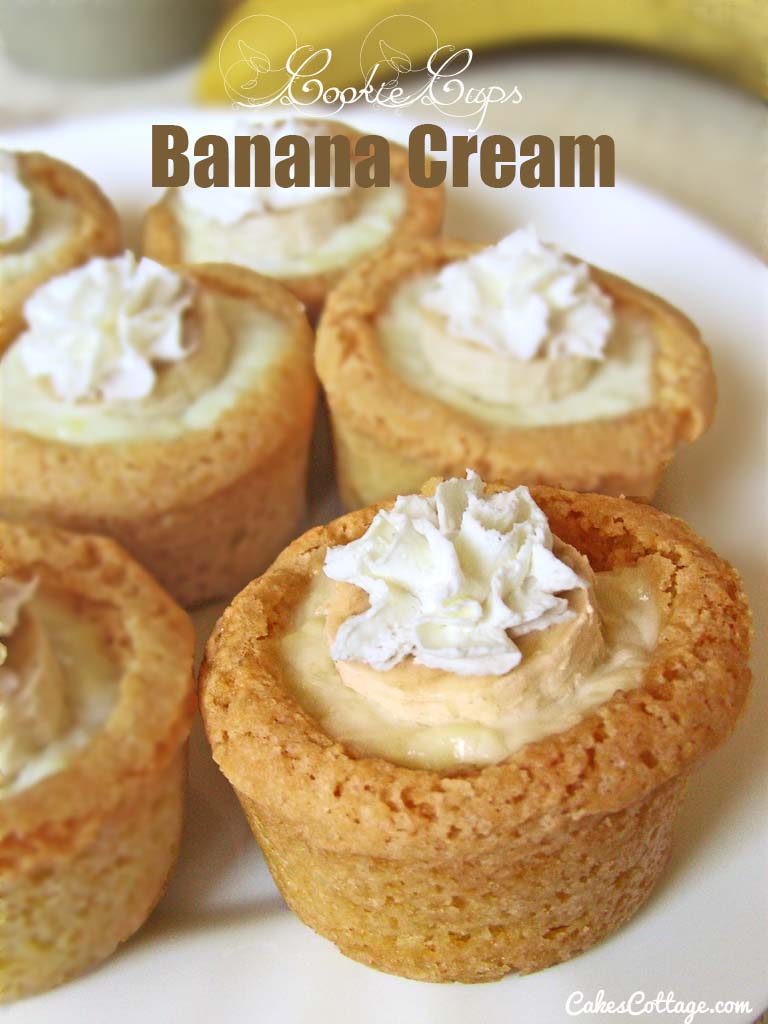 SIDE NOTE: This is my 40th post! Hurraw!
I've learned that I'm definitively addicted to nutella and exercise, and in the past two months I've realized the combination of cookie cups, strawberries and/or banana is also a substance I cannot resist.

That's right – today I have made MORE cookie cups for you (see my other recipes here, here, and here)… enjoy.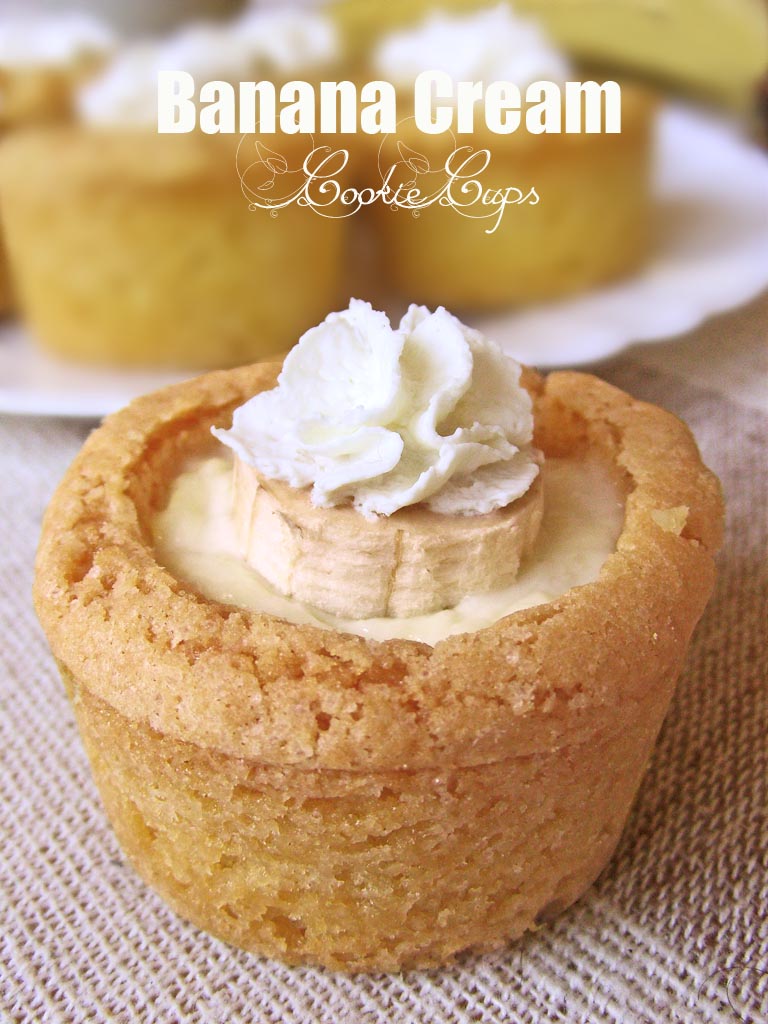 Yes, I keep using my cupcake pan . . . and still not making cupcakes. Sorry for all you cupcake people out there, I feel your pain. Cupcakes are so cute!
Well, these cookie cups may not be cutest cookies in the world, but oh man do they taste incredible. Remember the nutella cookie cups (they go viral on Pinterest, for some reason) ?
I baked them in cupcake pans too and they turned out super soft. Then i came up with an idea, "Why don't I add banana to this cookie cups!?"
So I did.
Yes.
And I put banana cream pudding and whipped cream too in these cookie cups.
Bam-o.
These are Banana Cream Cookie cups. They are what they claim to be. Miniature bits of banana heaven.
Banana Cream Cookie Cups
Ingredients
Cookie dough
------
1 cup (2 sticks) butter, softened
1 cup white sugar
1 cup brown sugar
2 eggs
2 tsp vanilla extract
3 cups all-purpose flour
1 tsp baking soda
pinch of salt
-------
Filling
-------
1 box banana instant cream pudding, prepared according to package directions
1 banana
-------
Topping
-------
whipped cream
Instructions
Preheat your oven to 375 degrees F.
Lightly spray muffin pans with baking spray or use silicone muffin pan.
Cream butter in a mixing bowl, gradually add both sugars and continue creaming until light and fluffy.
Beat in eggs and vanilla and mix thoroughly.
In a separate bowl, sift the flour, salt, and baking soda with a wire whisk until combined.
Slowly add to wet ingredients until just combined.
Roll dough into balls 1.5 inches thick.
Place them in the muffin pan (do not squish down yet!) and bake for 10-12 minutes, until golden brown but not too dark around the edges.
Remove from oven and use a shot glass or similar object to press your baked cookies down as soon as they come out of the oven.
It creates a perfect hole for your banana cream to melt in!
Add 1 tbsp banana cream to each cup – it will start to melt quickly so you can swirl it around and make it nice and smooth.
Slice banana into 12 slices and place on top of pudding. Top with a dollop of whipped cream.
Let cool 15-20 minutes in pan ( be sure to eat at least one cup right away!), and serve.
Store leftovers in an airtight container for 3-4 days, or freeze for a convenient treat.