Crispy – Heart shaped potatoes would be perfect side for Valentine's Day Dinner.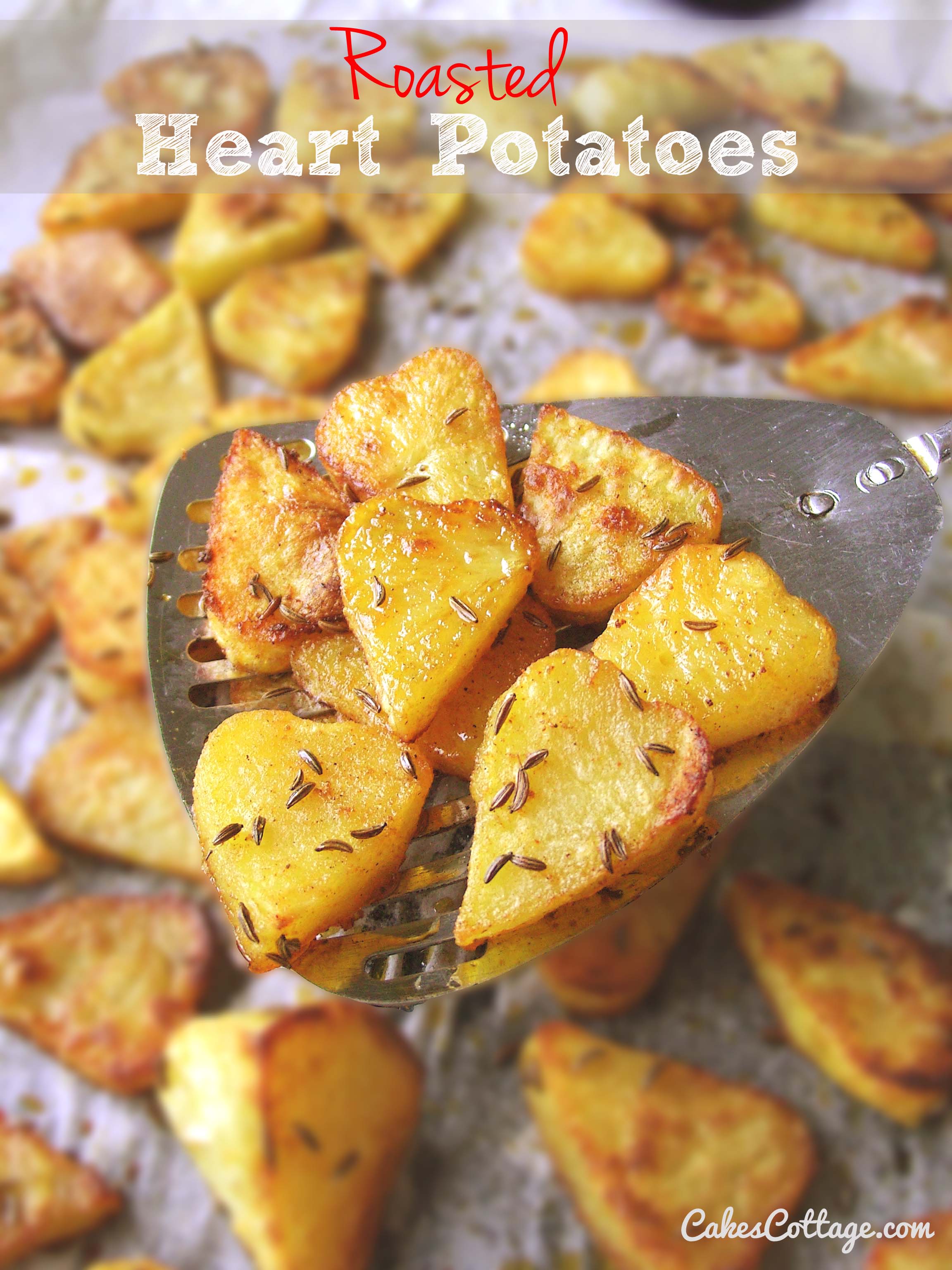 Won't you fall in love with the heart potatoes with me?
I can't imagine my way to the local grocery store or flow market without picking up a big bag of potatoes 🙂 . Potatoes making a regular appearance on the supper plate in some form. Whether you take the time to roast them, or boil them and mash, they never seem to disappoint.To me, it means being a meat and potatoes kind of person, right ??

Just imagine them being crisp, greasy, cheesy, and bacony. Mmmm… I might be out of control. WHERE'S MY KETCHUP?  Just kidding…kinda.  If you are a food blogger(Blogging is supposed to be fun, not work, right ??), as soon as the calendar turns to February, you will try to make something hearty or heart shaped at least, so i made roasted potatoes a bit extraordinary. they come up so cute, would be perfect for Valentine's Day Dinner.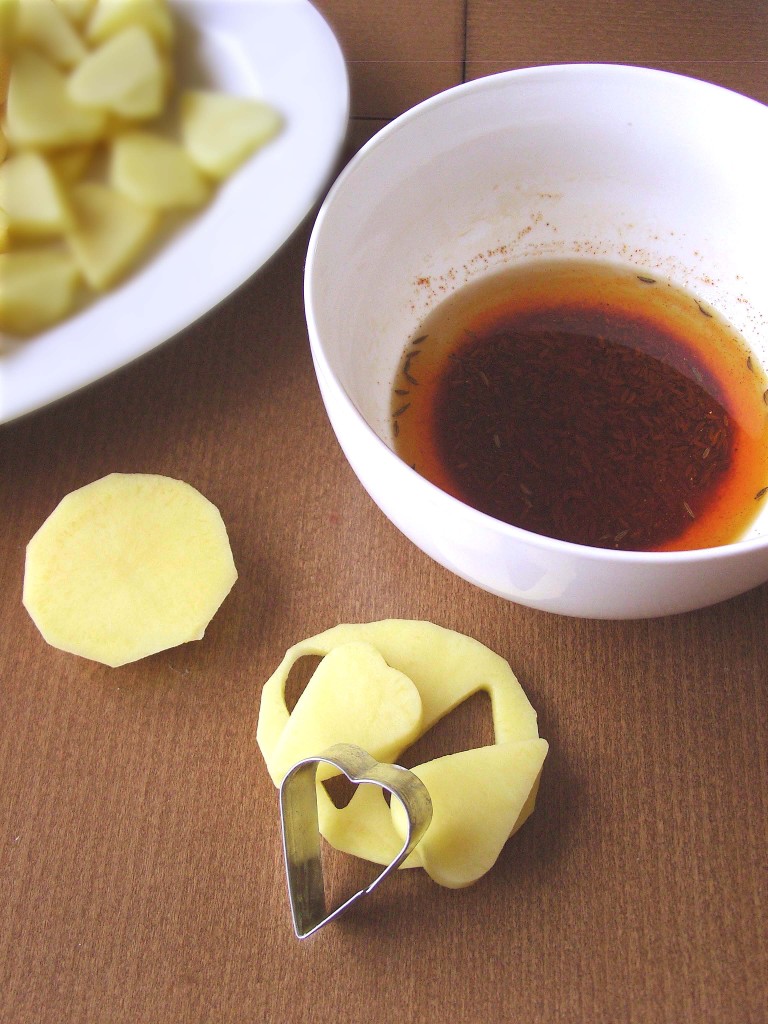 Basically the potatoes are tossed with a ton of minced garlic, olive oil, caraway seeds and paprika then roasted in the oven until they crisp up on turn a golden brown on the outside. The herbs sticks to the potatoes and the garlic crisps up slightly.The keys to this recipe are: parboiling the potatoes, make sure the potatoes are parboiled rather than fully cooked when you pull them from the water, you want them slightly underdone.
Roasted Heart Potatoes
Recipe type:
Main dish - Side dish
Ingredients
5 large potatoes(for 4 servings)
¼cup olive oil
2tsp salt
freshly ground pepper
2tsp caraway seeds
½tsp paprika
Instructions
Preheat the oven to 400 degrees.
In a pot, pour in water and bring to a boil, add 1tbl salt, then reduce heat to gentle simmer.
Line baking sheet with aluminum foil, spray with non-stick spray or brush with oil.
Peel potatoes and slice them into about ¼ inch thick slices.
Using a small heart-shaped cookie cutter, cut out as many hearts as you can. (usually one or two hearts per slice)
Reserve scraps in water, you can also make mashed potatoes.
Boil the potatoes in boiling water for 3 minutes, drain, and let cool.
Combine all the ingredients for the marinade : olive oil, salt, caraway seed, pepper, paprika.
Pour marinade over potatoes, stir and let sit for 5 minutes.
Spread marinaded potatoes evenly onto the baking sheet.
Roast them for 25-30 minutes, in halftime Flip potatoes over to ensure crust on both sides using an off set silicone spatula.
If your oven has a broiler, broil potatoes for additional 5 minutes or until they are golden on brown.
Serve while hot and crispy.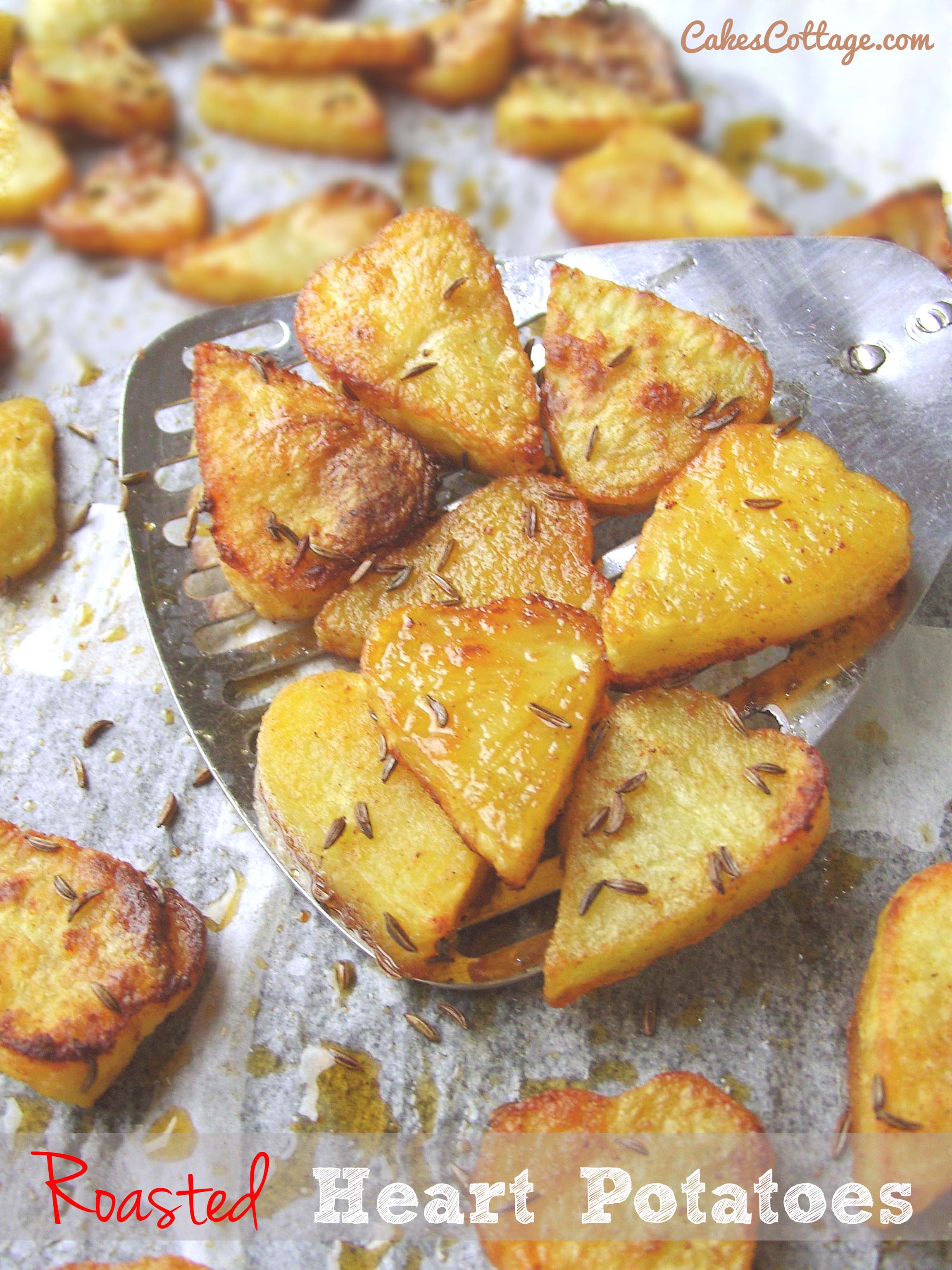 Note : You will have the sweetest side dish, perfect to share with the one you love.