This is the perfect Cranberry Christmas Cake! All of the holiday flavors you love in the Starbucks' Cranberry Bliss Bars in the cake form.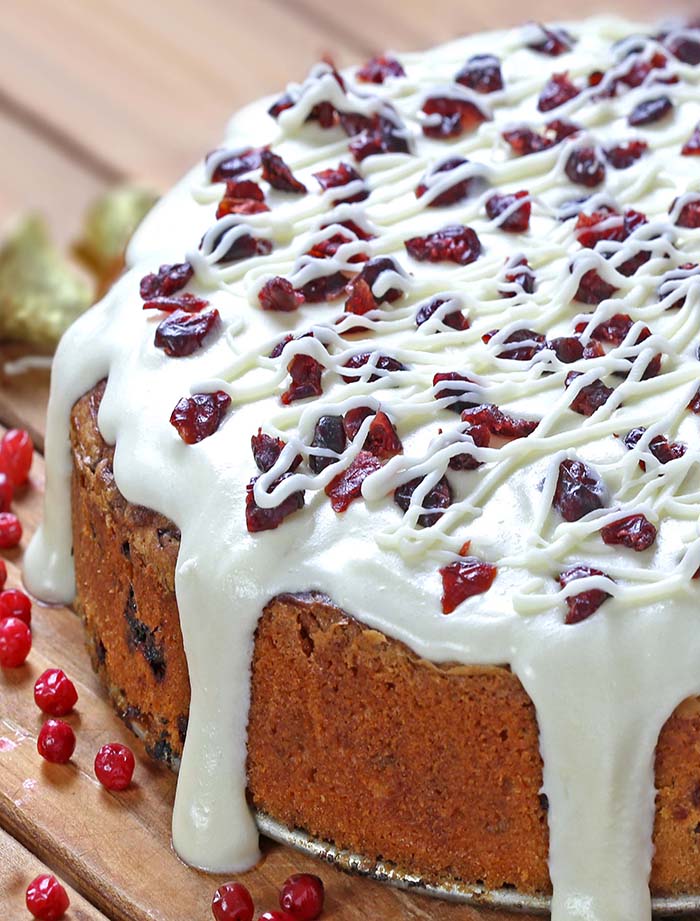 If you are a fan of Starbucks' Cranberry Bliss Bars, you are going to love this Christmas Cranberry Cake.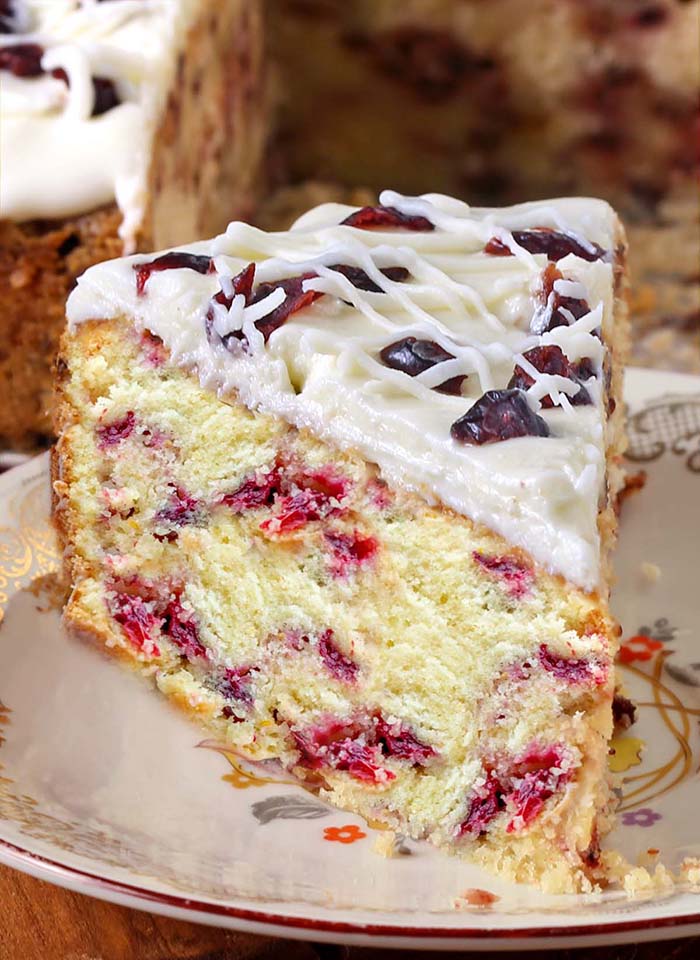 How to Make Cranberry Christmas Cake
This Christmas Cranberry Cake is an easy to make, from scratch cake that just takes a few basic
ingredients, a spring form pan, and comes out perfectly tender every time!
It starts with a classic sweet buttery cake base mixed with fresh or frozen cranberries, topped with delicious cream cheese frosting, and decorated with dried cranberries and white chocolate. If you do not have a springform pan, you should be able to make this with a regular cake pan by lining  the edges with parchment or cutting around them well.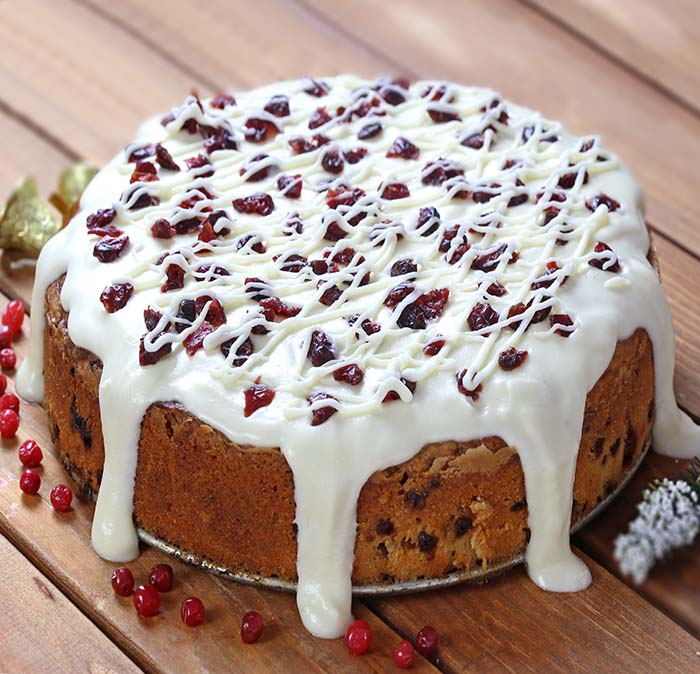 Tips for making Christmas Cranberry Pound Cake:
Coat your cranberries in flour before folding into pound cake batter.
Add coconut oil to your white chocolate to help it melt to a smooth consistency.
Don't have fresh cranberries? You can use frozen cranberries!
CAN I USE FROZEN CRANBERRIES?
Yes! Cranberries are not generally available year round, so I like to stock up on them at the store  and keep them in the freezer through the season and into the next year. They will stay good for about  6 months in the freezer and work just as well as fresh cranberries when baking.
CAN I USE LESS SUGAR IN THIS CHRISTMAS CRANBERRY CAKE?
Not really. Cranberries are extremely tart in their natural flavor so they need a decent amount of  sugar to keep the taste pleasant. The topping also needs to have enough sugar to create the
irresistible topping. With that warning, if you would like to experiment with less sugar to get a
more tart outcome you can, but I can not guarantee the outcome. If you do try it, let me know how it  worked in the comments.
CAN I FREEZE CRANBERRY CAKE?
Yes! This cake will freeze well post baking, but without the cream cheese topping.
To freeze, let the cake cool completely. Then wrap it tightly or put it in an airtight container and
place in the freezer for up to a month. To thaw, place it covered, in the refrigerator overnight or
at room temperature for 1-2 hours. When ready to serve, make cream cheese topping.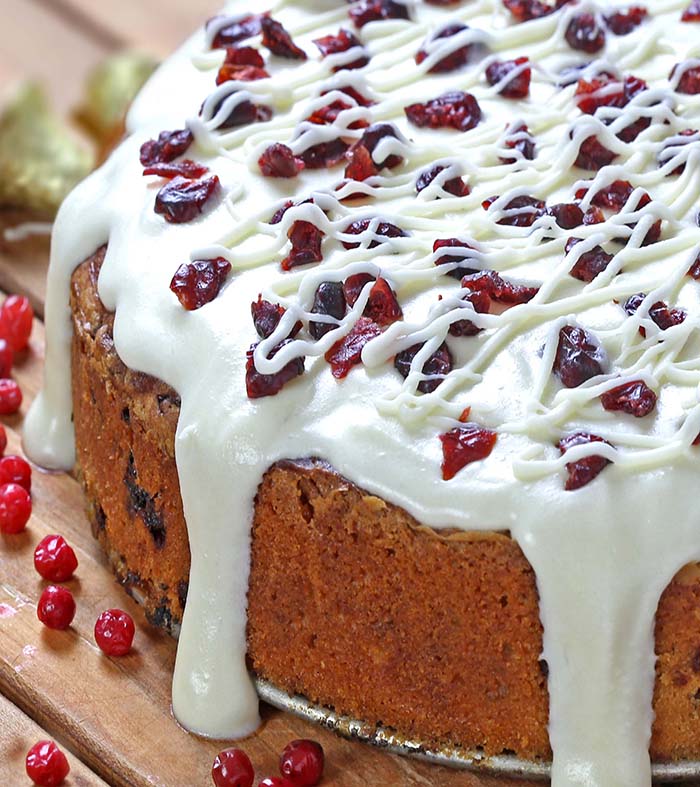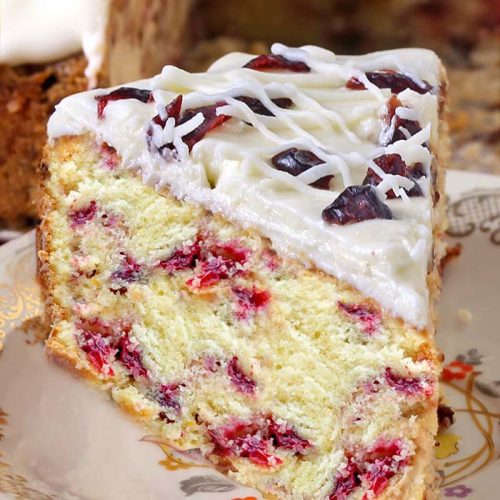 Christmas Cranberry Cake
This is the perfect Cranberry Christmas Cake! All of the holiday flavors you love in the Starbucks' Cranberry Bliss Bars in the cake form.
Ingredients
3

eggs

2

cups

sugar

3/4

cup

unsalted butter

slightly softened and cut into chunks

1 1/2

tsp

vanilla

1

tsp

salt

2

tbsp

whole milk

2

cups

flour

plus more to toss the cranberries to cover them completely.

2 1/2

cups

cranberries

12 ounce bag
Frosting
1

stick

butter

(1/2 cup), softened

8

oz

cream cheese , softened

softened

3

cups

powdered sugar

add more until the desired consistency enough to spread on top of the cake, sifted

1

tsp

vanilla extract
Garnish
dried cranberries

handfull

1/2

cup

white chocolate chips
Instructions
Preheat oven to 350°F. Grease a 9-inch springform pan. In a small bowl, toss cranberries with a handful flour to cover them completely.

In a large bowl, beat eggs and sugar for 5-7 minutes, until eggs have increased in volume and stream into ribbons when you lift the beaters.

Add butter and vanilla and beat until incorporated, about 2 minutes. Beat in milk and salt. Stir in flour, then fold in cranberries. Scrape batter into prepared pan.

Bake for an hour, or until a tester comes out clean (but there might be cranberry juices on it). Cool on a wire rack. Run a knife around the cake and then unmold.

Beat the cream cheese and butter with an electric mixer until soft. Mix in the powdered sugar about 1 cup at a time, alternating with the cream until the desired sweetness and consistency is reached. mix in vanilla extract.

Spread on top of the cake.Refrigerate the cake until the frosting is set. When ready to serve, melt white chocolate chips in a bowl as directed on package. Sprinkle the top with dried cranberries and drizzle white chocolate on top.

You can use a spoon to drizzle it over the tops of the berries or you can put it into a small zip-top bag and snip of the corner for an easy "piping bag."
Notes
You may need to tent the cake with foil in the last 15 minutes or so to keep the top from browning.