Bee Sting Cake – Crunchy, honey-flavored almond topping, creamy filling, and two delicious yeast cake layers make this traditional German dessert absolutely wunderbar!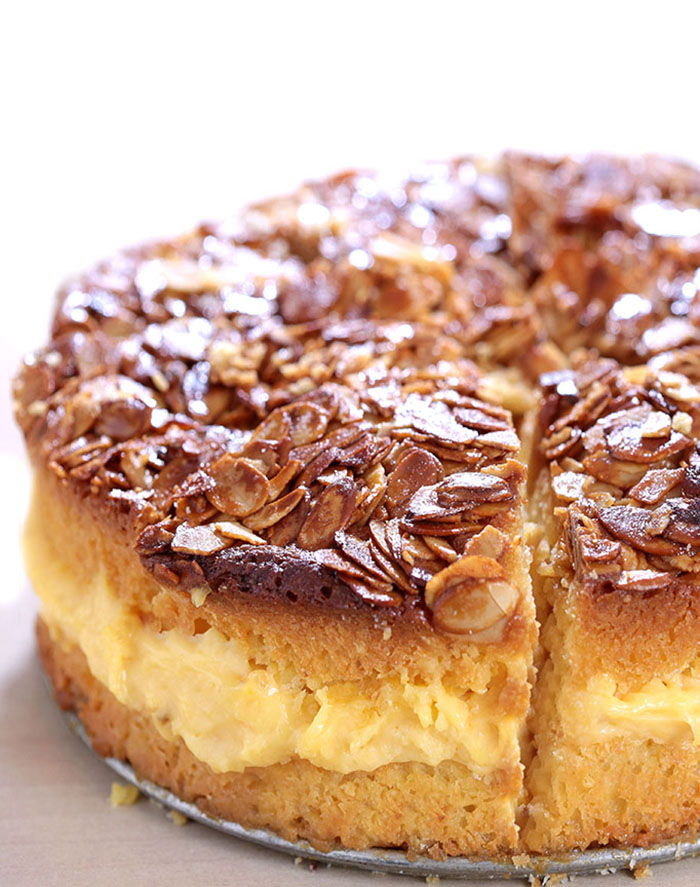 It's one of the best desserts in Germany, absolutely wunderbar!
Everyone who tries this German Bee Sting Cake LOVES it. Whenever I make it, it disappears quickly!
What is Bee Sting Cake?
Bienenstich Kuchen – or Bee Sting Cake – is a traditional German dessert that is being made from a yeasted dough like a brioche bread. Topped with crunchy, buttery, honey-and-almond topping, and filled with creamy custard filling, Creme Patissiere or plain vanilla pudding.
This is a perfect cake for afternoon tea as it is for dessert. The wonderful topping makes this cake so special. It is crunchy and ooey gooey together and it caramelized to perfection. Simply heavenly!!
Why is it called Bee Sting Cake?
There are many stories surrounding this rather unusual name. One story is about two royal pastry chefs who stole honey from a beehive on the banks of the Rhine in 1474, to bake a special cake for their king. Apparently bee sting cake was the result – possibly because of the numerous stings they encountered. Other story was that the baker who invented the cake was stung by the bee which attracted to the sweet honey topping.
How to make Bee Sting Cake ?
Don't be scared off by all of the steps in this recipe!
It's really quite easy to make. First you make the dough, then the honey almond topping. While the cake is baking, prepare the filling. After the cake has cooled a bit, assemble the cake, let it chill for an hour, and then enjoy!
A few tips for making Bee Sting Cake
The Brioche dough will need to go through two risings, therefore allow enough time in the day to complete the rising steps and baking.
The Pastry Cream can be prepared the day before, however it is best if eaten within three days, if you like you can light it with whipped cream, or with egg whites. Or if you are short on time you could use packaged pudding mix instead.
When assembling the cake, cut the top layer into 9 to 12 wedges, depending on how many people you are serving, and reassemble the wedges on top of the Pastry Cream layer.
Precutting the top makes it easier to serve the cake so the Pastry Cream doesn't squish out while cutting the cake.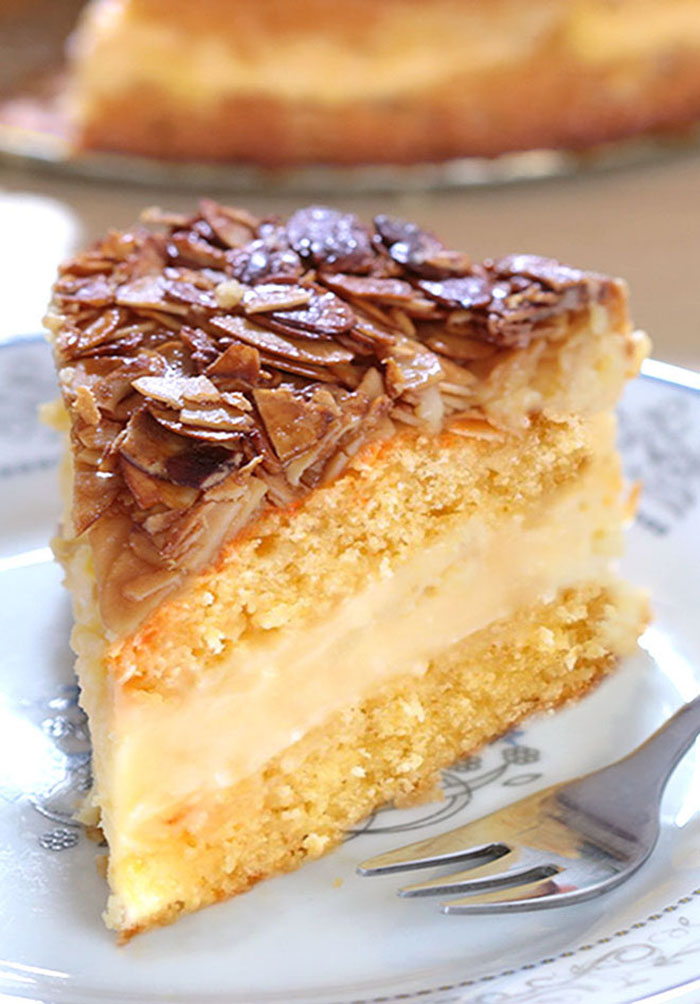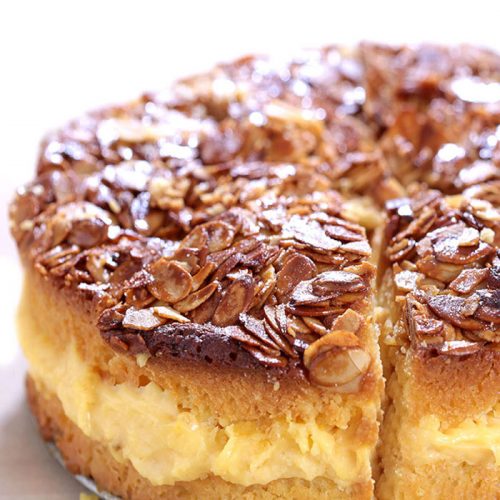 German Bee Sting Cake
Bee Sting Cake - Crunchy, honey-flavored almond topping, creamy filling, and two delicious yeast cake layers make this traditional German dessert absolutely wunderbar!
Ingredients
Cake
2 1/4

tsp

instant yeast

(also sold as Rapid Rise or Bread Machine yeast)

3/4

cup

whole milk

room temperature

1/4

cup

granulated sugar

2 1/4

cups

all-purpose flour

3/4

tsp

salt

2

large

eggs

at room temperature

4

tbsp

butter

at room temperature
Honey-Almond-Crunch Topping
6

tbsp

unsalted butter

1/3

cup

granulated sugar

3

tbsp

honey

2

tbsp

heavy cream

1 1/2

cups

sliced almonds
* I Option Filling (Pudding Cream Filling)
2

cups

heavy whipping cream

1

3.4 oz

vanilla pudding mix
* II Option Filling (Pastry Cream Filling)
1

cup

whole milk

3

large

egg yolks

1/4

cup

granulated sugar

3

tbsp

cornstarch

1

tsp

vanilla extract

2

tbsp

unsalted butter
Instructions
In a medium sized mixing bowl mix all of the cake ingredients together. Knead dough a few times (3-6 times) until it looks and feels smooth. Cover with a plastic wrap or towel and let it rise for 30 minutes (it doesn't rise all that much).

Grease a 9-inch round cake pan with butter or cooking spray. Stir the batter a few times to deflate it slightly, and press into the pan. Prick the dough several times with a fork, and cover again with plastic wrap and set aside.

Preheat the oven to 350F. Melt butter, honey, and sugar in a saucepan over medium heat. When the butter has melted, add cream and then mix until sugar is dissolved. Remove saucepan from heat and stir in sliced almonds. Set aside.

Once the cake has finished its second rise, pour the almond topping onto the dough and spread evenly. Bake for 30-35 minutes (at 350F). The topping will be golden brown when done. Let the cake cool for a few minutes.

* Pudding Filling Variation : Add the pudding powder to the heavy cream and beat to stiff peaks.

* Pastry Cream Filling Variation : Combine sugar, cornstarch and egg yolks in the top of a double boiler. Separately heat milk to scalding, slowly pour over egg yolk mixture, stirring constantly and quickly with a whisk.

Place over hot water, cook stirring constantly until smooth and thick. DO NOT ALLOW TO BOIL. Off the heat, whisk in the butter and vanilla extract. Cover with a plastic wrap over the top and chill.

When you can comfortably touch the topping, use a long serrated knife to cut the cake in two layers. Cut the top layer into 9 pieces (or 12 if you want very small pieces). It's MUCH easier to cut the top layer when it's still a bit warm.

Spread filling on bottom cake layer. Place top cake layer on the cream filling piece by piece. Chill in the fridge for 1 hour or until the filling is set.

When you're ready to serve the cake, be careful not to not press down too hard on the top layer when cutting the bottom layer because the filling will spill out. Enjoy!
Notes
* If you want to lighten the pastry cream. Beat remain egg whites, adding the salt, until stiff peaks form. Fold egg whites into the yolk mixture.