A perfect red, white, and blue no bake summer berry delight for your Memorial Day, 4th of July BBQ's or any family get-togethers…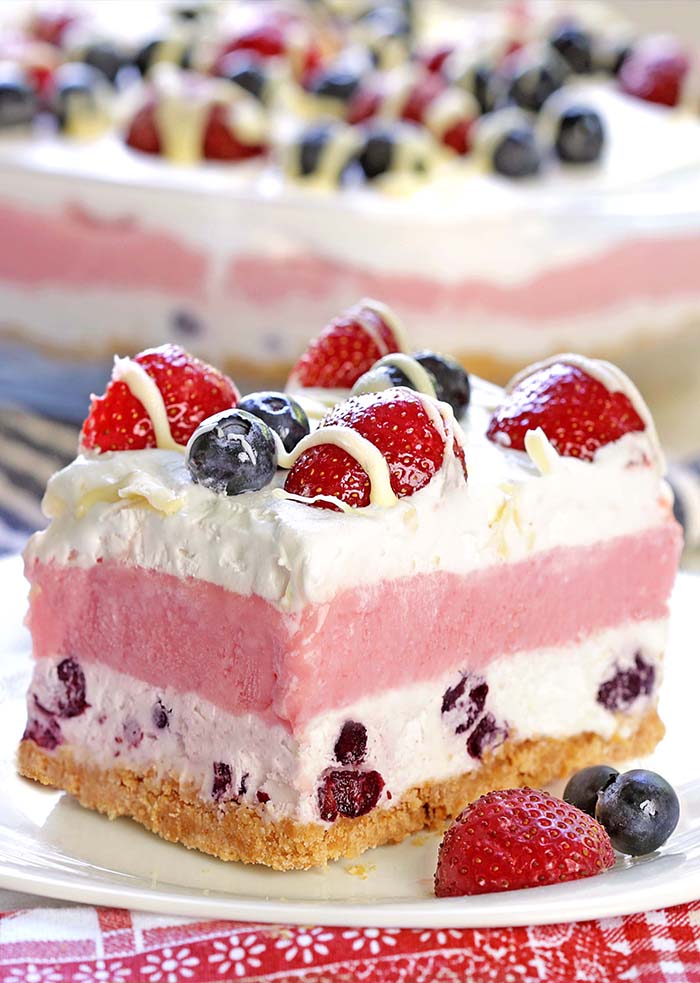 The minute I see that first case of berries arrive in the grocery store, my mind immediate switches into summer mode – imagining all I can do with those sweet little babies.
I just love berries… from my Strawberry Cheesecake Salad, Summer Berry Cheesecake Salad, Blueberry Croissant Bake, and Strawberry Shortcake Cupcakes, to No Bake Strawberry Icebox Cake. So, based on the success of my Oreo Delight and Summer Berry Icebox Cake, here's a Strawberry and Blueberry version that I just know you'll love!
The crunchy and festive golden oreo crust, combined with the blueberry cheesecake layer, creamy and tender strawberry pudding layer and delicious fresh strawberries and blueberries on top, makes this red, white and blue summer berry delight ideal for BBQ's, potlucks and family get-togethers…
It's one of those things, too, that seems to get better over time. Y'all enjoy!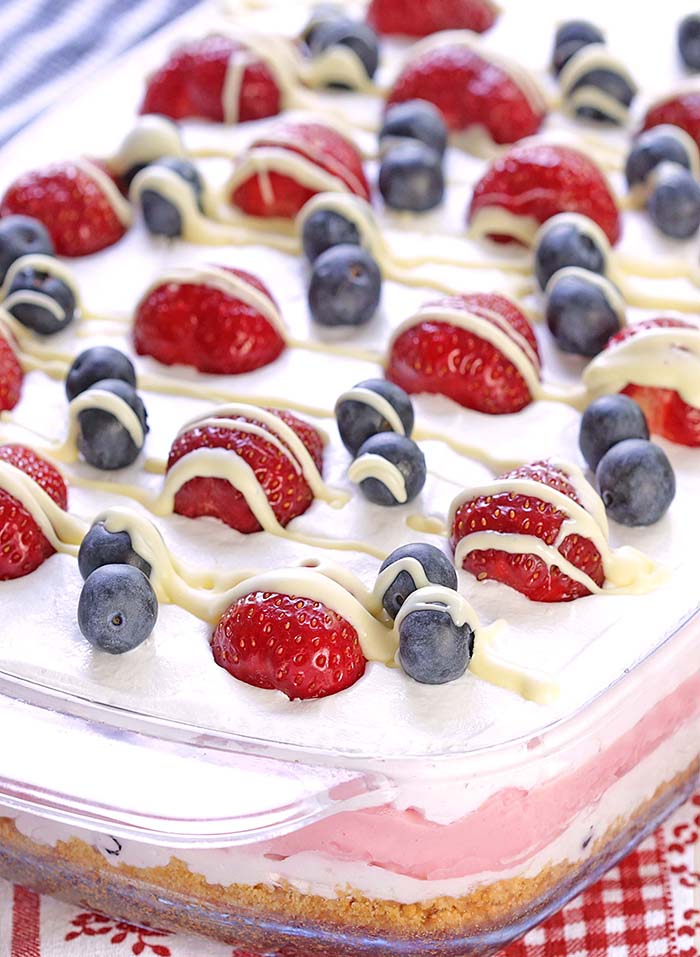 No Bake Summer Berry Delight
A perfect red, white, and blue no bake summer berry delight for your Memorial Day, 4th of July BBQ's or any family get-togethers…
Ingredients
1 pkg of golden Oreos
6 tbsp butter, melted
8 oz cream cheese, softened
1 cup confectioners/powdered sugar
1 cup blueberries, fresh or frozen(thawed)
1 (16 ounce) container Cool-Whip, thawed, divided
2 (3.4 oz.) instant strawberry pudding mix
3 cups cold milk
Fresh Strawberries (sliced) and Blueberries for decorate
2 oz white chocolate chips
Instructions
Crush the whole package of cookies either with a food processor, or take out your frustrations and do with a rolling pin.
In a small bowl mix oreo crumbs with melted butter.
Press Oreo crumbs/butter mixture into bottom of 9X13 pan to form a crust.
Make strawberry pudding according to package directions and let it setup in the fridge.
Using electric mixer, mix softened cream cheese, and confectioners sugar in a large bowl. Stir in 2 cups of cool whip, and gently mix in blueberries.
Spread the blueberry cream cheese mixture on top of the oreo crust.
Let it chill in the freezer to firm up.
Spread the pudding over the previous layer, then your remaining cool whip on top.
Melt white chocolate chips in a bowl as directed on package.
Arrange sliced strawberries and blueberries, and drizzle white chocolate over dessert.
Refrigerate for at least 4 hours or overnight.
* Can't find strawberry pudding? Just purchase two boxes of instant vanilla pudding and add 2 teaspoons of strawberry extract when preparing the pudding with the milk.
If you use frozen blueberries, be sure to rinse and drain them well with paper towel!!!