Seriously, you need to make these easy buckeyes. They're so good, so easy….so delish!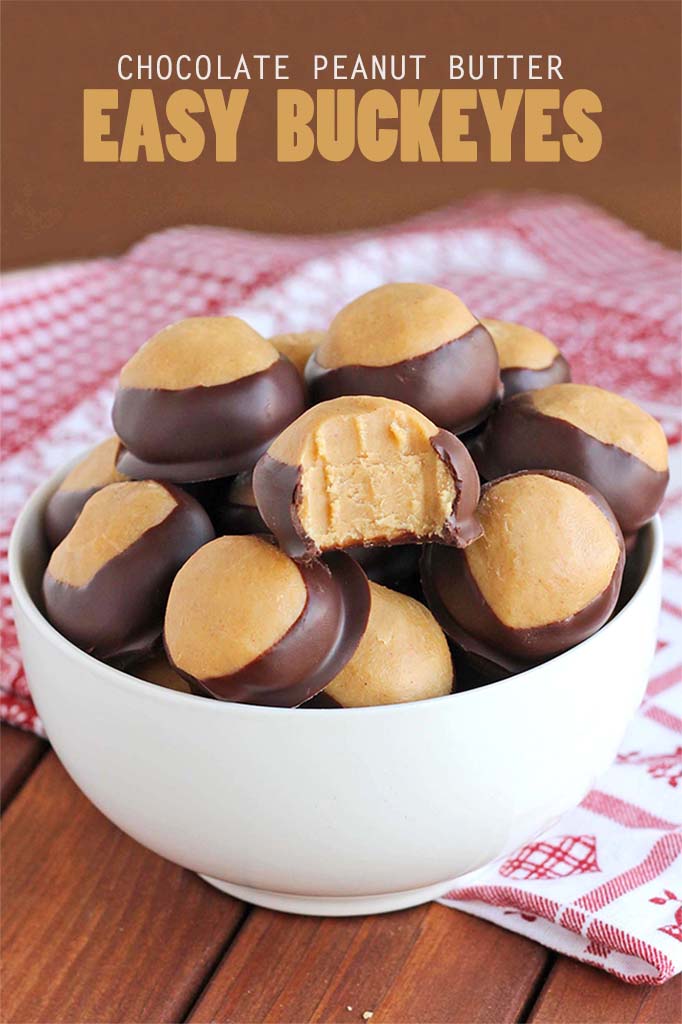 Oh, chocolate and peanut butter, how good you are.
Sonnets and songs can be written about the flavor combination, and if you've followed my baking adventures here at CC for even a short time, you probably are quite familiar with my love of all things chocolate and peanut butter.  I know that many of you share that love, too 🙂
One of my favorite holiday treats which include chocolate and peanut butter are homemade peanut butter balls and their close relatives, buckeyes. They're like a delicious homemade version of a Reese's Peanut Butter Cup.
Peanut butter balls is one of the first recipes I put to celebrate chocolate and peanut butter here on CC, but a lot of good things have gotten baked since then, so I thought it was good time for another great chocolate and pb recipe for all of us that can't get enough of chocolate and peanut butter.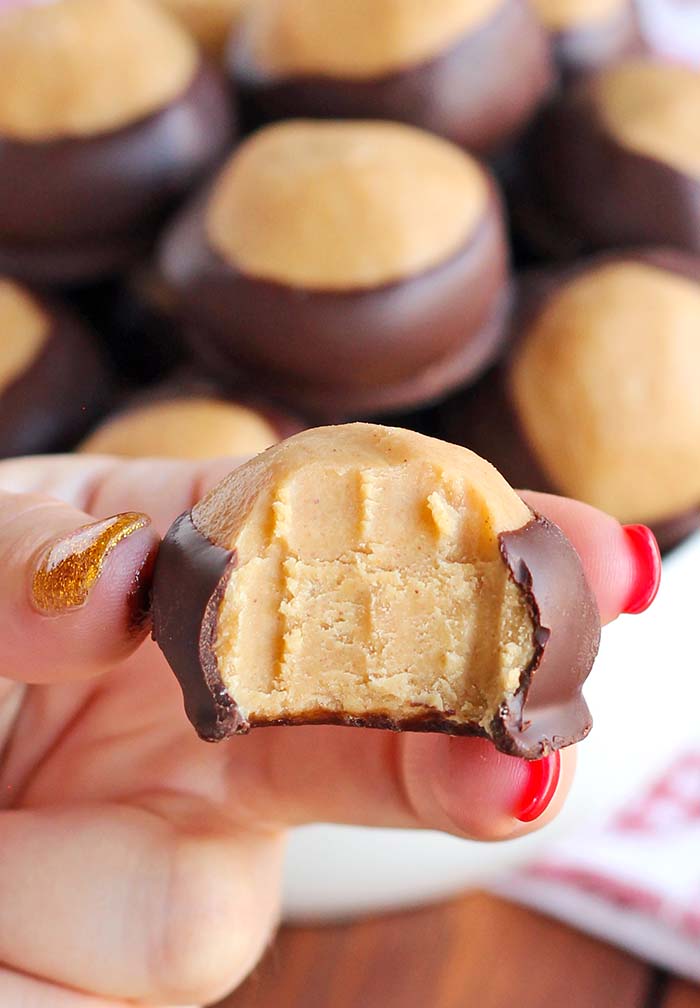 Do you know what Buckeyes are?
Besides being a poisonous nut and the mascot of the Ohio State University, they are also delicious little candies modeled after the buckeye tree nuts and made of chocolate and peanut butter.
I could talk forever about chocolate and peanut butter, but I think I'll just let the recipe speak for itself. It's that good!
Easy Buckeyes
Ingredients
1½ cups peanut butter
1 cup butter, softened
½ teaspoon vanilla extract
6 cups confectioners' sugar
4 cups semisweet chocolate chips or chocolate candy coating
Instructions
Line a large tray or baking sheet with wax paper.
In a large bowl, combine the confectioners' sugar, peanut butter,vanilla extract and butter, stirring until well blended.
Roll the peanut butter mixture into 1-inch balls, and place the balls on a wax paper-lined baking sheet.
Press a toothpick into the top of each ball (to be used later as the handle for dipping) and chill in freezer until firm, about 30 minutes.
Melt chocolate chips in microwave (about 1 minute).
Using the toothpick as a handle, dip each peanut butter ball in chocolate.
Leave a small portion of peanut butter showing at the top to make them look like Buckeyes.
Place chocolate covered peanut butter balls on wax paper and remove the toothpick.
Once the peanut butter has softened, you can use a finger to smooth over the hole from the toothpick.
Refrigerate, until chocolate is set. Store in refrigerator until eating or gifting.