Fall has finally arrived. Creamy Chicken Mushroom Fettuccine is what you'll need, folks. I hope this warms your belly as you celebrate fall!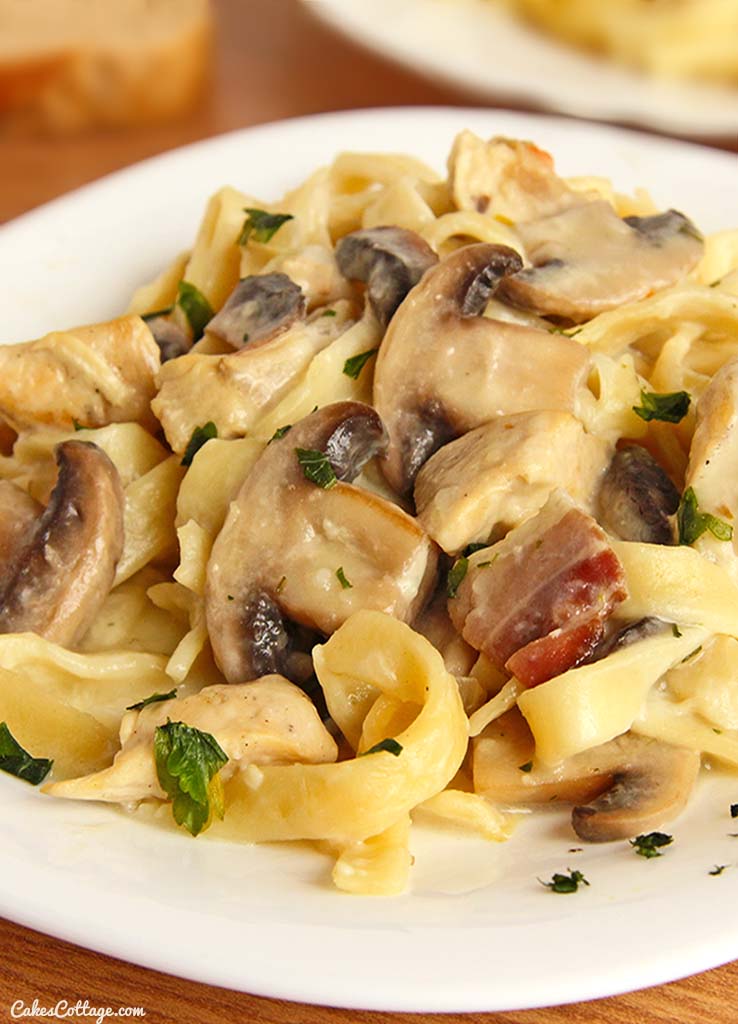 I made my first pasta when I was ten. I remember a blue cardboard packaging in which there was pasta and instant sauce.
I made them according to the instructions on the box with the desire to surprise my parents when they come home from work. I thought it all worked out well and I was really proud. My Mom tried it and praised even though she was probably sick, and my Dad pulled under the pretext that he wasn't hungry. And it was awful, soggy overcooked pasta and insipid instant sauce. Every following pasta I cooked was getting better, and when I discovered that I could experiment with sauces, it became a part of my kitchen.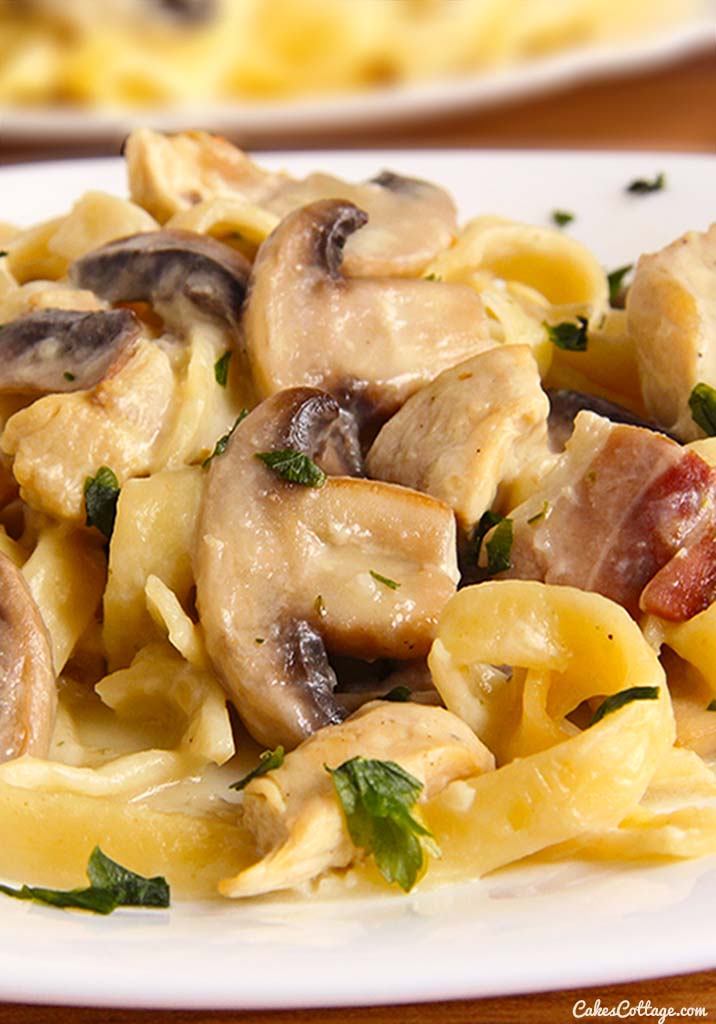 Over time, I've tried a variety of pasta and become a real fan of Italian cuisine. When I visited Italy I had a chance to get to know their cuisine even better. It was strange to know that they serve two dishes for a meal, and even stranger, they usually ate both. The first dish or primo piatto is usually soup, pasta or risotto, and secondo piatto is fish or meat.
How can they eat so much? It will never be clear. The first dish was always enough for me, so I ate a lot of pasta on a daily basis. There I learned to drink wine with food, but about that… in another story.
Well my dear pasta lovers, enjoy this very simple pasta dish.
Creamy Chicken Mushroom Fettuccine
Ingredients
4 slices bacon, cubed
2 teaspoons olive oil
8 ounces boneless skinless chicken breasts
1 cup fresh sliced mushrooms
2 cloves garlic, minced
2 teaspoons all-purpose flour
1 cup chicken broth
½ cup evaporated milk
4 tablespoons whipped cream cheese
1½ cups freshly grated parmesan cheese
2 cups hot cooked fettuccine pasta
chopped fresh parsley, for garnish
freshly cracked black pepper, to taste
Instructions
Heat oil in a large, non-stick frying pan over medium-high heat.
Add half the chicken.
Cook for 4 minutes on each side or until golden.
Remove to a plate and slice into small strips. Cover to keep warm.
Repeat with remaining chicken, adding more oil if necessary.
Add bacon to frying pan. Cook bacon until crisp. Remove from pan & set aside.
Leave enough bacon grease in the pan to lightly coat the bottom.
Add garlic and mushrooms.
Cook for 2 minute, stirring. Sprinkle with flour, stirring quickly.
Stir in the chicken broth and milk.
Reduce heat and simmer 3 minutes, or until mixture thickens- stirring occasionally.
Stir in cheeses and bacon. Stir until the cheese is melted.
Add bacon mushroom mixture and chicken to pasta. Toss to combine.
Season with cracked black pepper.
Garnish with parsley.
Serve.