One word describes this easy lemon cream cheese bars recipe — EXCELLENT.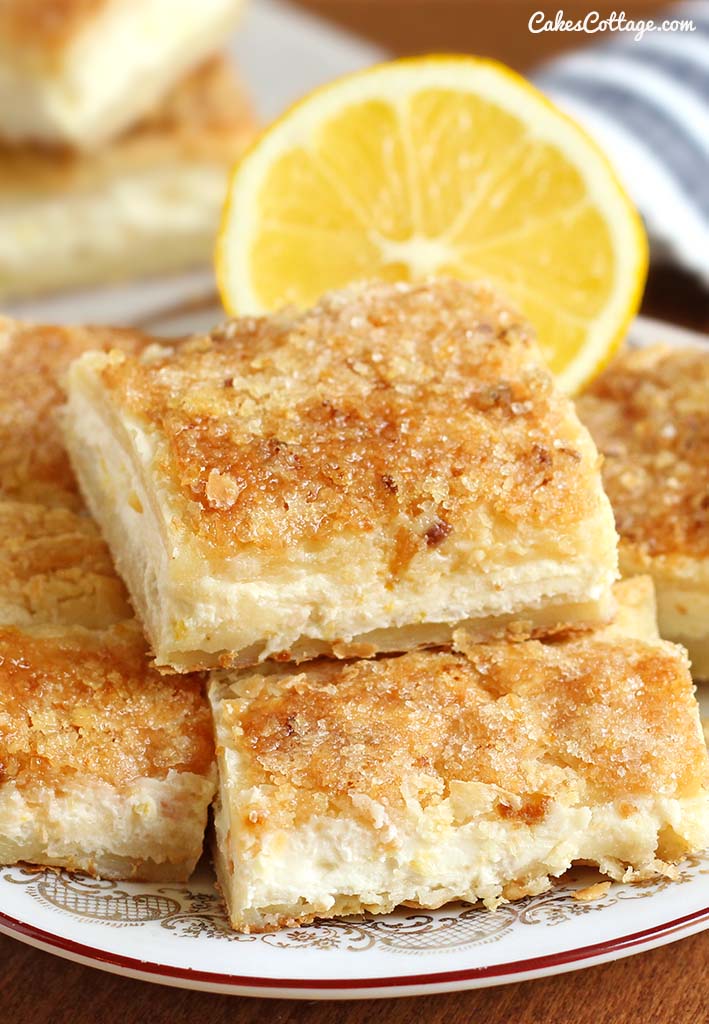 When life gives you lemons, don't make lemonade. Make these easy lemon cream cheese bars! Well-chilled lemon cream cheese bars are an ideal treat for hot summer nights.
They are prepared in a few easy steps, and this is another of their advantages.  The inner part is tender so every bite momentarily melts into the sweetest citrus cream. Even a tiny, surface layer of sugar will give them the ice-box cake appearance, and that is all we need tonight.
Do you like lemons? How much? If not much, then this is not the recipe for you. I really love them. Especially the zest, as a seasoning. In the pancakes, cakes, with chicken … Some things just do not work without lemon. Classic!
Our first meeting did not go well, I just didn't quite like it, I think because of the crescent roll dough, as it was not baked enough. So I decided to repeat everything.
How to make Easy Lemon Cream Cheese Bars
Spray a 9 x 13 baking dish with cooking spray before you set the crescent rolls. Push the crescent rolls into the bottom and sides of the dish. This time I baked the first crescent roll dough layer till just done maybe 5-8 minutes before I add the filling. In the meantime, whisk the cream cheese, sugar, and lemon juice and mix it all together. Pour over the crust and add a second crescent roll dough layer. Coat with butter and sprinkle with sugar and bake until golden brown.
You might think you're a terrible baker like me, but I promise you can pull these off like a pro.
Easy Lemon Cream Cheese Bars
Ingredients
2 (8oz.) packs of refrigerated crescent rolls
2 (8oz.) packs of cream cheese, room temperature
½ cup of lemon juice, freshly squeezed
½ cup sugar
1 Tablespoons of lemon zest
2 Tablespoons butter, melted
3 Tablespoons sugar
Instructions
Preheat the oven to 350 degrees.
Spray 9 x 13 baking dish with cooking spray.
Press a can of the crescent rolls to the bottom of the dish, making sure to reach edges and keep together.
* bake the first layer of crescent roll dough till just done maybe 5-8 minutes. (Optional, that way I make sure it is done. I don't like raw dough)
Beat the cream cheese just a bit and add ½ cup of sugar.
Blend in the lemon juice and lemon zest.
Spread the lemon and cream cheese mixture on the crescent rolls.
Roll the remaining crescent roll over the top and stretch to the edges and seal.
Brush across the entire top of the crescent roll with the melted butter.
Sprinkle the top with 3 Tablespoons of sugar.
Bake for about 30 minutes, or until golden brown.Allow to cool.
Refrigerate for about an hour.
Slice into bars and serve.