Apple Pie"Fries" – It's autumn in a finger food.

"What are you guys making? It smells like a fall day…"
We look at each other and realize without saying anything….We happen to have our kitchen windows open, and the crispy apple fries smell, tossed with cinnamon sugar waft its way through. Otherworldly, those words were the first reaction of our dear friends, and we were lucky enough to have them literally at our front door.
" Hi, You've arrived just in time to try fries."
" Great, Burger King or Del Taco salty fries dipped in ketchup sounds like a good idea. " – our friend said.
" Hmm…this is a little different fry, Apple Pie Fries" – I said, knowing that our friends are meat and potatoes type of person.
After the words "Apple Pie"Fries" . What can We expect from this awkward dish, is it Sweet or Savory? " – came out of our friend's mouth,  I tried to find a way to explain our creation.
"Ketchup is really Caramel Sauce, Salt is really sugar sprinkled on the Fries and Fries are actually made from apples and pie crust"
I noticed the expression of disbelief on his face that seemed to say : "Another so-called healthy Fries mistake", but before he said anything I answered him in style : " You can not say you don't like it, unless you taste it".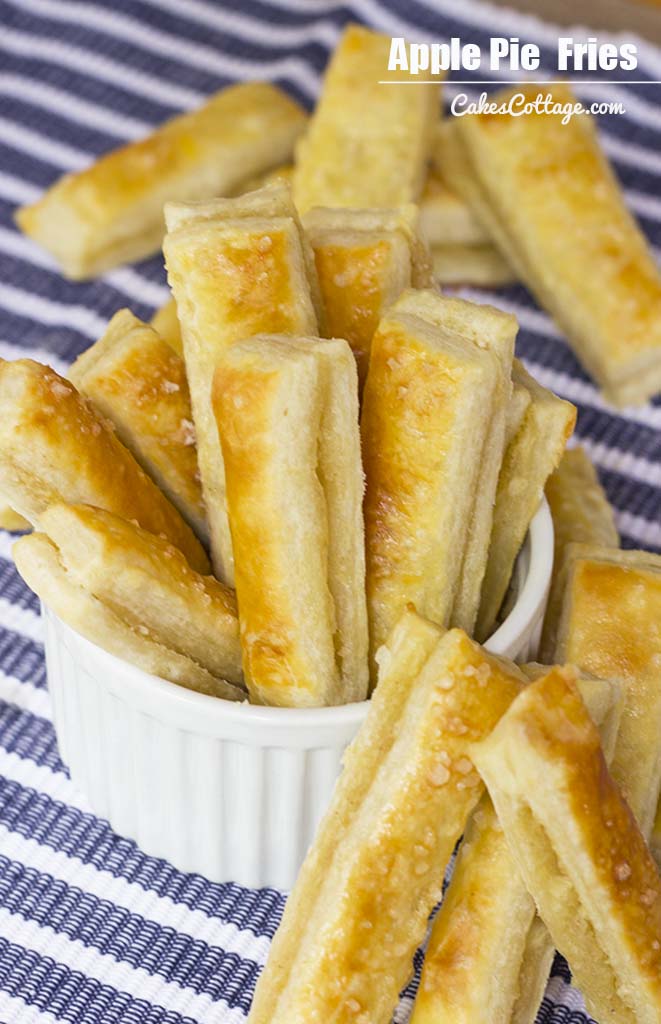 And then it happened, I still remember the look on their faces that very moment when they taste the delicious flavour of a crispy apple fries tossed with cinnamon sugar and dipped in caramel sauce…! Of course, a few minutes later, mine story ends as the last fries was gone. Hopefully, I managed to take a couple of shots to show you.
Note : This post contains recipe and step by step preparation method on second page
Need I say more? Turn on the page 2 and let's prepare some Apple Pie Fries……