Lemonade Krispie Treats with Strawberries is a lovely twist on the Lemonade pie and Rice Krispies treat.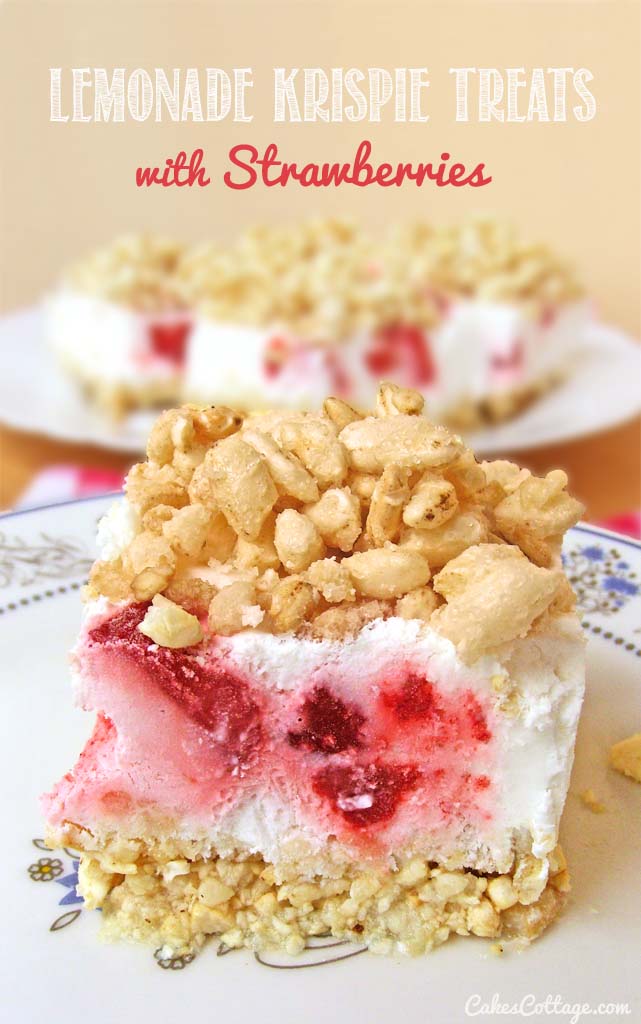 We are fortunate enough to live in a state where we get to truly experience the four different seasons, snowy, but not too cold winters (coming from this year, you may disagree though), long warm Summers but not too hot (we have seen triple digits here, but not very often). Nice Springs and beautiful Falls.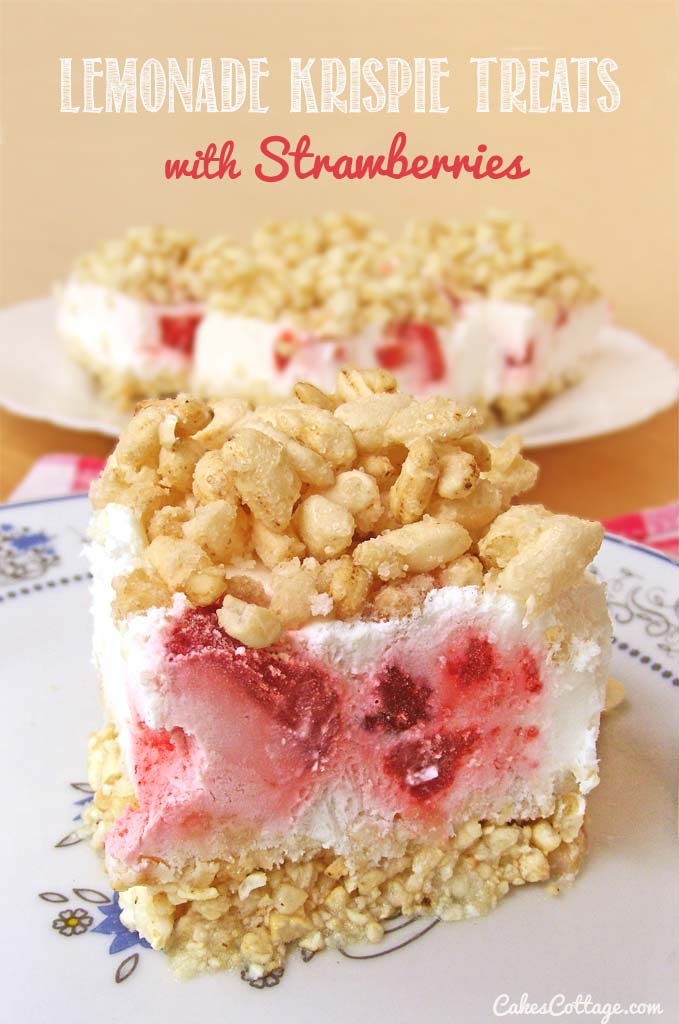 Just today i start thinking about Summer, Spring and Summer always have me craving for Strawberries and Lemonade pie. Maybe that is why I was drawn to this recipe and partially because it calls for a rice krispies too. – Come on! Who doesn't love a good rice cereal treat? I don't think I've ever met anyone that doesn't, or at least, I don't think I have. I have so many memories of eating Rice Krispie treats from way back in the day when I was in elementary school. Those were definitely one of my favorite snacks, beside M&M's and while I don't eat them anymore, every now and then I get a huge, craving for them.  Strawberries, Lemonade and now Lemonade Rice Krispie Treats….Ahhh….Summertime!  Can't you just feel the heat! Super easy to make, Lemonade Krispie Treats with Strawberries is a lovely twist on the Lemonade pie and Rice Krispies treat. And it's simple too.  The recipe is below.
Lemonade Krispie Treats with Strawberries
Ingredients
Crust
2 cup Rice Krispies
½ cup powdered sugar
⅔ cup butter, melted
Filling
1 (14 oz.) can sweetened condensed milk
8 oz. whipped topping, thawed
1 (6 fluid oz.) can frozen lemonade concentrate, keep frozen
½ cup strawberries, cut into small chunks
Topping
1 cup Rice Krispies
1 Tbsp sugar
2 Tbsp butter
Instructions
For the Crust:
Mix Rice Krispies and powdered sugar together until well blended.
Add melted butter and stir until mixture is crumbly and sticks together.
Press into the bottom of an a pie plate or 8x8 baking dish.
For the Filling: Combine sweetened condensed milk and lemonade, whisk together. Fold in whipped topping.
Pour the mixture over the Rice Krispie crust together with strawberry chunks. Spread evenly.
For the topping: Stir together butter, sugar and Rice Krispies until well combined. Sprinkle over the top of the lemonade layer.
Freeze overnight (or at least 9-10 hours).
When ready to serve, take from the freezer, let sit on the counter for 3-5 minutes or until you can cut treat. Serve immediately.
Store any leftovers in freezer immediately.
I made these when I was home alone, Which meant I ate more than one. Maybe three.
Okay, maybe more then three but not the whole pan.
Yeah.
Right.