These squares are sweet, moist and flavorful loaded with chopped apples and nuts.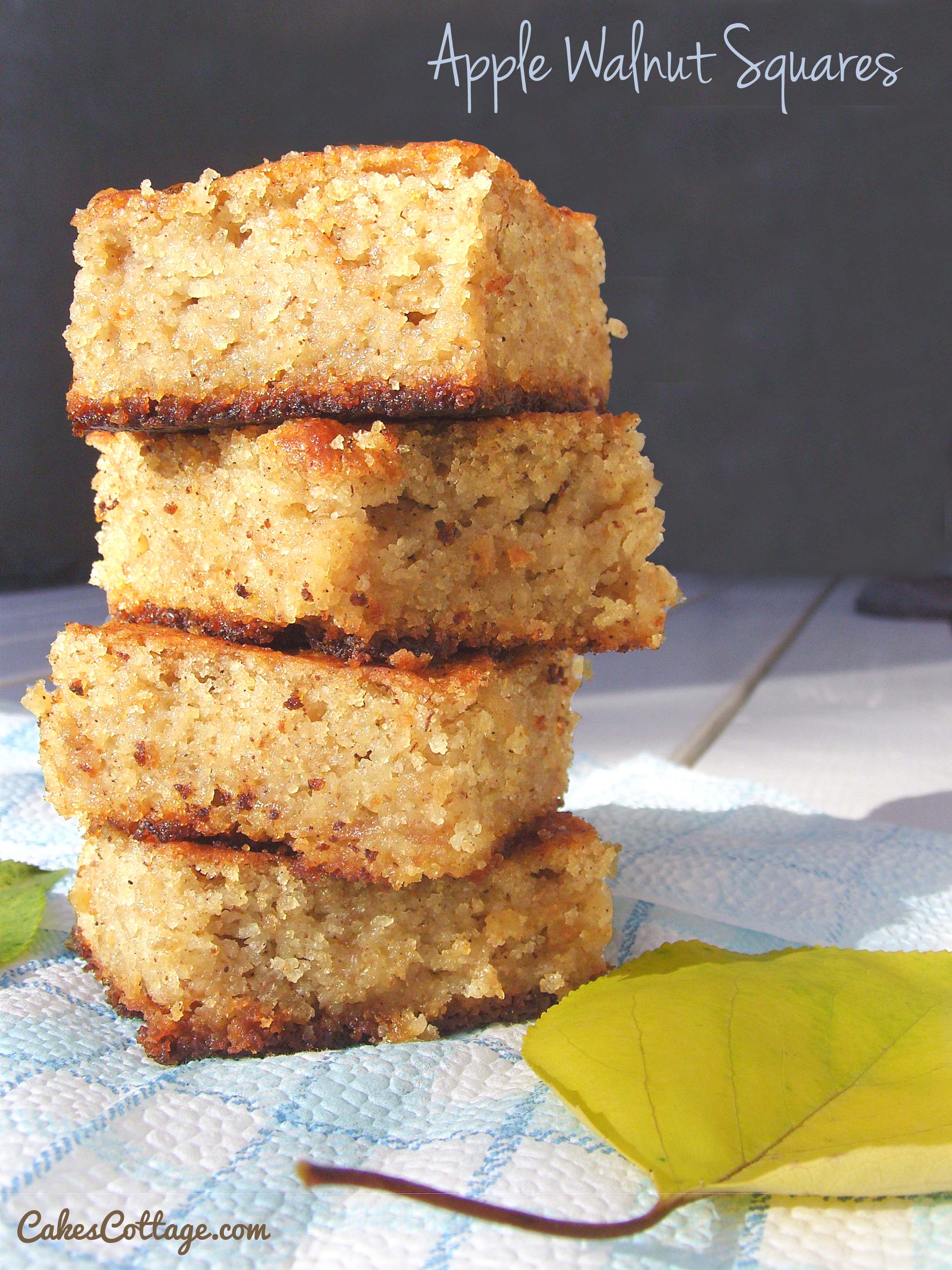 Ahhh.. Do you like The smell of autumn ?? Every season has an associated sense in my mind. Like the taste of snow and Christmas cookies in winter,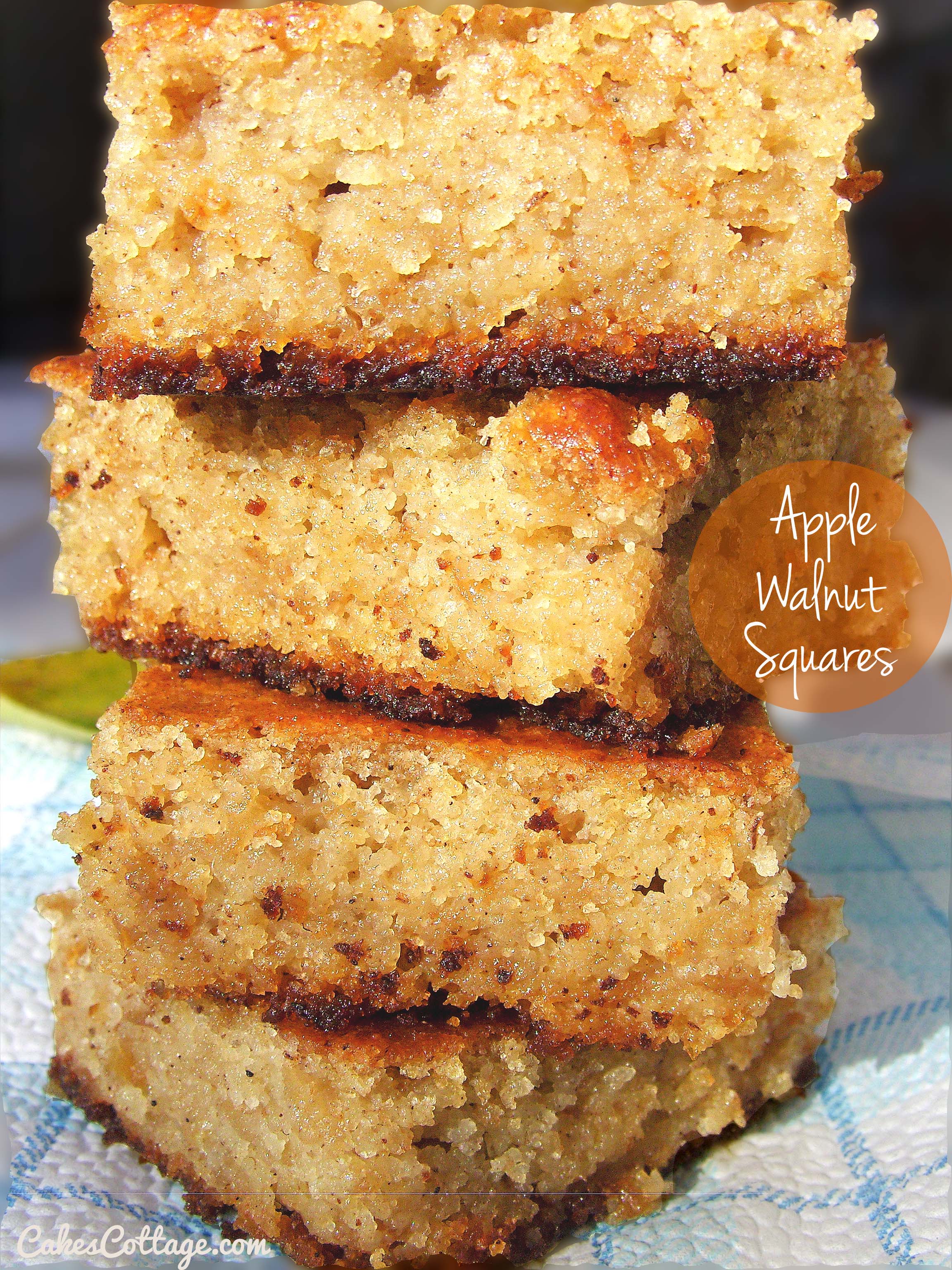 the sounds of laughter and loud music on the car radio in summer or the feel of the first warm sun and soft rain in spring. And You know what I mean when I say "the smell of autumn," don't you? Sort of a combination of crisp apples, spiced cider and Apple bars or squares baking in the oven. Mmmm…This squares…You guys…It's SO good, moist and nutty. They are a wonderful treat to put together in a hurry.
Apple Walnut Squares
Recipe type:
Dessert Cakes
Ingredients
For Cake
4 eggs
1 cup chopped apple
1 cup finely chopped walnuts
½ cup packed brown sugar
½ cup white sugar
1 teaspoon baking powder
1 cup semolina
½ cup Canola oil
For Sugar syrup
1½ cup granulated sugar
1½ cup water
Instructions
Preheat oven to 350 degrees.
Beat in eggs in a bowl, one at a time, beating well after each addition.
In medium bow, combine semolina, baking powder, both of sugars and oil.
Add apples, walnuts, eggs mixture and continue mixing until thoroughly mixed.
Roll the mixture with lightly floured hands and place into cake pan ( 13 x 9 ) lined with baking sheet.
Bake in a preheated oven for 30 minutes at 350 degrees F.
Meanwhile, let's make sugar syrup, In a heavy saucepan (at least 5 cup capacity), stir together the sugar and water until the sugar is completely moistened.
Heat, stirring constantly, until the sugar dissolves and the syrup is bubbling.
After 30 minutes remove cake pan from oven and spread the sugar syrup on top.
Turn the oven off and place cake pan back while oven is still hot and leave for 10 minutes to sugar syrup soak up in cake.
After 10 minutes remove from the oven and let cool completely on a rack before cutting into 2-inch squares.
I often replace the fat in a recipe with applesauce so I think I may be revamping this recipe soon. But I just wonder if the applesauce with the chopped apples will be too much apple at all ? Guess can't hurt to try! 🙂    Apple Walnut Squares are perfect for a breakfast on the go, light afternoon snack, or maybe with a scoop of ice cream for dessert.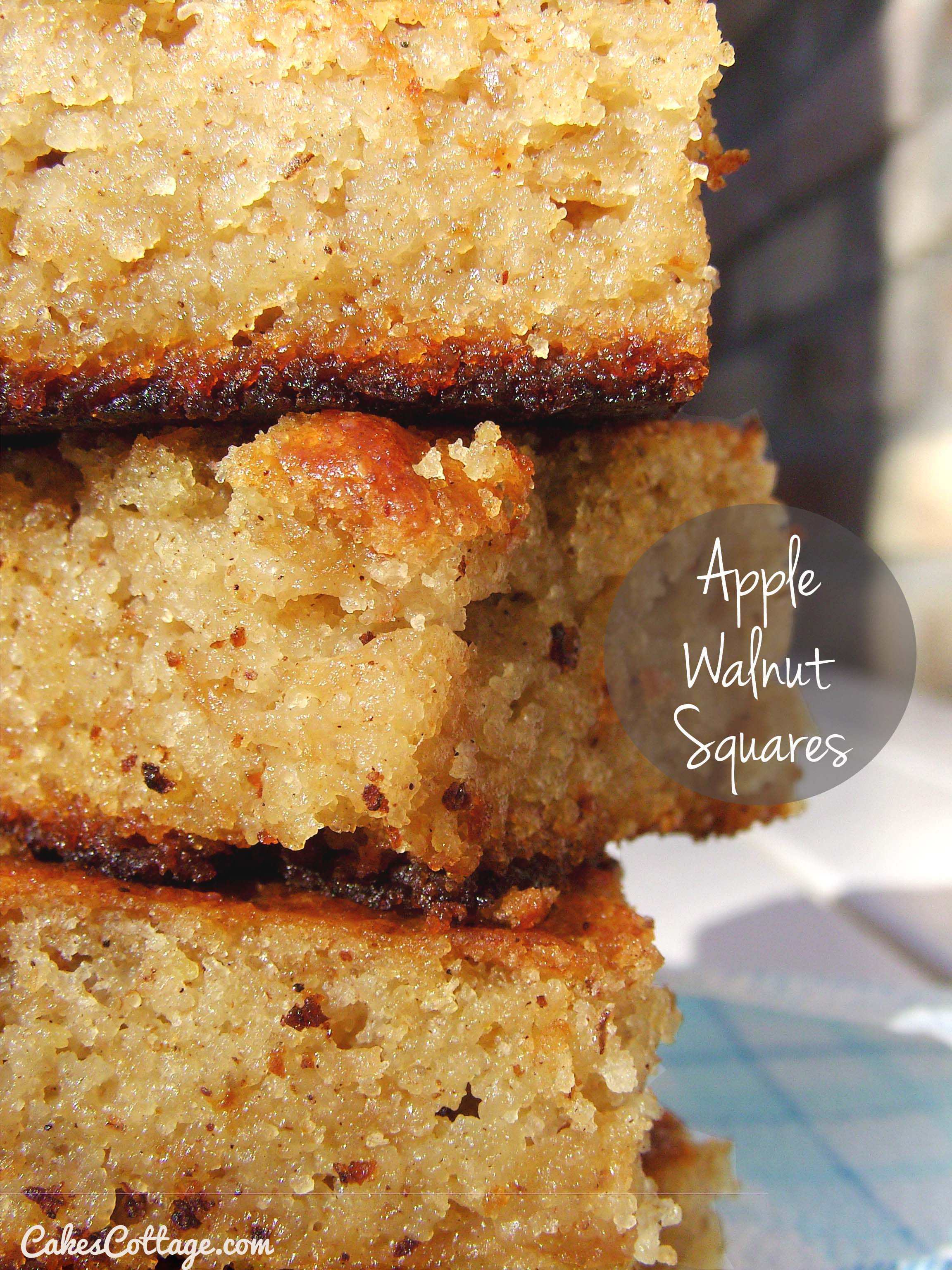 So, if you want to remember the smell of autumn make this Apple Walnut Squares !