Easy Peach Bread Pudding is a summer dessert that's bursting with peach flavor! For all year long, Just substitute frozen or canned peaches if peaches aren't in season.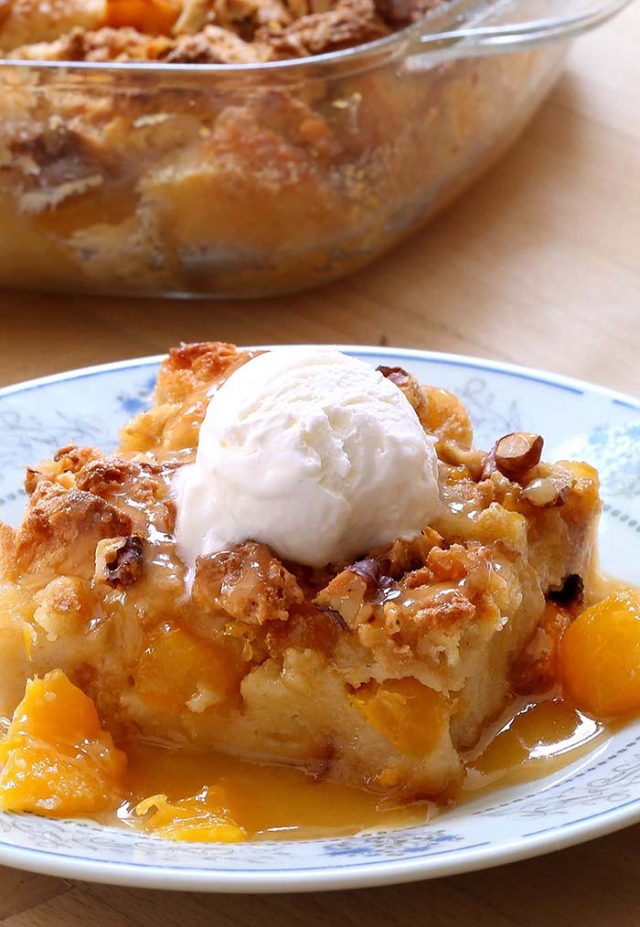 There's nothing better than a delightful fresh fruit dessert during the summer.

After such a great response from Caramel Apple Pie Bread Pudding, my brain started
churning with other similar ideas.
This peach bread pudding recipe was inspired by a comment. A reader asked if we
could "add peaches or berries to the bread pudding?" and, to be honest, I wasn't
sure. But, with peaches in high season, it seemed the perfect opportunity to give it
a try.
I flipped through my favorite cookbooks, the Google and Pinterest for inspiration
and worked out the following recipe that's loosely based on that other bread
pudding, and bread pudding recipe.
How to make easy peach bread pudding
All you have to do is peel and slice two large peaches and toss them in a simple egg, milk, butter and sugar mixture, cut up some day old bread, combine everything, and bake!
If you want to take it over the top, though, I highly recommend the caramel sauce.  Pour it on top of the individual bread pudding servings.
The key with this recipe is to use a good quality bread. You can use day-old French bread,  rich brioche bread, rolls, or challah. These are all excellent choices.  If you can leave bread cubes out for a few hours so they get nice and dry. If not, just place them on a baking sheet and bake them at 350 for 10-15 minutes or until they're dry but not toasted.
Instead of canned peaches, you can use canned diced apricots. Or you may add apricots to the peaches to add a slightly different flavor profile to the dessert.
Can I Make This in Advance?
You could prepare this the day before then chill and bake the next day.
Let it rest at room temperature while oven preheats, then add extra time to baking as needed.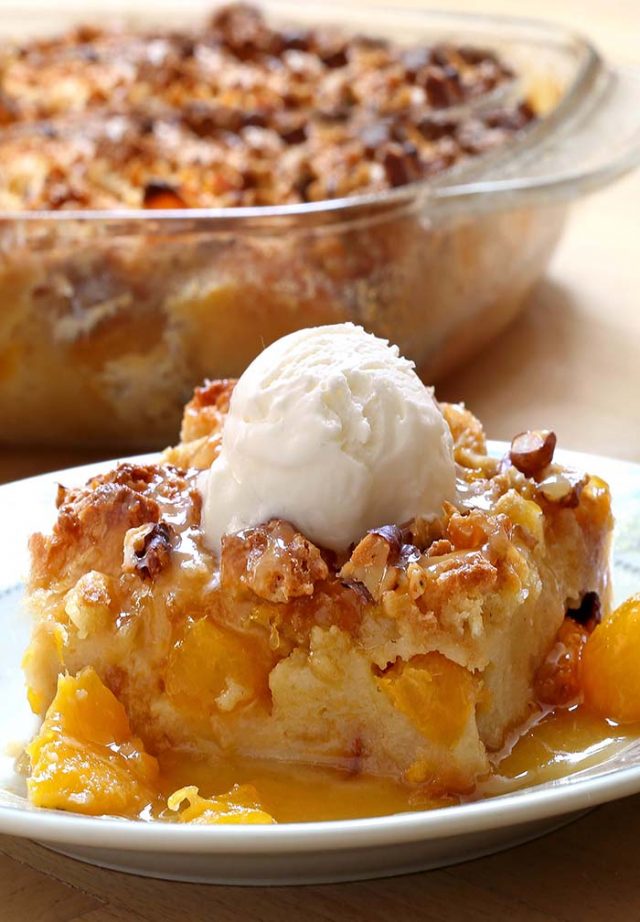 Easy Peach Bread Pudding
Easy Peach Bread Pudding is a summer dessert that's bursting with peach flavor!
Ingredients
8 cups bread, cubed
3 Eggs
3 Tablespoons Butter, Melted
1 cup vanilla yogurt
1 cup milk
2 cups Sugar + 2Tbsp
2 cups Fresh Peaches, Peeled, Pitted And Diced
½ cups Pecans, Chopped
1 tsp cinnamon
Caramel sauce
1 cup Unsalted Butter
1 cup Heavy Cream
1 cup Brown Sugar
Instructions
Preheat oven to 350°.
Spray a 9×13 baking dish with cooking spray.
In a large bowl beat 3 eggs, add melted butter, yogurt and milk. Add 2 cups sugar slowly, stirring until it is dissolved. Add peaches and bread, mixing well.
Allow mixture to soak into bread 30 minutes.
In a small bowl, stir together 2 Tbsp sugar and 1 tsp cinnamon.
Pour the bread mixture into 9×13 baking dish, and sprinkle with cinnamon sugar mixture. Cover loosely with buttered foil and Bake for 20 minutes.
Remove the foil, sprinkle with the pecans and bake until the top is golden and the center is set, 20 to 25 minutes longer.
While the bread pudding is baking, make the caramel sauce.
In a heavy saucepan over medium-low heat, stir together the butter, heavy cream, and brown sugar, bring to a boil.
Reduce heat to low, simmer until the sauce thickens, for about 5 minutes.
Pour over individual bread pudding servings. Top with vanilla ice cream.