An easy strawberries and cream pie made with graham crackers, whipped cream, cream cheese and fresh strawberries. Easy to customize by swapping in your favorite fruit, you can also add in some fresh blueberries as well, which makes a perfect red, white, and blue dessert for your Memorial Day or 4th of July BBQ's.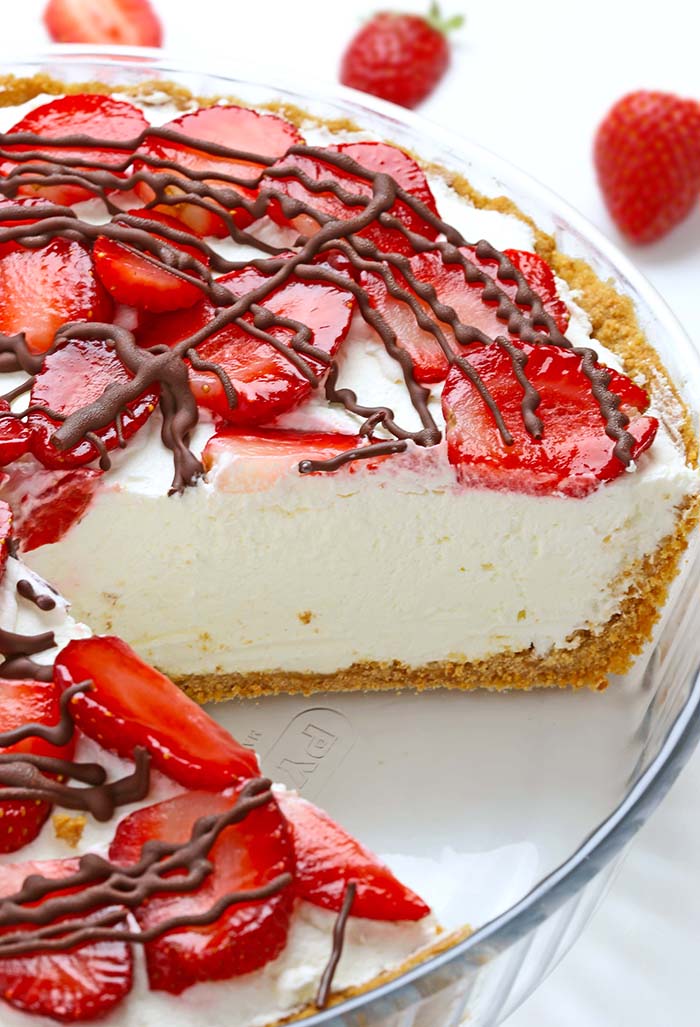 There is just something about Spring and Summertime that go together with Fresh Strawberries. Beautiful, bright, fresh, red strawberries in every recipe.
I simply cannot eat enough of them! Single Strawberries alone, Strawberries with muffins or cupcakes, strawberries in salads, icebox cakes, smoothies, yogurt, and ice cream, you name it!
So the other day, I had a desire to make some light, refreshing and creamy pie, with graham cracker or oreo crust which makes cream pie even more delicious. And as we all know the hardest part about making this pie is waiting for it to set in the fridge. At the very thought of fridge, leftover strawberries are the first thing that pop up in my mind.
So I thought that I would take my light, refreshing and creamy pie and add some sliced strawberries to it!
Chocolate ?? Over strawberries ?? SO RIGHT !!
This strawberries and cream pie will make one very full 9″ pie pan, or two full-enough 8″ pies.  Bring it along to any summer potluck or barbecue and it's guaranteed to be a hit with never any leftovers.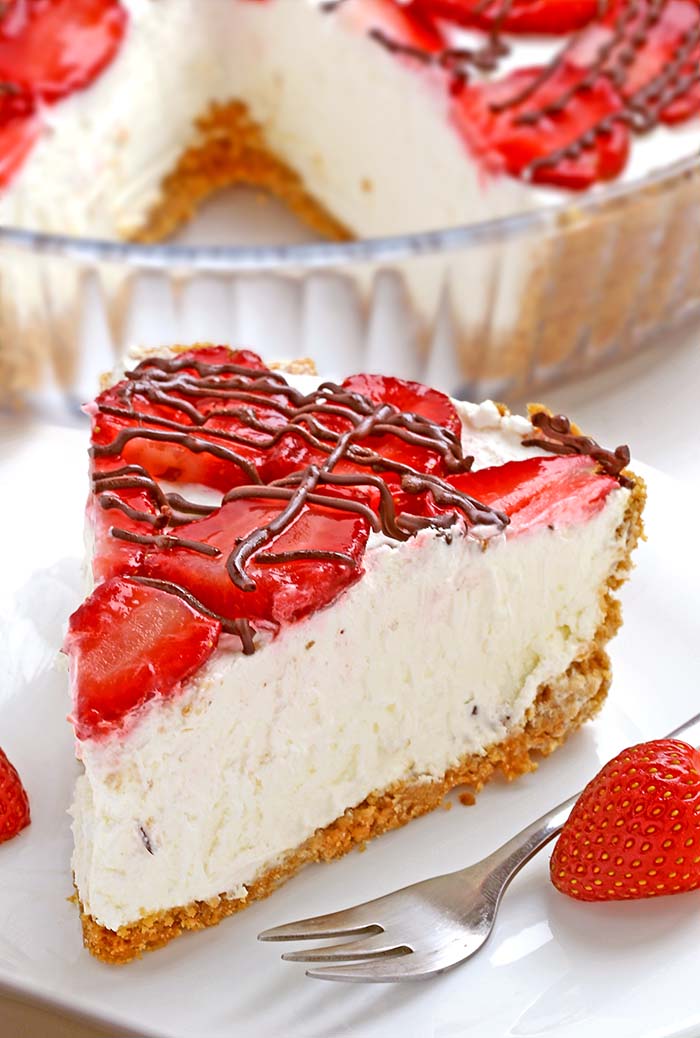 Tip : After the pie is done and ready to be served, stop everything you are doing to pull out your Canon camera or your iPhone because, this is completely killer! The world needs to know.
So, if you make this recipe, be sure to snap a photo and share it. I'd love to see what you cook!
Strawberries and Cream Pie
Ingredients
Crust
1-1/2 cups graham cracker crumbs (About 9 crackers)
6 tbsp butter, melted
Filling
2 (8 ounce) package Cream Cheese , softened
⅔ cup Granulated Sugar
1 teaspoon Pure Vanilla Extract
2 cups heavy cream
Top
2 cups strawberries, cut into slices
½ cup chocolate candy coating.
Instructions
Preheat oven to 375.
Using a food processor, pulse graham crackers until crumbly.
In a large bowl combine graham cracker crumbs and 6 tablespoons melted butter until a crumbly, moist mixture forms.
When well combined, press firmly into the bottom and sides an 9 inch deep dish pie plate. ( You can use your fingers or bottom of a glass)
Bake for 10 minutes. Set aside to cool completely.
In medium mixing bowl, combine cream cheese, sugar and vanilla, mix with electric mixer until well combined and smooth.
In small bowl with electric mixer, beat heavy cream on high speed until soft peaks form.
Gently fold whipped heavy cream into cream cheese mixture, until evenly incorporated and smooth.
Spoon into cooled baked pie crust, and spread it out in an even layer.
Slice the strawberries however you like. I just did basic slices into thirds, but you can make them bite sized chunks or what's more appealing to you.
Arrange the strawberries in a rows around on top of the pie.
In a bowl melt chocolate candy coating.
You can use a spoon to drizzle it over the tops of the strawberries or you can put it into a small zip-top bag and snip of the corner for an easy "piping bag."
Chill for at least 2-3 hours or until set.
Slice and serve immediately. Enjoy!