Are you looking for a gross dish for your Halloween party? Make these creepy crawlers — but don't worry, take a few bites and you will see how tasty these jelly worms with oreo dirt can be!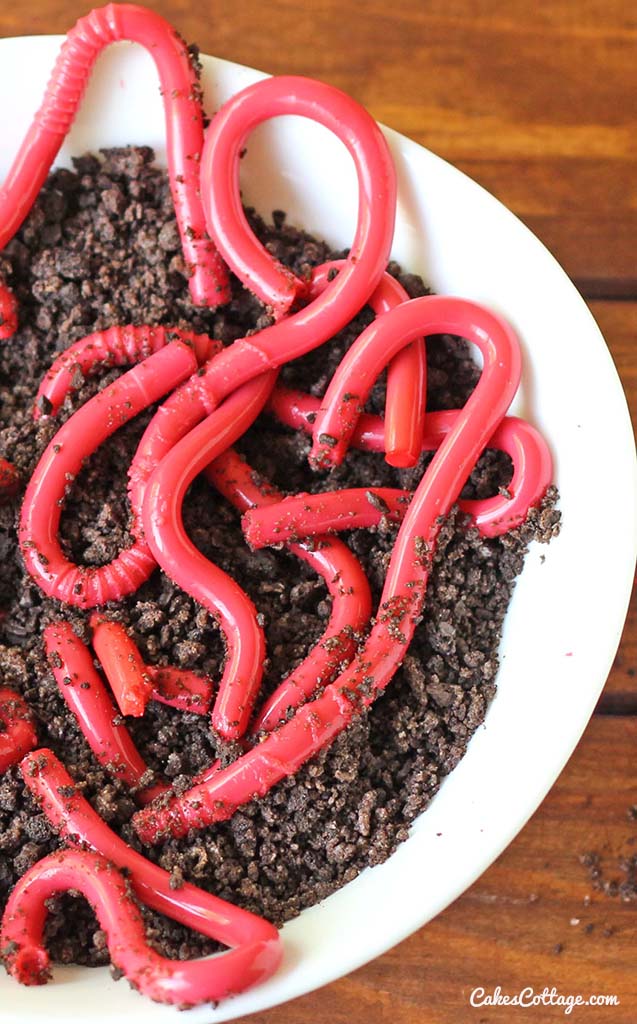 Eeeeeeeeeeek!
Ah yes Halloween time. Nothing brings back the nostalgia and fond memories like Halloween.
If you so choose to proceed and make these – may the force be with you. Halloween is the time where I get to say goodbye to the pretty and embrace the ghoulishly morbid.
Poltergeist (1982) remember the movie directed by Steven Spielberg, will always remind me of Halloween. I remember, as a teen, I tried to be tough and watch Poltergeist on brand new shiny VCR for the first time. My skin crawled. I covered my eyes during the pool and tree breaking open-window scene. The sounds gave me cold chills through my body.
Now as a adult, Halloween is my favorite holiday for treat-making. Turning delectable goodies into creepy creations, gives me that giddy-goose-bump sensation of Halloween night and makes me feel like a kid again.
Last year I was all about the Cheesy Witches Broomsticks – this year, it is WORMS! These easy Halloween Jelly Worms with Oreo Dirt will for sure be a hit with your kids!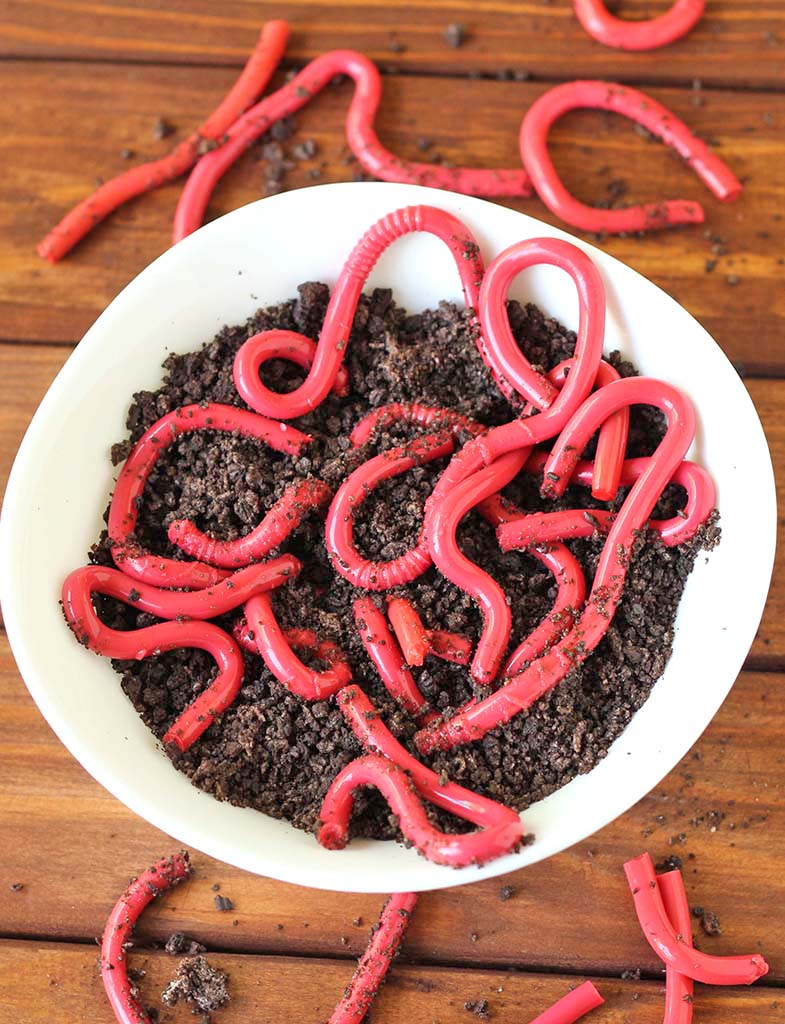 Hope I didn't scare ya with that photo up there, because these Worms are more afraid of you than you are of them, Especially after you find out they're made of chewy raspberry or grape flavored jelly, whipping cream and oreo cookies.
I don't know whether to hug them, squash them….or eat them.
I think I'll go with option three.
With a little advance planning, you can make a treat for this Halloween that gives your guests the willies but actually tastes great. Imagine their reaction when you uncover a serving tray piled high with oreo-crumb "dirt" filled with wiggling jelly night crawlers.
Jelly Worms with Oreo Dirt
Ingredients
1 package (6 ounces) raspberry or grape flavor gelatin
3 envelopes unflavored gelatin
3 cups boiling water
¾ cup whipping cream (to make the worms cloudy)
12 to 15 drops green food coloring
100 straws with bendable necks (important!) (or enough to fill your container)
Tall container (1 quart or 1 liter carton of milk)
1 package (about 15 ounces) Oreo Cookies
Instructions
Combine gelatins in bowl and add boiling water.
Let it cool to lukewarm about 20 minutes and then add the whipping cream and 15 drops green food coloring.
Meanwhile, gently pull straws to extend to full length.
Stand the straws upright in a large container - making sure the end is firmly pressed against the bottom of the container. Wrap the ends of the straws tightly in cling film.
Gently pour the jelly into the straw until it reaches the top. Leave in the fridge to set.
There are multiple ways you can remove the worms from the straws.
You can roll a rolling pin over the straws or use your fingers and squeeze them out.
Cover and chill until ready to use, at least 1 hour or up to 2 days.
Worms will hold at room temperature up to 2 hours.
Crush the Oreo cookies into fine crumbs using a food processor (or, place the cookies in a resealable plastic bag and crush with a rolling pin).
Arrange jelly worms in a bowl with oreo crumbs and serve.