This quick and easy cream cheese danish starts with store-bought crescent roll dough, and can be made, start to finish in under 30 minutes.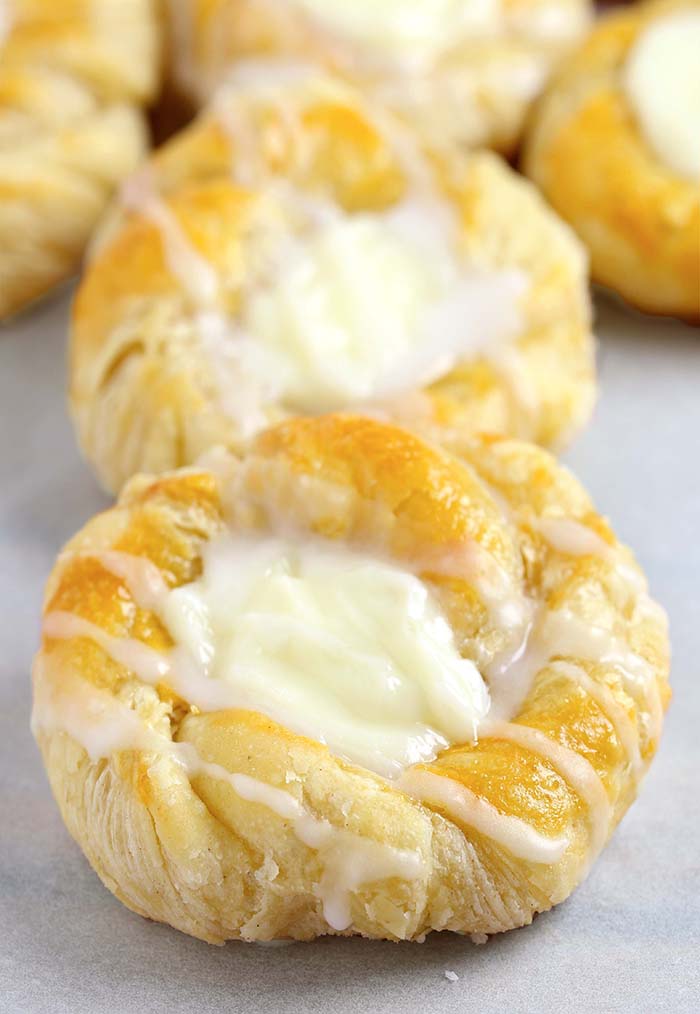 The SWEET SMELL of FRESHLY baked DANISH…..
From the first sniff of Easy Cream Cheese Danish baking, you'll have an audience in the kitchen, waiting for the treats to be cool enough to sink their teeth into. So easy, right!? Easy (Like, Really Easy) ? Easy like treat with store-bought crescent rolls dough. No, I'm also not one to encourage using store-bought pastry dough, but flaky, buttery pastry dough isn't exactly the easiest or the fastest recipe known to man. So if you're anything like me and looking for a quick and easy dessert – store bought crescent roll dough it is.
Also, once you taste these, you will not need to run into a bakery and buying one, and  you won't care if they're authentic cream cheese danishes or not. They're good, amazing, awesome, beautiful, great, incredible, really nice and unbelievable, so that's all that matters.
But hey, don't take it from me – make this easy cream cheese danish ASAP !!!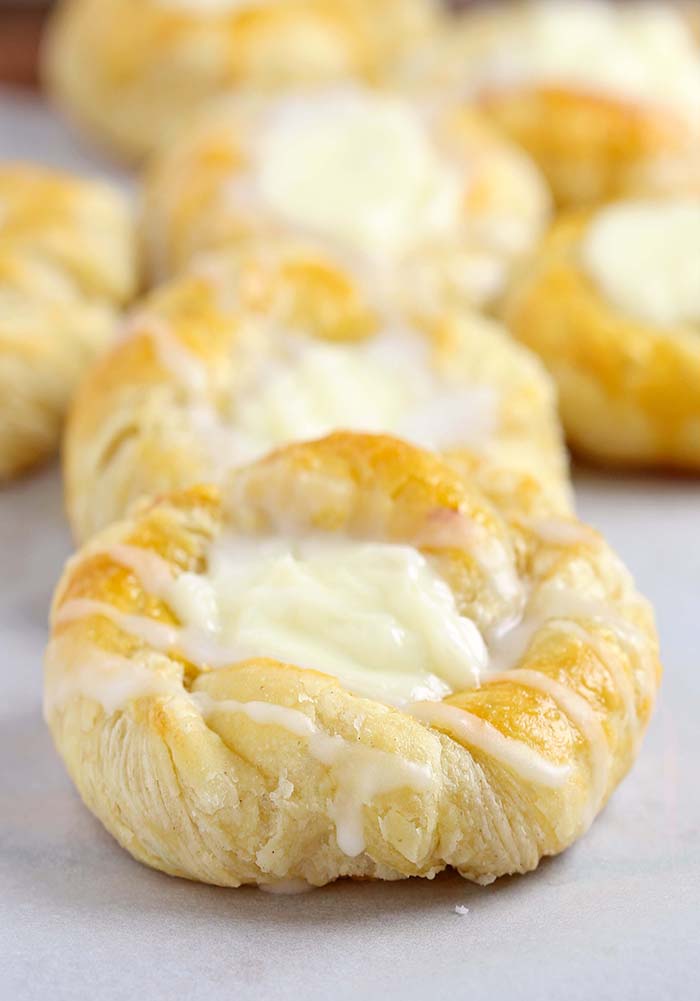 Easy Cream Cheese Danish
This quick and easy cream cheese danish starts with store-bought crescent roll dough, and can be made, start to finish in under 30 minutes.
Ingredients
2 cans of crescent rolls
1 8oz package of cream cheese at room temp.
2 Tbsp granulated sugar, divided
1 tsp lemon juice
¾ tsp vanilla
1 tsp sour cream
Optional: assorted jams and preserves or pie filling (raspberry, cherry, strawberry, apricot, blueberry, lemon, etc)
Icing:
1 cup confectioner's sugar
1 tbsp milk
1 tbsp softened butter
Instructions
Preheat the oven to 350.
Unroll the crescent rolls and separate into rectangles of dough using two triangle.
Pinch closed the diagonal cut to form one solid sheet of dough. Sprinkle light with sugar.
Slice crescent roll dough into 1 inch x 8 inch slices.
Gently lift dough slice and twist opposite ends in opposing directions into a loose rope.
Spiral the rope around itself to form a loose circle/spiral.
Place onto a cookie sheet lined with a baking paper, spacing danishes about 2 inch apart.
Press the centers with a finger to make a well for the filling and stretch the sides a bit if it is necessary.
In a large bowl, mix together cream cheese, sugar, lemon juice, vanilla extract and sour cream.
Add a tablespoon of filling to each roll.
Lightly brush dough with melted butter.
Bake in preheated oven for 12 to 15 minutes. or until lightly golden brown.
In a small bowl, stir together confectioners' sugar, milk and butter.
You can use a spoon to drizzle it over the tops of the danish,
or you can put it into a small zip-top bag and snip of the corner for an easy "piping bag."
Take the danish out of the oven and allow them to cool for 10-15 minutes before icing.
Voila! Cream cheese danish without leaving the house or breaking a sweat.