The crispy potato roast with thinly sliced and seasoned potatoes – A beautiful and unique way to serve potatoes – great for holidays, or to make a regular day feel like one.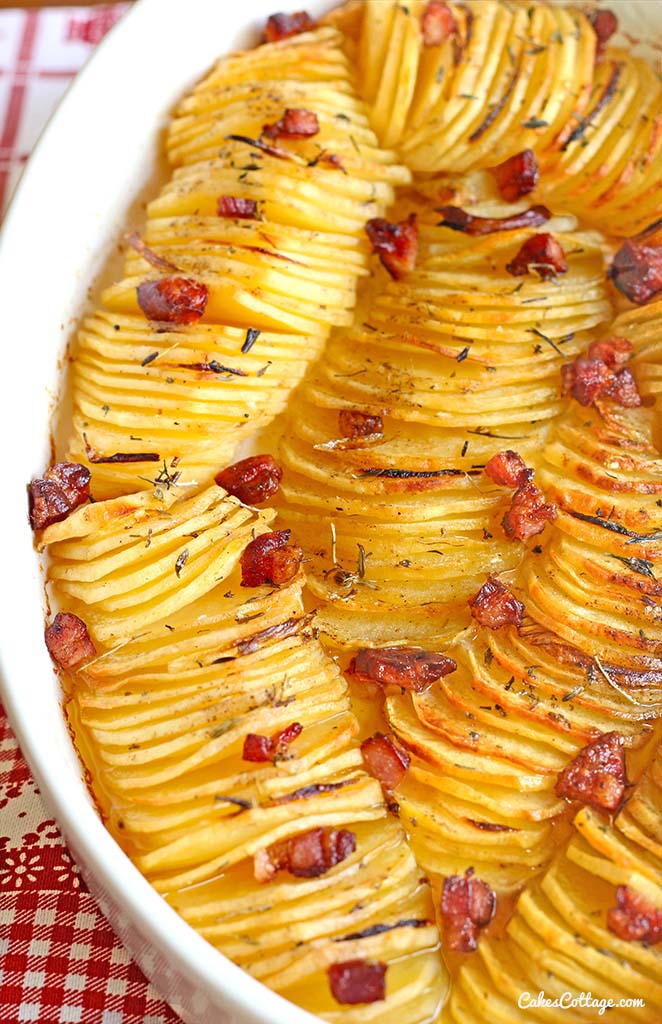 Just take a minute to stare at the Crispy Potato Goodness in the picture above. I am a huge potato fan and these just look stunning! YEP, they are as good as they look, if not better!
I know that some of you probably will give me the stink eye (which translates to, sure, they're tasty and fulfilling, but you'd never really describe roasted potatoes as "exciting). Never, that is, until now.
If you think you've had roasted potatoes before, you have seen but through a mirror dimly because the thin top of each slice turns gorgeously golden brown and crisp while the rest of the slice stays soft, buttery and warm.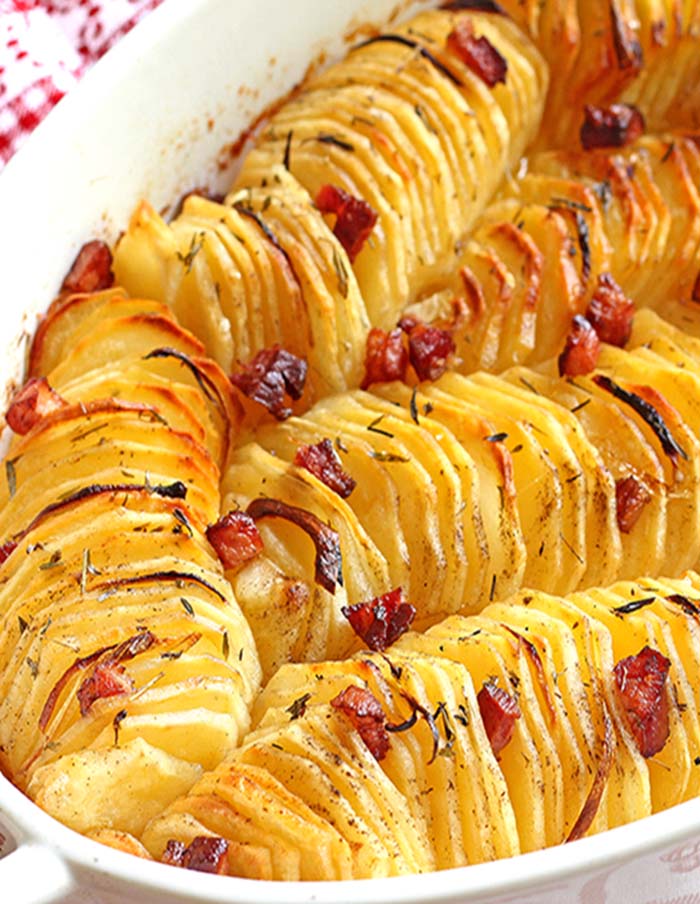 And did I mentioned bacon ?? ( Everything is always better with bacon, right? ) Yes, this recipe calls for a bacon too, a crispy, salty bacon.  So, are you ready to slice some potatoes and top with some sweet, sweet bacon bits ??

The key to this recipe is getting the potato slices as thin as you can, the thinner the potatoes are cut, the crispier they'll become in the oven. I'm not going to tell you this isn't time-consuming. It is, a little bit, even with a mandoline.  If you don't have one, it's a lot of slicing, and these potatoes really need to be wafer-thin…but it was all worth it.
These were a huge dinner success at my house. You can customize the toppings to what each person in your family likes (great way to use up any leftover ham or bacon from the holidays!), and the leftovers make unbelievable home fries the morning after.
Crispy Potato Roast
Ingredients
3.5 pounds russet potatoes
1 small onion or 4 shallots, peeled and sliced very thin
3 tablespoons unsalted butter, melted
3 tablespoons extra-virgin olive oil
Kosher salt
½ teaspoon pepper
4 - 6 fresh thyme sprigs or leaves
3 ounces bacon, cubed
Instructions
Preheat oven to 375 degrees.
In a small bowl, combine melted butter and oil.
Brush bottom of a 9-10 inch baking dish with some butter and oil mixture. Set aside.
Peel the potatoes. slice each potato very thinly(as thin as possible) crosswise using a sharp knife or mandoline, keeping the potato intact as you proceed.
* Keep the slices together as you cut them so that you can arrange them easily in the dish.
Place the potatoes vertically in the prepared baking dish.
Wedge onion or shallot slices throughout potato slices - in about 3 or 4 sections of each potato.
Sprinkle with salt and pepper flakes.
Brush with the remaining butter and oil mixture.
Bake for 1 hour and 15 minutes uncovered.
If you find at anytime throughout baking that the potatoes are too dry, a little of the olive oil/butter from the bottom of the baking dish can be brushed on the slices.
While potatoes are baking, fry bacon over a medium high heat until crisp.
Remove with a slotted spoon and drain on paper towel. Set aside.
Remove potatoes from oven.
Add bacon bits by scattering around throughout the potatoes.
Lay the thyme sprigs/leaves on top of potatoes.
Bake for an additional 35 minutes or until potatoes are cooked through with a crisped top.
If it seems to brown too fast, cover it with foil to slow it down.
Remove from oven.
Sprinkle on a little more kosher salt. Serve immediately.