This is a fall version of a oreo mini cheesecake with lots of pumpkin flavor inside.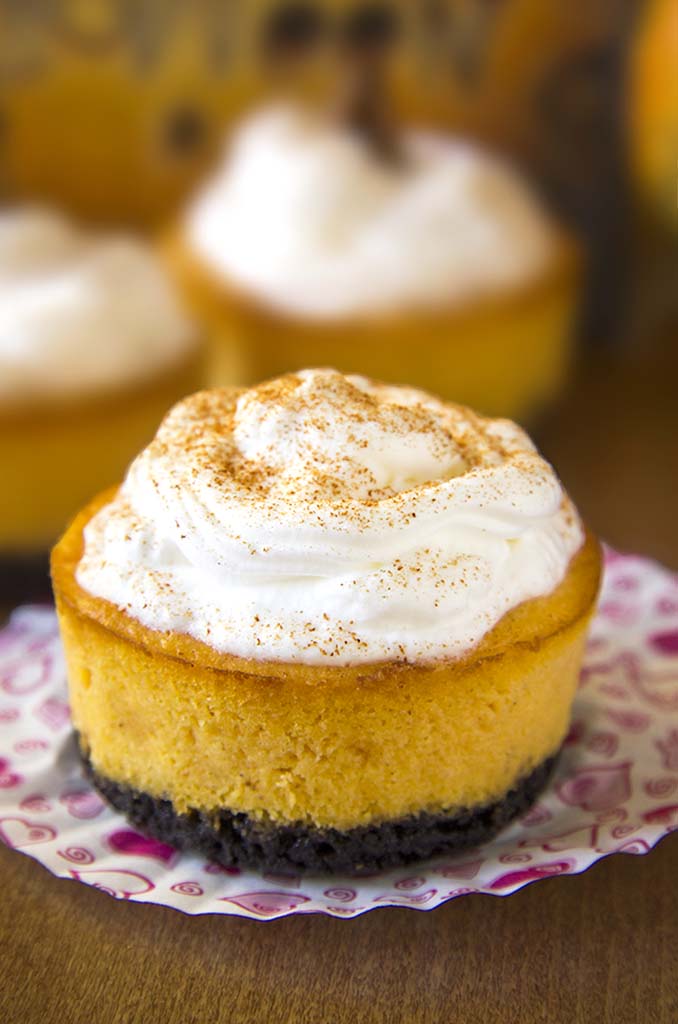 Tempted by Cheesecake…..Sure why not? With Halloween and Thanksgivin coming up in a few weeks I figured I would tempt you with some  Oreo mini Cheesecake.

Since It's practically a tradition that this time of year, anything that can possibly be flavored with pumpkin and/or pumpkin pie spice will be flavored with them. The list gets longer with every passing autumn.
Did you hear? … The pumpkin flavor craze has infiltrated our favorite cookie, and while they aren't available in stores yet, according to a few lucky people who have gotten their hands on the them – new flavor combination will be a huge hit ! So I decide to jump into that train and add some pumpkin flavor to classic Oreo mini Cheesecake.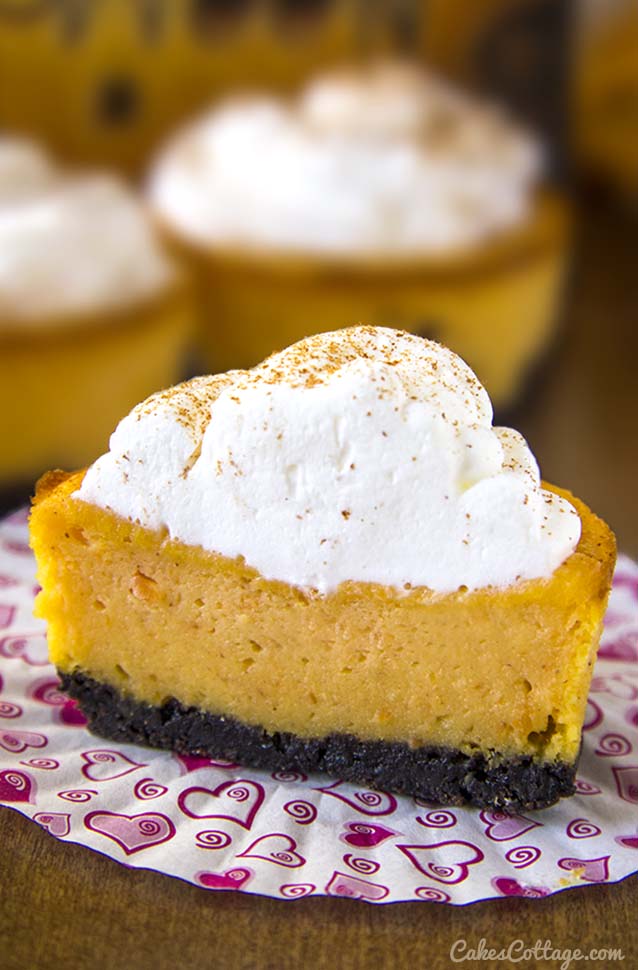 Still Here ?
Pumpkin and cinnamon flavored cheesecake filling on Oreo crumbs crust, finished with a swirl of Cool Whip.
Sounds good ?
Ok,  follow me to the kitchen and Let's Make A new favorite Oreo Cheesecake.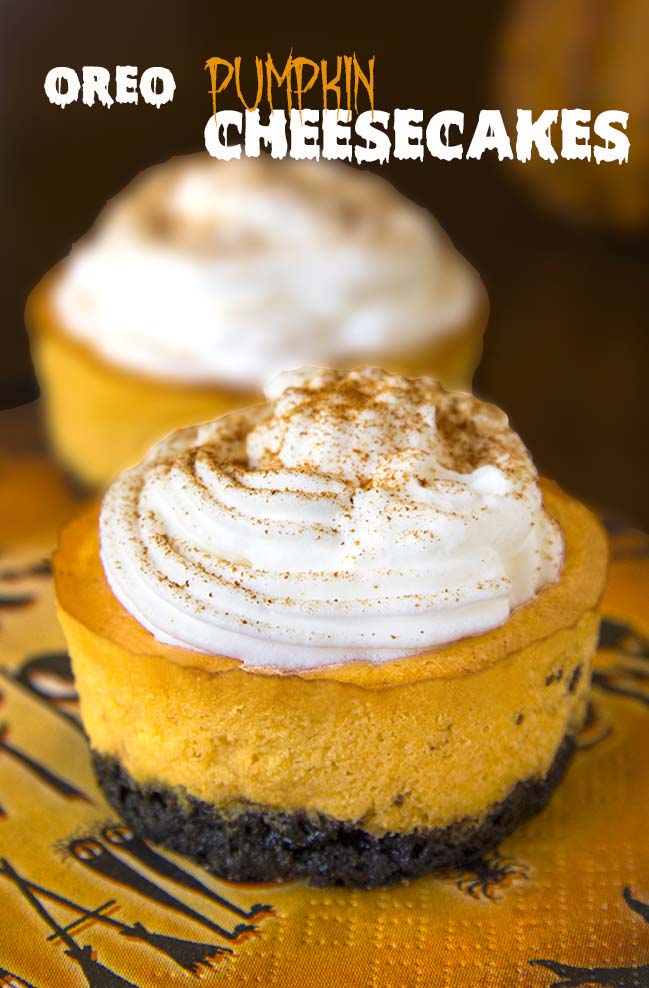 Oreo Pumpkin Mini Cheesecakes
Ingredients
Oreo crust:
¾ cup Oreo crumbs
1 tablespoon butter, melted
Filling:
1 packages cream cheese, softened (8oz)
½ cup sugar
½ teaspoon vanilla extract
1 cup canned pumpkin
1 large egg
2 tablespoons sour cream
2 tablespoons all purpose flour
¼ teaspoon cinnamon
⅛ teaspoon nutmeg
Whipped cream:
1 cup heavy cream
2 tablespoons sugar
garnish with cinnamon or pecans
Instructions
Preheat oven to 350 degrees and make sure to grease 12 cup muffin pan so they will come out easily.
To make the crust: process Oreo crumbs in a food processor until ground.
Mix in butter. Press evenly into the pan. Bake until firm, 5 minutes. Cool slightly.
In the bowl of an electric stand mixer, beat together the cream cheese and sugar on medium high speed until light and fluffy.
Beat in the pumpkin until well combined.
Next add in the egg, sour cream, flour and vanilla just until well mixed.
Add cinnamon and nutmeg; mix until well combined.
Pour mixture over the slightly cooled crust. Bake for 25 minutes.
Remove pan from sheet and cool completely on a wire rack.
Cover with plastic wrap and chill until firm, at least 2 hours.
Garnish with whipped cream, cinnamon and/or pecans.
These bite size cheesecakes are also incredibly cute and they will look perfect on your holiday table for Halloween and/or Thanksgiving.