Perfect summer treat for the cheesecake & raspberry lovers!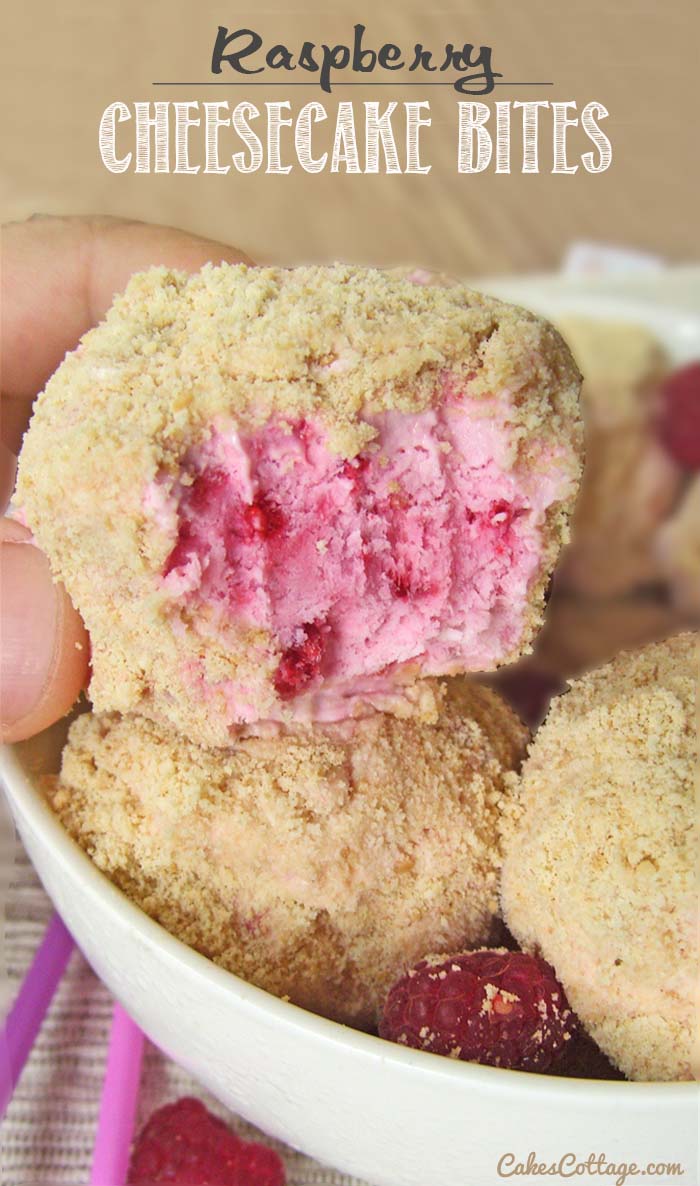 It seems that here we facing the wettest summer ever with waves of heavy thunderstorms, and whether I'm on Facebook, Instagram or Twitter, friends are constantly posting pictures of stormy skies, lightning strikes and storm damages.
That kind of weather is rare here, meteorologists say the amount of rain we've had this season is the most many areas have experienced since records began in 1864. Although this month is not yet over, already the record books will have to be re-written. I won't lie – I start sweating, the very moment when I leave the apartment, and you can imagine how it starts to wear on you after a week or two (especially if, as I hear from friends, the a/c can't keep up).
But…..I'm crazy and will bake pretty much no matter the weather. I need dessert, even if it means sweating in my kitchen for an hour to make it happen 🙂 If you're more sane than me though, this Easy Raspberry Cheesecake Bites is for you; it's completely no bake!
No bake – no additional sweating……
If you love all things cheesecake & raspberry, then you may have a new best friend.  It is packed with cream cheese and raspberries with a hint of lemon zest and coated with graham crackers crumbs.
It is truly a dancing in your kitchen kind of dessert. As soon as one bite hits your tongue you will be singing a chorus of the "mmmm mmmm good" variety and twirling and dancing.
Note : This post contains recipe and preparation method on second page
Need I say more? Turn on the page 2 and let's prepare some delicious Easy Raspberry Cheesecake Bites…..