Easy Raspberry Cheesecake Bites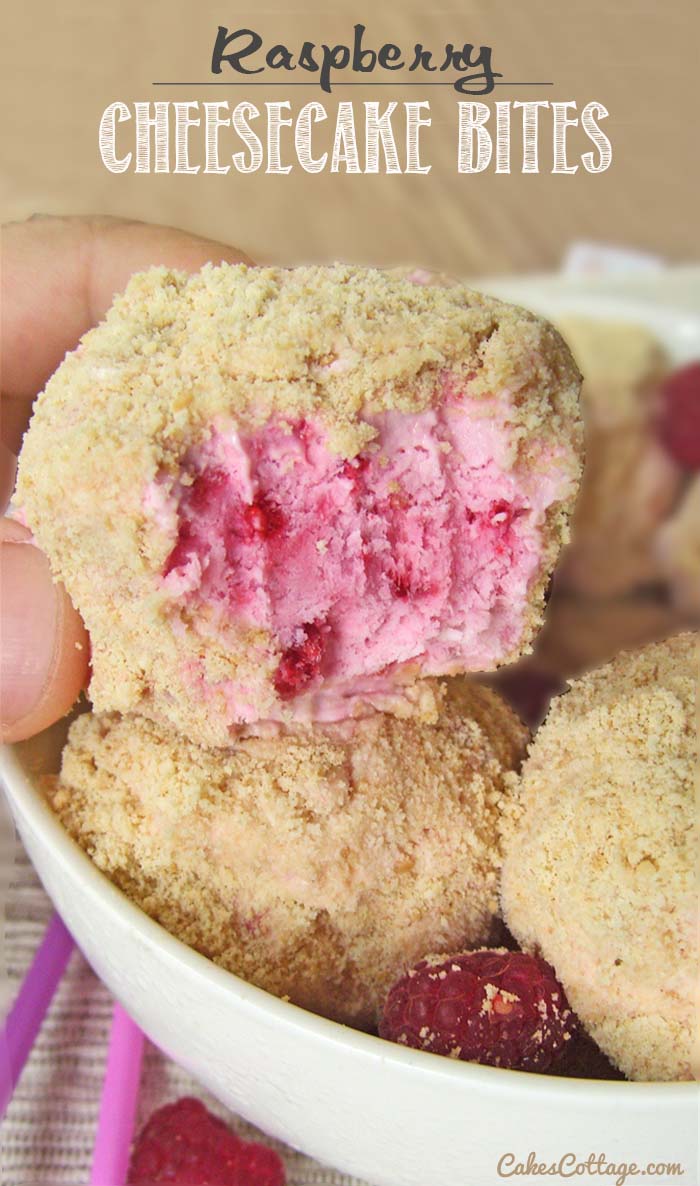 1⅓ cup fresh raspberries
8 oz. cream cheese, softened
2 Tbsp powdered or granulated sugar
1 tsp lemon zest
1 cup cool whip
½ cup graham cracker crumbs
Line a 13" x 9" baking sheet with a parchment paper. Set aside.
Place the cream cheese in a bowl with the sugar and lemon zest and whip with hand mixer.
Add in the raspberry and stir to combine, allow the raspberries to break up and incorporate into the cream cheese.
Add in the cool whip and stir in with a spoon or spatula, until just combined.
Place in freezer for 2 hours.
Place graham cracker crumbs into a small bowl.
Scoop the cheesecake mixture with a small cookie scoop or a tablespoon and roll in cracker crumbs.
(You may need to go in with your fingers to form them into balls,
and If you notice the cheesecake mixture becoming too loose to handle, place it in the freezer for couple of minutes to set up again)
Set on the prepared sheet.
Refrigerate for couple of hours in freezer until they get frozen.
When ready to serve, let sit out for 5 minutes at room temperature to desired firmness.
Serve and enjoy!
Refrigerate leftover bites in a ziploc bag or an air tight container.
Recipe by
Cakescottage
at https://cakescottage.com/2014/07/25/easy-raspberry-cheesecake-bites/