These Strawberry Cheesecake Muffins are a delicious way to welcome Spring.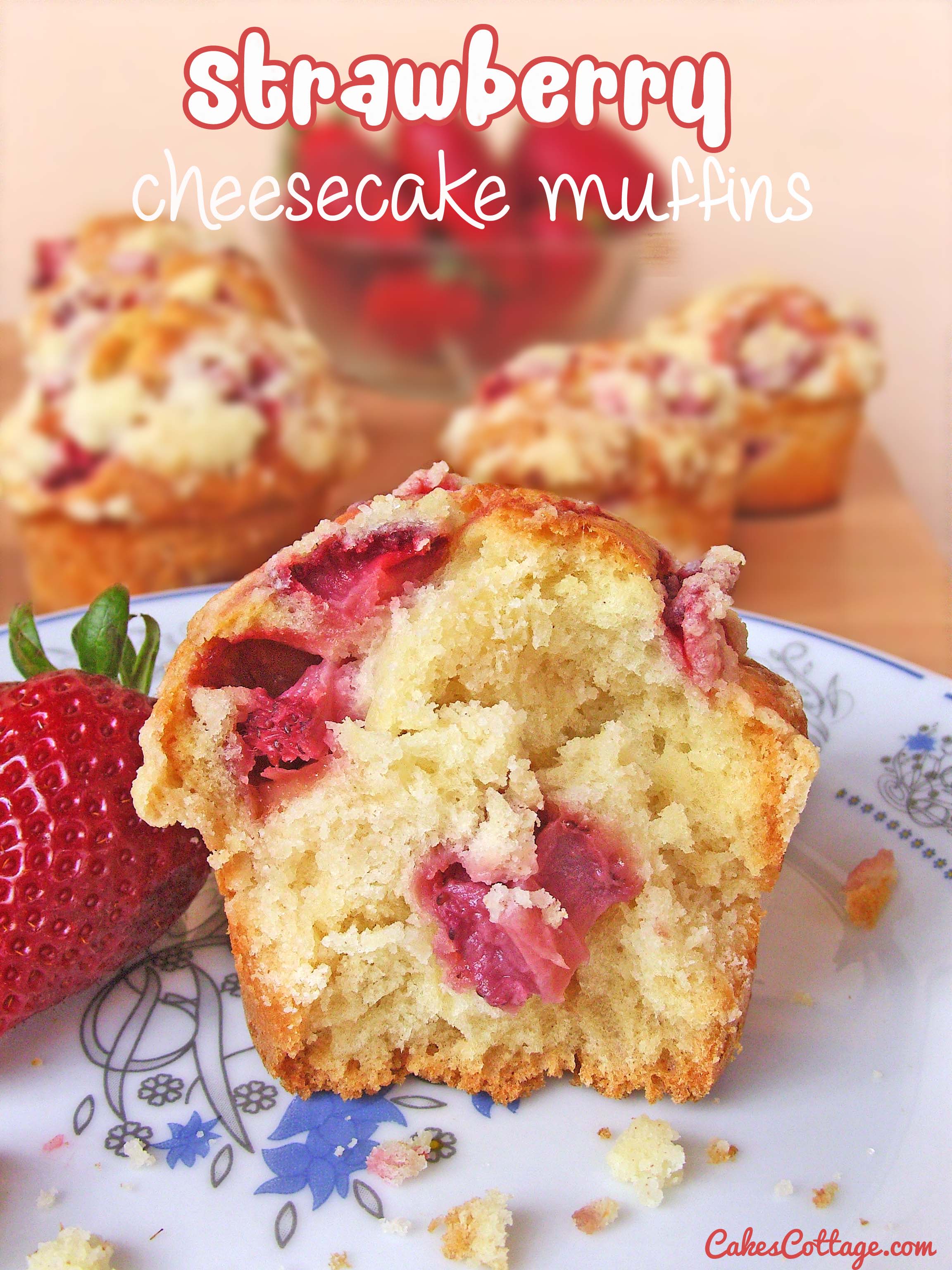 What is it about Strawberry muffins?  I mean seriously, I could eat it every day of my life and be a very happy.
It is like pockets of strawberry jam inside each bite and then the dreamy cheesecake filling in the middle. Hellooo we're talking about cheesecake in muffin form people!
Muffins are one of my favorite things in the whole wide world. They are perfect for so many occasions, from the most basic of breakfasts to the fanciest of feasts. And this is just one of those muffin recipes that you know that you are going to love before you make it. Did i mentioned that they are packed with fresh chunks of strawberries and topped with cinnamon sugar streusel ? No ? Well this muffin recipe is what it is all about to someone who loves strawberries.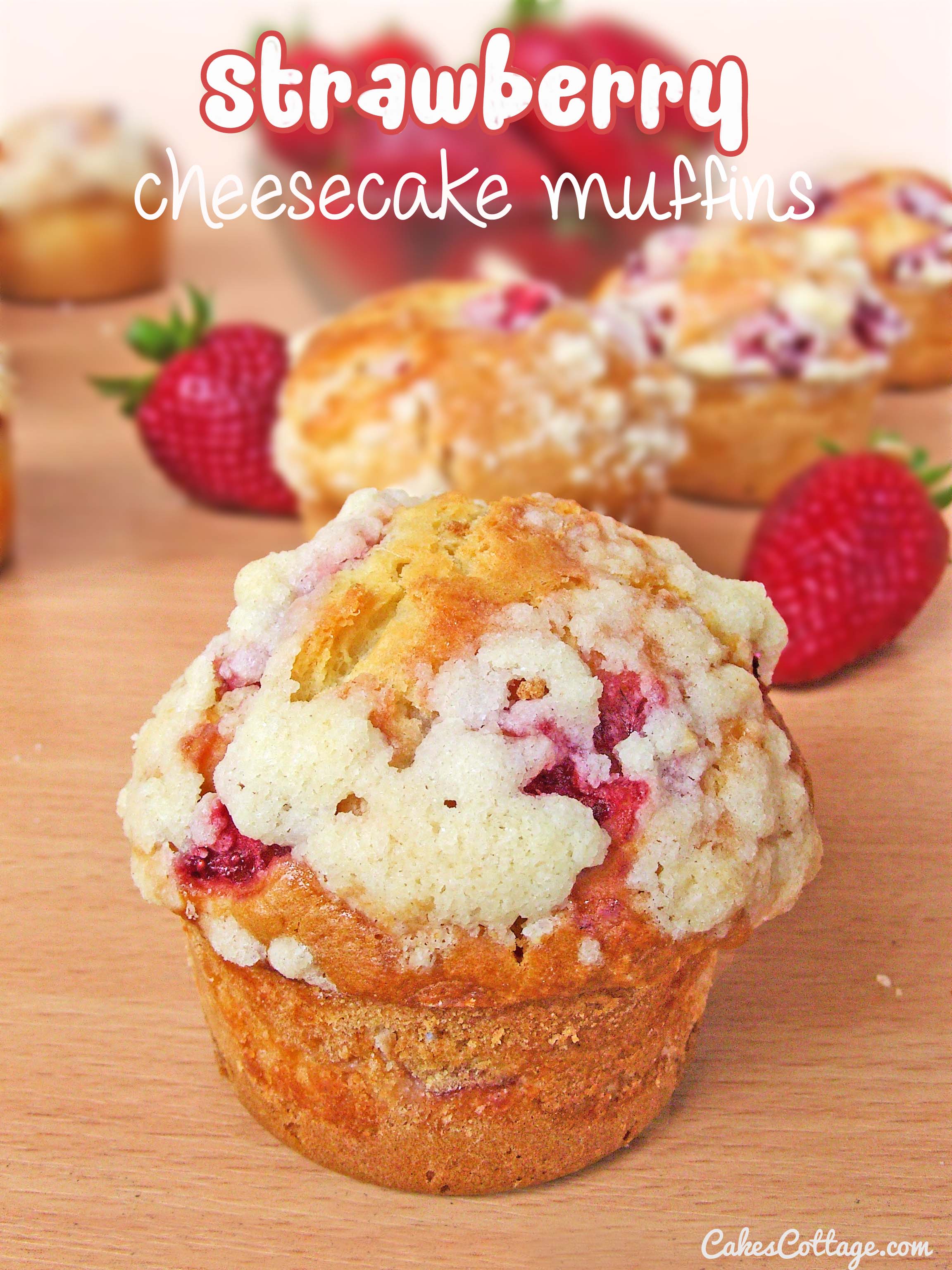 Strawberry Cheesecake Muffins
Ingredients
Muffins
1 cup whole milk
¼ vegetable oil
1 large egg
2 cups all-purpose flour
½ cup sugar
2 tsp baking powder
½ tsp salt
2 cup strawberries, cut into small chunks
Filling
4 ounces cream cheese, softened
⅓ cup sugar
½ egg (about 2 tbsp beaten)
¼ tsp vanilla
Cinnamon Streusel
¼ cup all purpose flour
¼ cup granulated sugar
1 tsp cinnamon
3 tbsp butter
Instructions
Preheat oven to 400 degrees and make sure to grease 12 cup muffin pan so they will come out easily.
For the Cream Cheese Filling: In the bowl, beat the cream cheese and sugar together until light and fluffy, about two minutes.
Beat in the egg and vanilla extract and transfer to the freezer and chill until at least slightly firm.
For the Muffins: In a medium bowl, whisk together the flour, sugar, baking powder, salt; set aside.
In another bowl, whisk together the egg, vegetable oil, milk and vanilla extract. Stir the dry ingredients in the milk mixture gently until just incorporated.
Do not over-mix, the batter should be slightly lumpy.
For the topping: In a small bowl, stir together flour, sugar and cinnamon.
Add the cold butter and mix with a fork until the mixture looks like coarse wet sand. Set aside.
Spoon in one tablespoon of muffin mixture into each cup.
Add a few chunks of strawberries and a one teaspoon of cream cheese filling to each muffin cup.
Sprinkle some of the streusel topping on the cheesecake filling,
Fill the muffins with remaining batter so the strawberry cream cheese filling is covered.
Top with remaining strawberries, and sprinkle remaining streusel topping.
Bake for 22-25 minutes. Let cool in pan for 5 minutes and serve warm.
I maybe eating one right now! 🙂