5-ingredient Peanut Butter stuffed Reese's eggs Copycat recipe
Easter is right around the corner! you know. … I don't want the Easter Bunny to get lost, so I am writing this letter just to remind him.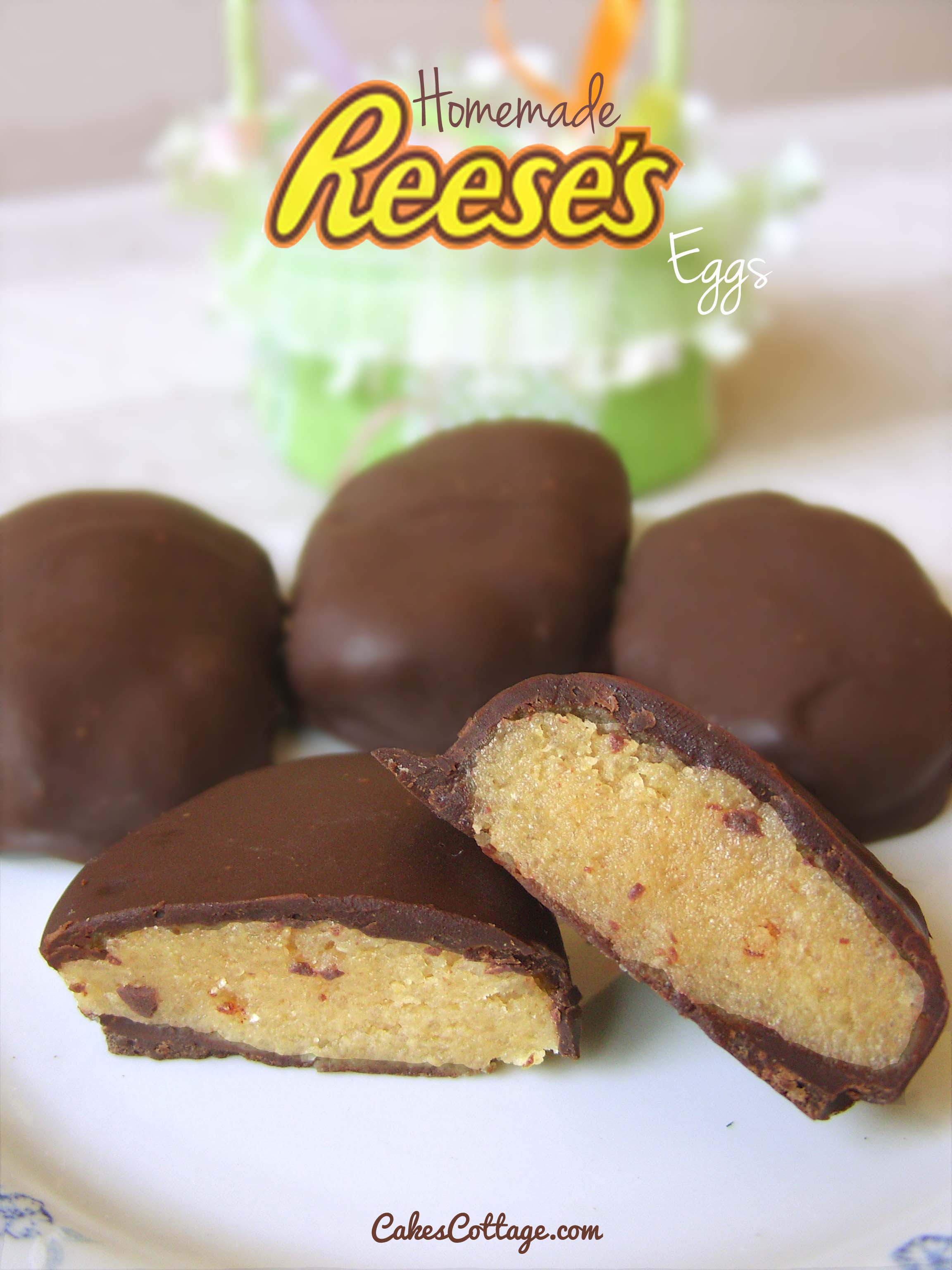 Dear Easter Bunny,
I want just one thing for Easter: a basket filled with Reese's peanut butter eggs. Do you think you can do this for me? Pretty pretty please? In return, I will make you never-ending Carrot Cake Muffins.
Remember when we were kids The Easter bunny knew what kind of candy you liked and you always got the good stuff. What's your favorite Easter candy? Gooey neon-colored marshmallow peeps? Melty caramel or creme filled Cadbury eggs? There's a lot to choose from. For me, the good stuff meant Reese's Eggs. Unfortunatelly they only come out for a few months each year, but with this recipe, you can eat them all year long!
Let's break down these peanut butter eggs…
Homemade Reese's Eggs
Ingredients
1 cup Peanut Butter
¼ cup unsalted butter
8 oz Dark Cocoa Melting Chips
1 tsp Vanilla
1¼ cup Powdered Sugar
Instructions
Line a baking sheet with parchment paper; set aside.
In medium saucepan, combine the peanut butter, butter, vanilla and 1 cup powdered sugar over medium heat.
Heat until completely melted and starting to bubble a little, stirring constantly.
Remove from heat.
Add the remaining powdered sugar at a time, stirring after each addition until completely combined.
Set aside and let cool to room temp.
You can chill dough in the fridge before rolling into eggs. Should make it a lot easier to handle.
Shape dough into flat little ovals (or egg shapes, but real Reeses eggs are flat).
Place the eggs on a lined baking sheet and stick them in the freezer for an hour or so, until it's hard.
Melt chocolate in microwave by heating for 30 seconds then stirring and repeating process until it is melted and smooth.
Using two forks, roll each egg into the chocolate and place them back on the lined baking sheet.
Place the eggs back in the freezer to let the chocolate set. It should take an hour or two.
Best to store these in the freezer as well. If you store these in the fridge, they will become slightly soft.
You can thaw a little before eating, or eat when frozen–either way, they're awesome!
Whether you put them in someone's Easter basket on Sunday, or share them on a dessert platter, you just have to make these peanut butter eggs this week!
I may be linking this up to these parties !