Now you can have your cake and cannoli too!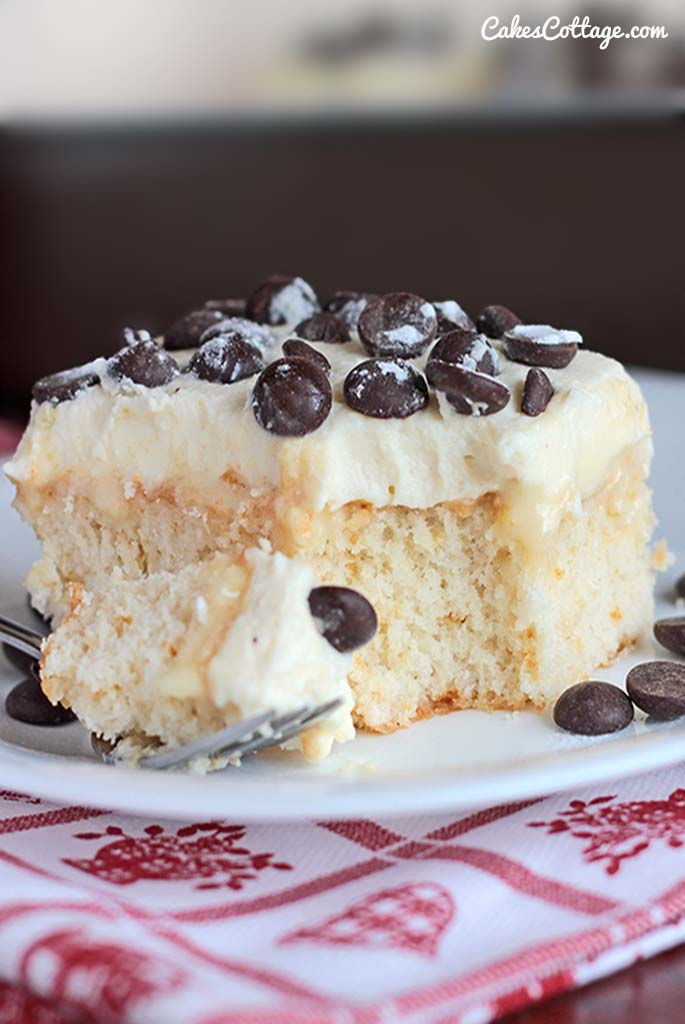 I'm basically drooling again just thinking about this cake, sometimes I think this website should be called, "I Dream of Cake" or "I'm still drooling over Cake" Because, in a way, it's kinda true.
I'm always thinking of ways to make cake. and I have a million ideas for different versions running through my head, especially fun and easy cakes that can be made with cake mix. In this version, I bake cake mix according to directions, and decided that the white cake needed some poking of it's own.  And well…one thing led to another.
Until white cake soaked in sweetened condensed milk and topped with an Ah-Mazing cannoli filling, did not show up on my kitchen countertop. I was a little alarmed by how saturated the cake was at first, but don't worry! All that oooey goodness is going to seep into your cake as it sits in the refrigerator for 2-3 hours – I promise.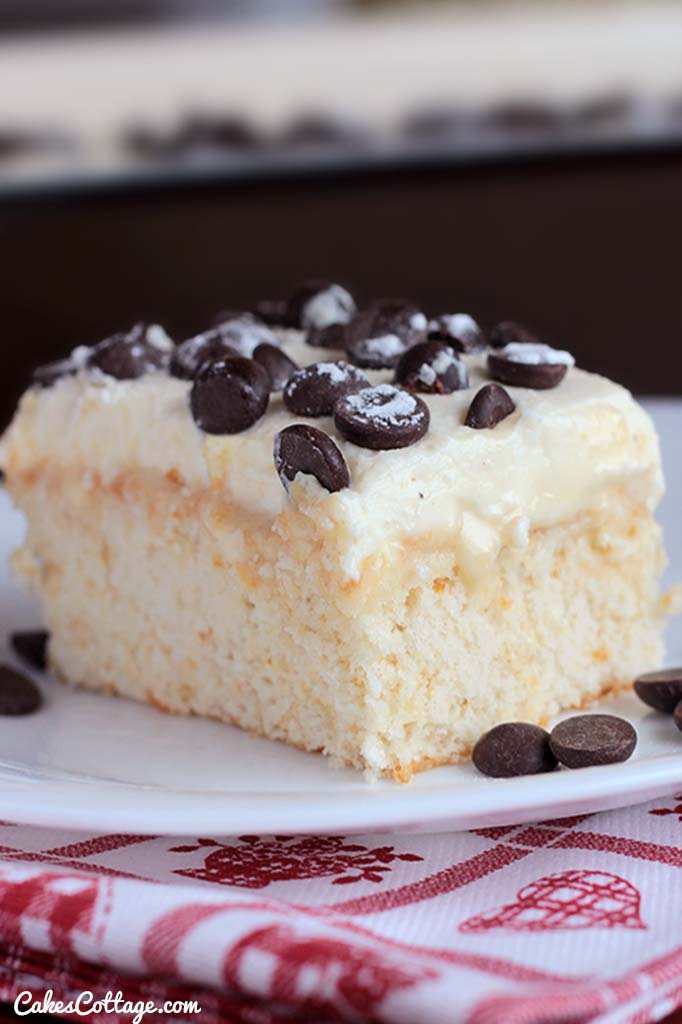 Ready to make that Poke Cake?  I thought so.
Cannoli Poke Cake Recipe
Author:
CakesCottage - adapted from Life Love and Sugar
Ingredients
1 box white cake mix(bake according to ingredients on box)
1½ cup ricotta cheese
1½ cup mascarpone cheese
14 oz cans sweetened condensed milk
1 tsp vanilla extract
1 cup powdered sugar
½ tsp cinnamon
½ cup mini chocolate couverture or mini chocolate chips
powdered sugar for dusting
Instructions
Prepare and bake a 9 x 13 cake according to the directions on the box.
Allow cake to cool completely.
With a wooden spoon handle, or some similary-sized object, begin poking holes in the cake.
You need holes to be fairly big so that condensed milk has plenty of room to get down and soak the cake.
In small bowl reserve ½ cup of the sweetened condensed milk and set aside.
Pour the remaining sweetened condensed milk over the entire cake.
Let it soak in for about an hour in the fridge.
In a large bowl, combine the ricotta, mascarpone and vanilla, and beat until smooth.
Add in the powdered sugar and cinnamon and mix until combined.
Add reserved sweetened condensed milk and mix until combined.
After the cake has absorbed all the milk, spread the cannoli topping evenly over the top.
Garnish with mini chocolate couverture(or mini chocolate chips) and sprinkle with powdered sugar.
Cover cake and allow to set in refrigerator for 2-3 hours.
To me, it's even better the next day, so it's a great dessert to make ahead.
Keep refrigerated.