…a thick, as far as pasta dishes go, hearty meal packed with flavor, perfect for a cold winter day.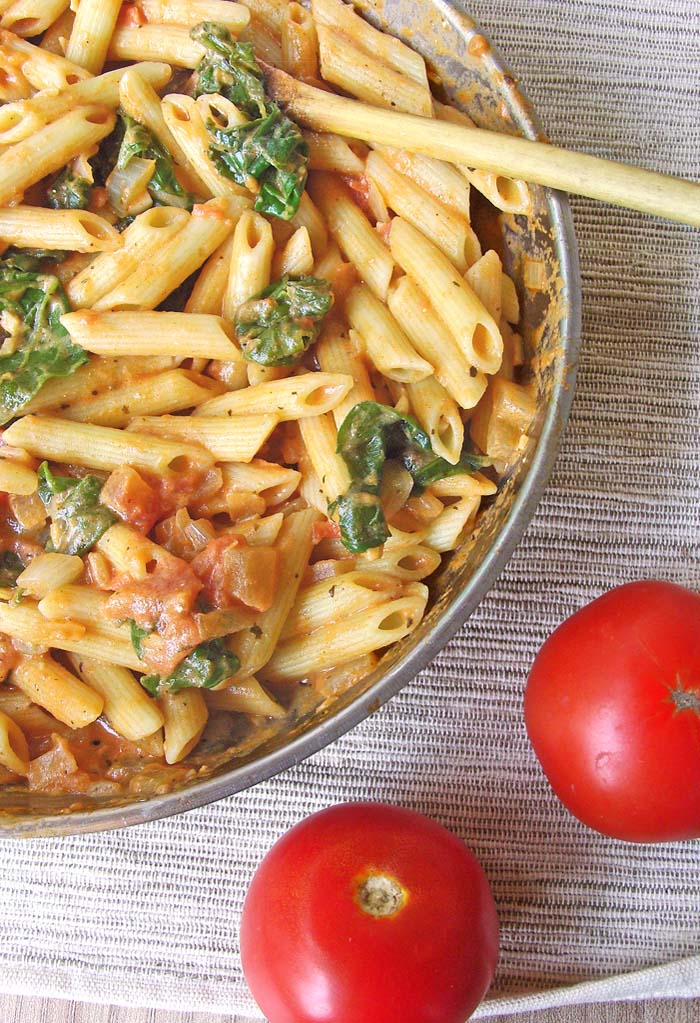 Now that all of the holiday excitement is over, the most wonderful time of the year is immediately replaced with time of year when It's getting dark at 4 something in the afternoon,
constantly cold and you have plenty of time to sit at home doing nothing. But there is good part about this time of year though and that would be cozy blankets and evenings on the couch usually with tomato soup and cozy, comforting, permeate-the-house with delicious simmering smells kind of meals. Something that it makes me want to cook all day long and just eat hearty stews, soups, sauces and pasta.
This Spinach Tomato & Garlic Penne Pasta is just that. It's a thick, as far as pasta dishes go, hearty meal packed with flavor, perfect for a cold winter day.
Do you have 20 minutes to prepare meal ? You do? Well this creamy tomato spinach pasta is the next thing you should really prepare. no joke it is that good!!
Spinach Tomato & Garlic Penne Pasta
Recipe type:
Main Dish, Dinner
Ingredients
2 Tbsp tomato paste
2 oz. cream cheese
¼ cup parmesan cheese, grated
½ lb. penne pasta
9 ounces fresh spinach
1 Tbsp olive oil
1 small onion
2 garlic cloves
15 oz. diced tomatoes
½ tsp dried oregano
½ tsp dried basil
pinch red pepper flakes
fresh ground pepper, to taste
½ tsp salt
Instructions
Fill your pasta pot with water, add salt and let it reach a boil.
Add pasta, cook and stir occasionally until tender (7 to 10 minutes). Drain pasta.
Dice the onion and mince the garlic.
While pasta is cooking, place a large sauce pan over medium heat with olive oil.
When hot, add onions and garlic to sauce pan.
Stir occasionally and cook for about 5 minutes.
Add the diced tomatoes (with juices), oregano, red pepper flakes, basil, salt, and some freshly cracked pepper to the skillet with the onions and garlic. Stir to combine.
Add tomato paste and a ½ cup pf water and stir again until the tomato paste is dissolved into the sauce.
Reduce to medium-low heat.
Add cream cheese and stir until evenly combined.
Add Parmesan cheese and stir until melted.
Add the fresh spinach and gently stir it into the sauce until it has wilted (3-5 minutes).
Add pasta and stir well.
Taste and adjust the salt and pepper as needed.
Serve warm.