This bread is melty and hot and gooey and bubbly. Perfect for watching a football game or having friends over.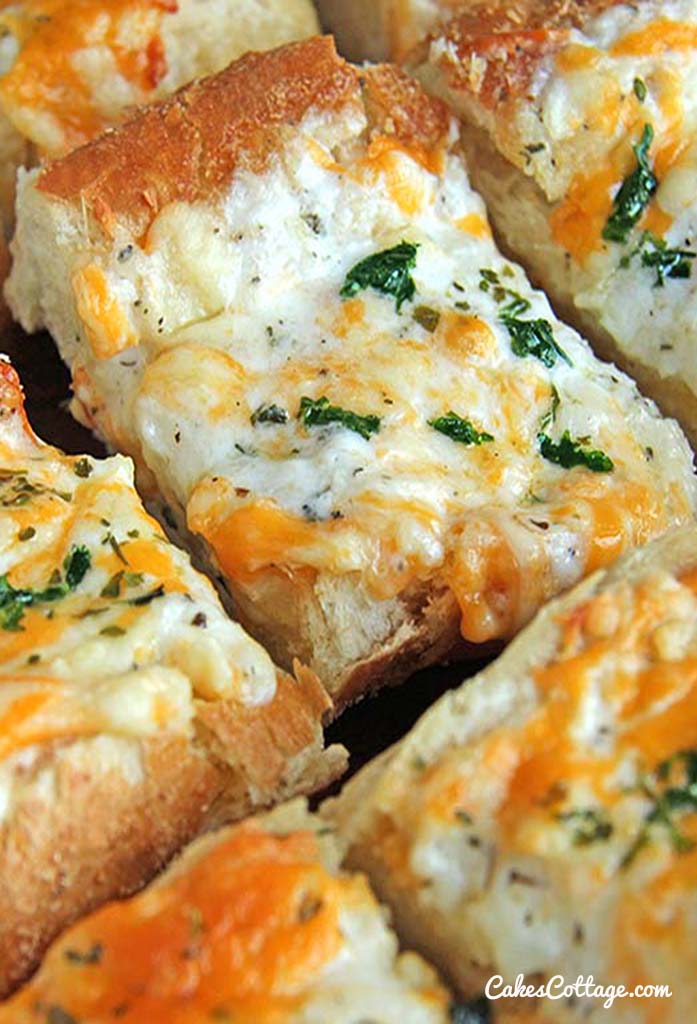 "Man can not live by bread alone" – they say,  but I bet if you added some cheese and garlic to it you could!
Now, as you can see on the picture above, this is some divinely delicious looking cheesy garlic bread.
"Did i hear mumbling from the behind" ??
"You don't love the bubbly wonderfulness of piping hot garlic cheese bread" ??
Write this date on your calendar. Because that's all about to change. This cheesy bread is not just slapping some cheese on a piece of bread. There is the love of cheese that has to go with it, and two surprise ingredients that makes this cheese beyond cheesiness, melty and yummy. Butter and mayo.
I can't think of a better thing to accompany a delicious Italian meal, or watching a football game than this cheesy, buttery garlic bread. Words cannot describe how good this bread is, so please just do yourself a favor and make it. Now! I know it is sinful, but so worth it.
I'll stop talking now and let you start cooking.
Bubbly Cheese Garlic Bread Recipe
Author:
CakesCottage - adapted from Gooseberry Patch
Ingredients
½ cup butter, softened
2 cloves garlic, crushed
½ to 1 cup creamy Italian salad dressing ( or homemade )
1 cup shredded Cheddar
1 cup shredded Mozzarella
2 tsp dried parsley
1 loaf French or Italian bread, halved lengthwise
Instructions
Preheat oven to 350 degrees F.
Combine butter, garlic and salad dressing together in a large bowl.
Arrange bread on a baking sheet, cut-side up.
Spread butter mixture over slices.
Spread the cheese mixture and sprinkle parsley evenly on the bread pieces.
Bake in the preheated oven for 20 minutes,until cheese is melted and bubbly.
Slice each half into 8 pieces; serve warm.