This cake is not only made from scratch but so ridiculously easy to make….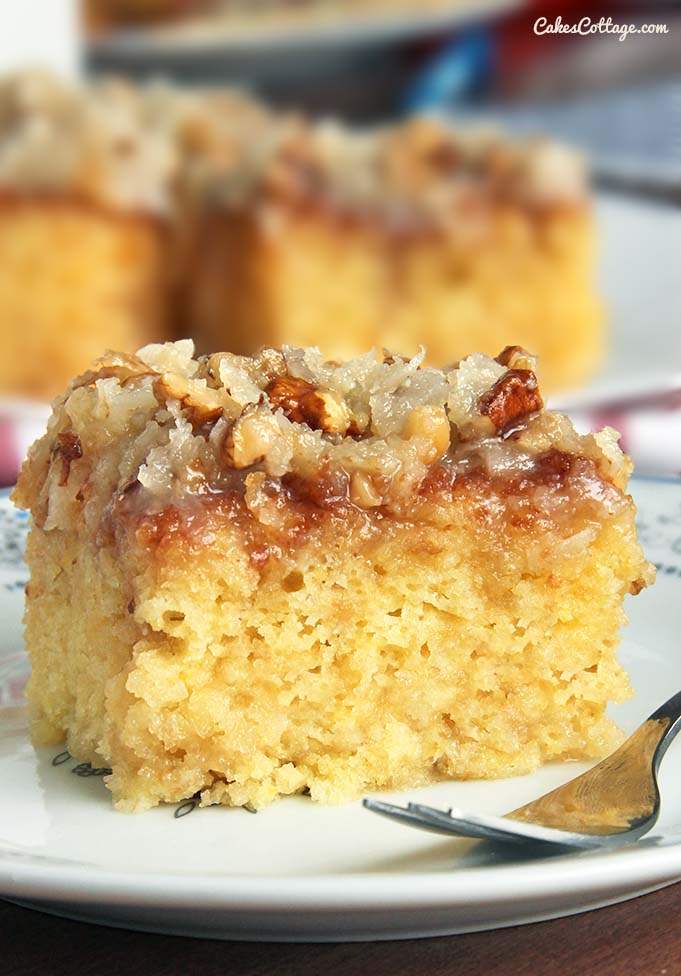 What a wonderful Friday! I have about a million things spinning in my head, and first plan on my to-do list was to work on some blog updates.
Nothing major, just some little tweaks and additions.
Second, sharing some of EASY-DO NOTHING-RECIPES.
What to make tonight for dinner?
Or what kind of cake should I make ?
Naturally I pulled up pinterest with keywords do nothing, easy and went recipe surfing. The first thing I clicked on was Do Nothing Cake, and I was like "OH YEEEAAAH this is it!" while the original source of this cake is unknown, apparently it is an old country/southern/family cake.
Well, this my friends, is so good! The best part about it, is that, it is so easy and packed with flavor! Okay, you actually do have to do a little something to make this cake, but it is actually a very easy, though, as easy as a boxed cake except there is no box in sight!
Do Nothing Cake
Ingredients
Cake :
2 cups all purpose flour
2 cups granulated sugar
2 eggs, slightly beaten
1 tsp vanilla
1 tsp baking soda
pinch of salt
1 large can (20 Oz) crushed pineapple with juice
Frosting :
1 stick (1/2 cup) butter
1 cup sugar
1 can (5½ ounce) evaporated milk
1 cup chopped walnuts or pecans
1 cup shredded coconut
Instructions
Preheat oven to 350 degrees F.
In a large bowl, Whisk together all the batter ingredients until just combined.
Pour into a greased 13×9 baking dish, and bake for 30-40 minutes or until a wooden toothpick, inserted in the middle comes out clean. Don't overbake.
While cake is still baking, prepare the frosting.
Heat the butter, sugar, and evaporated milk in a small saucepan until boiling.
Cook and stir for about 5 minutes, or until slightly thickened.
Remove from heat and add in the coconut and pecans.
Remove the cake from oven, and using a kabob skewer or wooden spoon handle, or some similary-sized object, begin poking holes in the cake.
You need holes so that hot frosting has plenty of room to get down and soak the cake.
Pour frosting over the hot cake, spreading it out to make sure it's all evenly dispersed.
Allow cake to cool for a bit before cutting.
Due to the frosting seeping into the cake, it is very moist!
Enjoy