Skillet Chicken in Onion Sauce – Crispy, golden chicken on the outside and tender on the inside in balsamic caramelized onion cream sauce is a winner of a chicken dinner!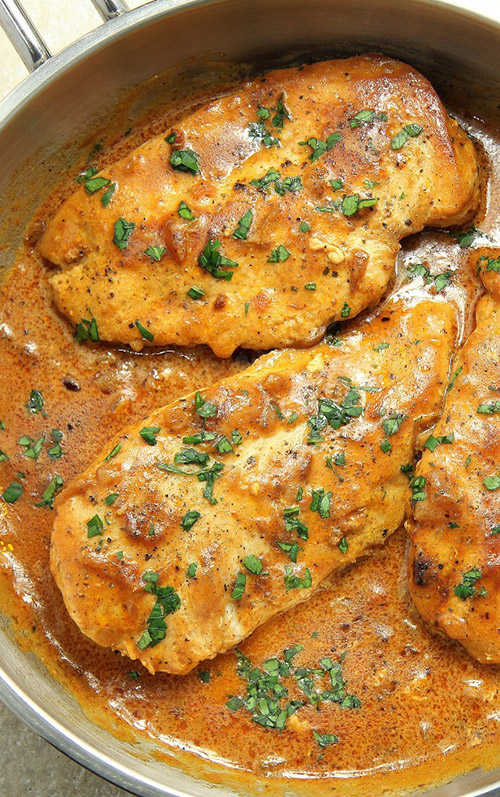 You won't believe how easy it is to put this together!

What Do You Need For Skillet Chicken in Onion Sauce ?
The ingredients to make this recipe are easy to find in pantry-staples.
Here is what you need:
Chicken Breast
White Onion
Olive Oil
Chicken broth
Butter
Spices: Garlic powder, Fresh thyme, Red pepper flakes, Fresh parsley, Salt and Pepper
Sugar
Balsamic vinegar
Heavy cream
Quick Caramelized Onion
The heart of this skillet chicken in onion sauce is the cream sauce with rich and savory flavor of French onion soup prepared with quick Caramelized Onion.
In this recipe, I have shared how to caramelize onions quickly (in just 10-15 minutes) and are still sweet loaded with flavor.
To quickly caramelize onions, Sauté onions in same pan in which You first cook the chicken. This way onions pick a caramelized color and flavor from the flavor bits of chicken release while pan searing it.
You can also use few ingredients to help caramelize onions better. i.e. sugar, butter, spices, and Balsamic vinegar. You will be surprised, how only a 2 tsp sugar and butter helps onion sweat quickly and caramelize faster.
Mix in Balsamic Vinegar at the end to give onion a depth flavor as if these were slow cooked for an hour where it just takes 10-15 minutes to get caramelized onion perfectly sweet and delicious.
When onions are caramelized, heavy cream and chicken broth makes an onion creamy sauce for chicken that is simply irresistible.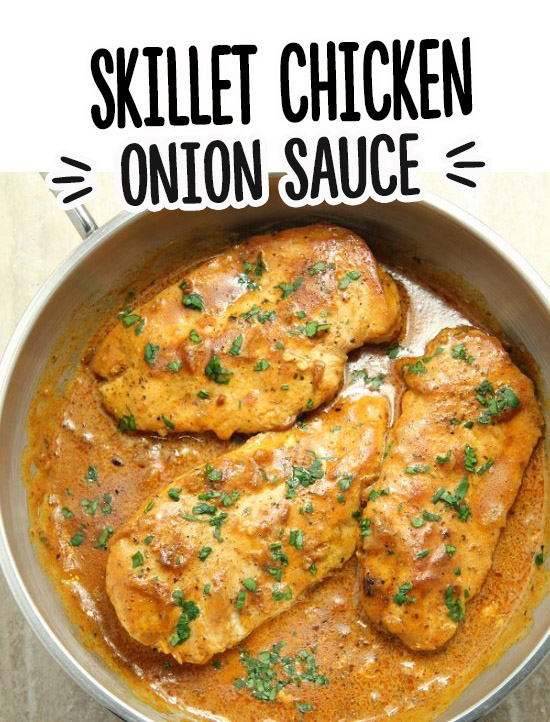 How to Serve : 
For a complete meal, serve skillet chicken with onion sauce over a bed of pasta. For a low carb meal, pair with green salad or cauliflower rice.
Tips for Success
Loosely cover chicken breasts in parchment paper and then pound gently with back of a heavy bottom pan or meat pounder until breasts are about 1/4 inch thick. This tenderizes the chicken and also makes it super quick to cook. (just 2-3 minutes per side)
While cooking chicken, make sure not to press chicken with spatula because that will release all good juices and chicken will end up being dry.
Don't wipe skillet after searing chicken. This is the flavor base for quick caramelized onions.
For lite sauce, replace heavy cream with half and half.
You can also cook chicken thighs instead of chicken breast. Thighs cook even more moist and juicier.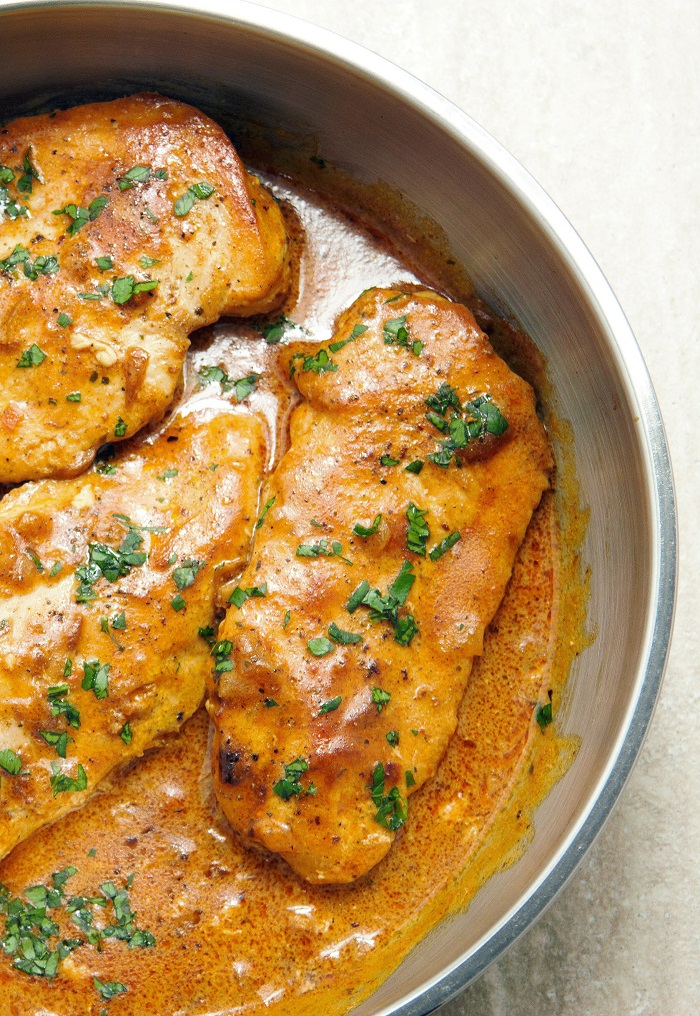 I hope you love this delicious and easy recipe – be sure to give it a review below!
Also don't forget to follow Cakescottage on Facebook, Pinterest, and Youtube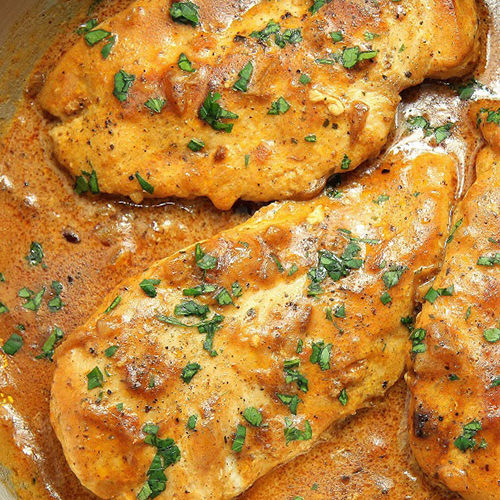 Skillet Chicken in Onion Sauce
Skillet Chicken in Onion Sauce - Crispy, golden chicken on the outside and tender on the inside in balsamic caramelized onion cream sauce is a winner of a chicken dinner!
Ingredients
4

boneless skinless chicken breast cutlets

1/2

teaspoon

garlic powder

Salt & pepper to taste

1

tablespoon

olive oil

4

tablespoons

butter

1

medium onion

sliced

1

teaspoon

fresh thyme

1/2

teaspoon

red pepper flakes

2

teaspoons

sugar

4

teaspoons

balsamic vinegar

1/2 - 1

cup

chicken broth

If the sauce is too thick, add a little more chicken broth

1

cup

heavy cream

Fresh chopped parsley

optional to taste
Instructions
Pat the chicken dry and sprinkle with the garlic powder and some salt & pepper. Add oil to a large skillet and turn the heat to medium-high.

Allow it to become hot, add the chicken and cook it for about 6 to 12 minutes or until golden brown.

Transfer the chicken onto a clean plate. In the same skillet, add butter and onion.

Sauté the onion until it's softened and lightly browned (about 10-15 minutes, depending on how thick you sliced the onion), stirring them as needed to prevent from sticking.

Add balsamic vinegar, red pepper flakes, thyme, and sugar. Stir until well mixed. Simmer for a few minutes to cook the vinegar.

Stir in the chicken broth and scrape up any brown bits from the bottom of the pan.

Stir in the heavy cream until you've got a smooth sauce, and let it heat through for a couple of minutes (ensure it doesn't bubble too much or else it could curdle).

Add the chicken back to the skillet and spoon some sauce over top. Season with extra salt & pepper if needed, and serve immediately with some chopped parsley sprinkled over top.
Notes
For an extra boost of flavor, I marinated the chicken in garlic, olive oil and spices (instead of using just salt and pepper).
The Marinade will help the chicken adsorb a lot of flavors and that really enhances the overall flavor.