Delicious pumpkin muffins filled with cream cheese and topped with a cinnamon streusel.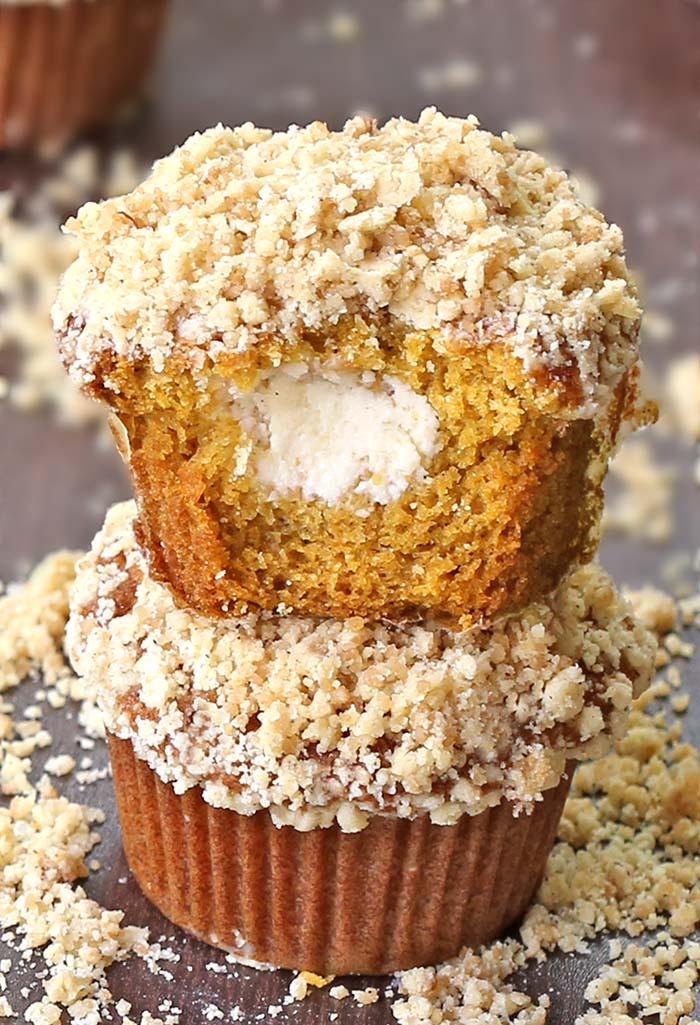 The scent of freshly baked pumpkin has tickled my nose for days.
The saleswoman at the local grocery store, our main supply of pumpkins, has been probably wondering why I'm nowhere to be found, because in recent years I have been a regular at least two times a week.
So, I decided to make it right…
Please tell me you're hungry, because it's officially Pumpkin month here at CakesCottage.
Saying that I love pumpkin is an understatement. I eat it as much as I can, mainly during the season. Autumn isn't the only time we should enjoy pumpkin goodness. Bake up these fragrant muffins whenever you want to feel cozy and warm. Pumpkin is available year-round, whether fresh or canned, as a purée, so there is only 30 minutes between whipping these up and enjoying them with a cup of tea.
Wishing you all a wonderful new season shared with those you love! And of course, much more delicious baking with pumpkin!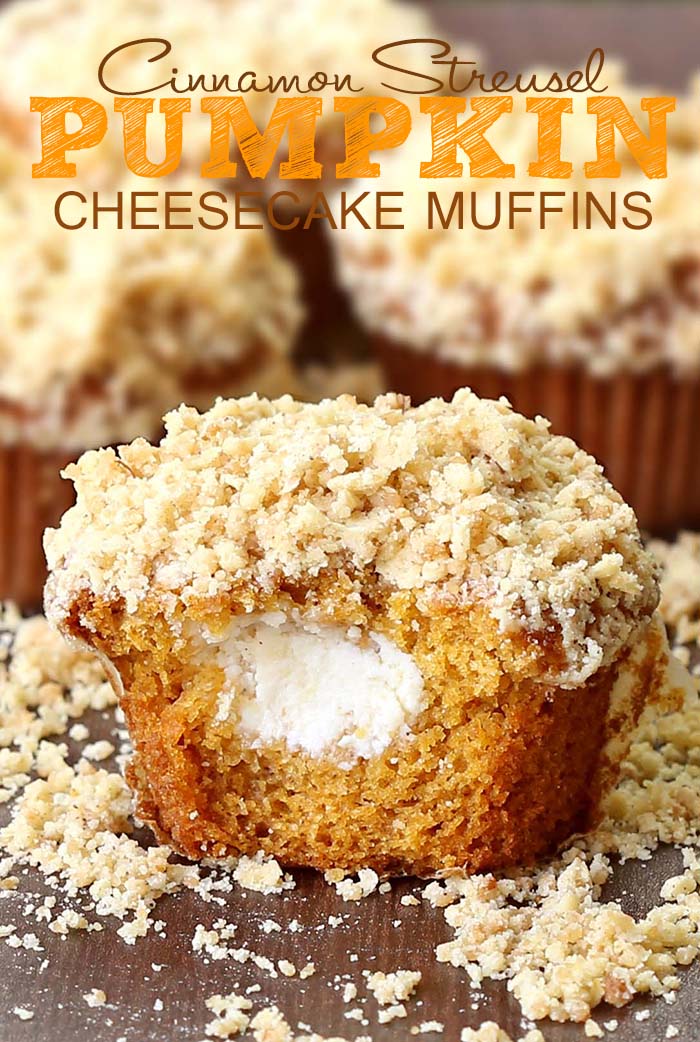 Pumpkin Cheesecake Muffins
The perfect combination of spicy pumpkin and dreamy cheesecake topped with a cinnamon streusel.
Ingredients
Filling
8-ounce package cream cheese, softened
½ cup powdered sugar
1 large egg yolk
¼ teaspoon vanilla
Topping
½ cup all-purpose flour
¼ cup brown sugar, packed
½ stick unsalted butter
1 tsp ground cinnamon
Muffins
3 cups all-purpose flour
1 tsp salt
1 tsp baking soda
1 tsp ground cinnamon
1 Tbsp pumpkin pie spice
4 large eggs
2 cups brown sugar
2 cups pumpkin puree
1¼ cups vegetable oil
Instructions
To prepare the filling, mix together cream cheese, egg yolk, powdered sugar, and vanilla in a medium bowl until smooth. Transfer to the freezer until ready to use.
To prepare the streusel, use a fork or your fingers to mix together flour, brown sugar, butter and cinnamon until they are evenly combined and crumbly. Set aside.
Preheat the oven to 350 degrees.
Line two standard 12-well muffin sheets with 12 liners or spray with non-stick spray. Set aside.
Combine the flour, cinnamon, pumpkin pie spice, salt and baking soda in a large bowl.
In a separate bowl using an electric mixer on medium-low speed combine the eggs, sugar, pumpkin puree and oil until blended. Add in the flour mixture, mix just until incorporated.
Spoon 1 Tablespoon of pumpkin muffin batter into the muffin cups, spreading it to cover the bottom.
Scoop about 1 spoonful (not quite a full Tablespoon) of cheesecake filling, into each muffin well, then top each with another Tablespoon of muffin batter, or however much batter is needed to fill the cups all the way to the top.
Sprinkle each muffin evenly with streusel topping and gently press the topping down into the muffin so it sticks.
Bake the muffins until a toothpick inserted into the cake part of one (not into the cream cheese filling) comes out clean, about 25 minutes.
Remove the muffins from the oven, and as soon as you're able to handle them, transfer them to a rack.
* Instead of the pumpkin pie spice, you can use 1/2 teaspoon cinnamon, 1/8 teaspoon cloves, 1/4 teaspoon ginger, 1/8 teaspoon nutmeg.