One-Pot Cheesy Chicken with Broccoli and Rice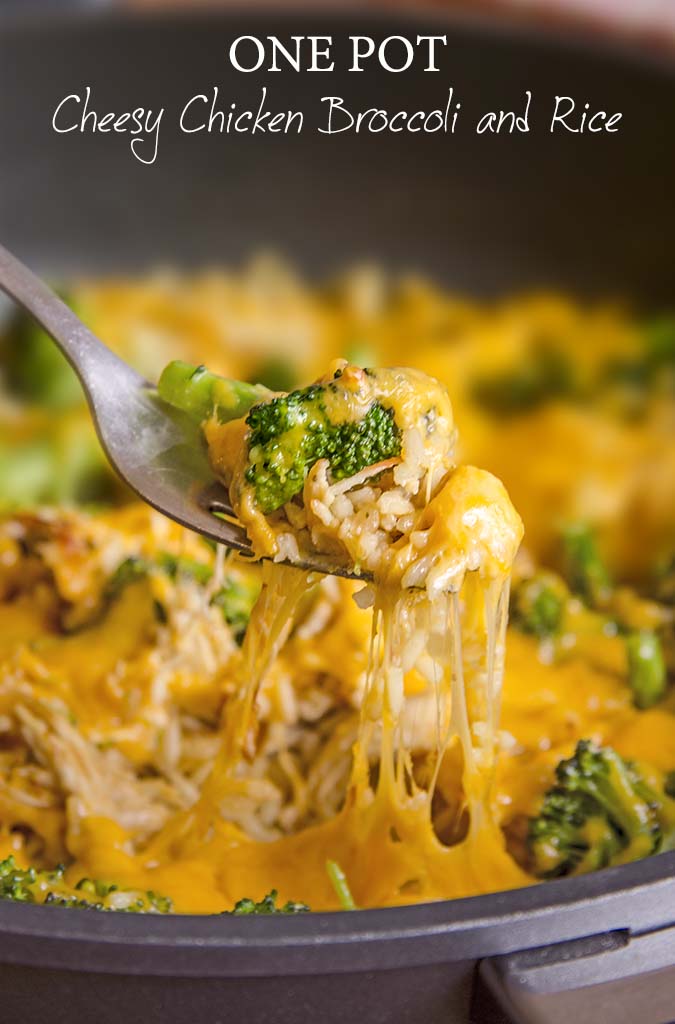 1 pound shredded chicken breast
3 tablespoons extra virgin olive oil
½ medium yellow onion, diced finely
2 cloves of garlic, minced
1 large bunch of fresh broccoli ( 2½ cups broccoli florets) cut into bite sized pieces
2½ cups of chicken broth
1 cup uncooked extra long grain white rice
2 cups shredded extra sharp cheddar cheese
1 teaspoon of kosher salt and freshly ground pepper to taste
Add olive oil to a large skillet and heat for a minute over medium/high heat.
Season chicken with salt and pepper and then add to the hot pan.
Cook chicken for five minutes, until brown.
After five minutes, reduce heat to low, add onion.
Sauté onion for a couple of minutes.
Add the garlic and cook for one minute.
Push chicken to one side of the pan and add additional tablespoon of olive oil to other side.
Add the uncooked rice in the olive oil and saute it for a couple of minutes to toast the rice.
Add the chicken broth to the pan and bring to a simmer with the lid on.
Simmer rice and chicken broth mixture for fifteen minutes.
Sprinkle the broccoli evenly over the chicken and rice mixture and stir to combine.
Continue to cook covered another 8 minutes on low, or until broccoli and rice are both tender.
Remove from heat and stir in half a cup of cheese.
Sprinkle remaining cheese on top, place cover back on the pan and let it sit for 1-2 minutes or until cheese has melted.
Serve.
Reheat in microwave or in a pan with a little bit of warmed chicken broth.
Dish will last four days in the refrigerator in an airtight container.
Recipe by
Cakescottage
at https://cakescottage.com/2015/01/28/one-pot-cheesy-chicken-broccoli-rice/