Sliced Baked Potatoes with Cheese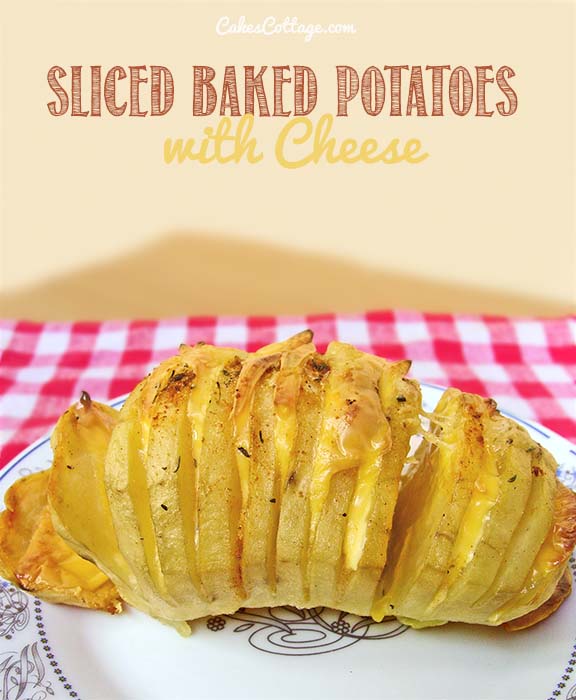 Recipe type:
Appetiser, Main Dish
4 large baking Potatoes
salt and pepper
4 tbs melted butter
8 oz Cheddar Cheese or Parmigiano-Reggiano, sliced thinly.
⅛ teaspoons Garlic Powder.
2-3 Tbs chopped fresh herbs (or 2-3 tsp dried):
try basil, thyme, ground red pepper, oregano, chives, or Italian seasoning
Preheat oven to 425° F.
Scrub, rinse and dry potatoes.
Keeping potatoes in whole form, cut into ¼-inch-thick slices almost all the way through to the bottom. To avoid cutting potatoes all the way through, place the handle of a wooden spoon next to the potato to stop the knife from cutting too far.
Put potatoes in a baking dish, then fan the slices open slightly.
Slice the butter into thin pieces and stuff them in between every other slice of the potato, without breaking slices off.
Gently sprinkle herbs in between slices and on top of potatoes and sprinkle with salt and pepper.
Bake potatoes for about 40 minutes or until tender.
To test tenderness, pierce a portion of a potato with the tip of a pointed knife or tines of a fork.
Remove dish from oven and insert cheese into slices, being careful not to bust the potatoes.
Return to oven for another 10 minutes.
Remove and serve!
Recipe by
Cakescottage
at https://cakescottage.com/2014/04/30/sliced-baked-potatoes-cheese/