Jelly Worms with Oreo Dirt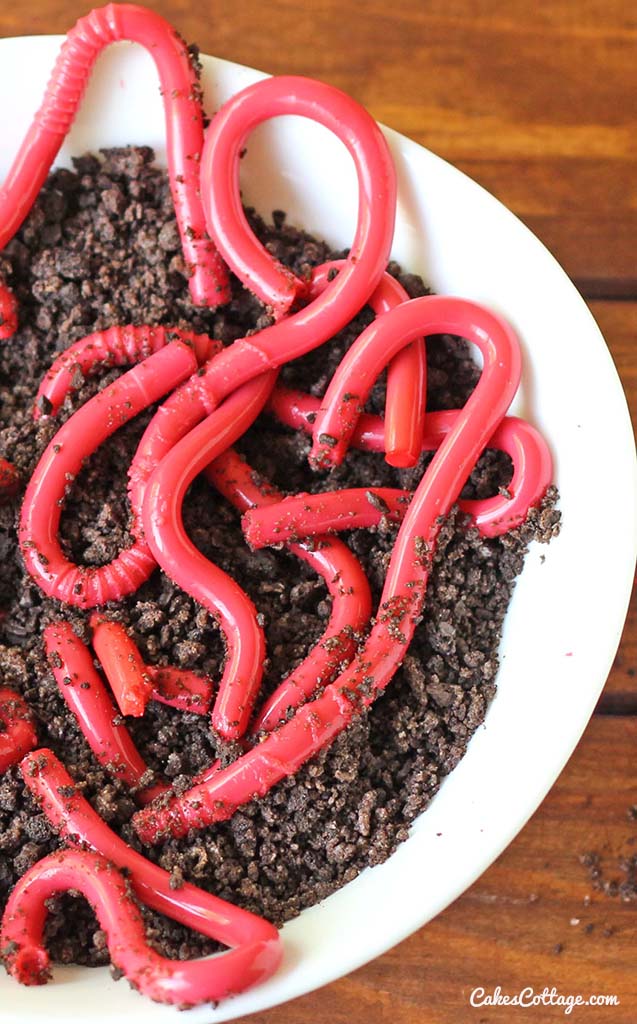 1 package (6 ounces) raspberry or grape flavor gelatin
3 envelopes unflavored gelatin
3 cups boiling water
¾ cup whipping cream (to make the worms cloudy)
12 to 15 drops green food coloring
100 straws with bendable necks (important!) (or enough to fill your container)
Tall container (1 quart or 1 liter carton of milk)
1 package (about 15 ounces) Oreo Cookies
Combine gelatins in bowl and add boiling water.
Let it cool to lukewarm about 20 minutes and then add the whipping cream and 15 drops green food coloring.
Meanwhile, gently pull straws to extend to full length.
Stand the straws upright in a large container - making sure the end is firmly pressed against the bottom of the container. Wrap the ends of the straws tightly in cling film.
Gently pour the jelly into the straw until it reaches the top. Leave in the fridge to set.
There are multiple ways you can remove the worms from the straws.
You can roll a rolling pin over the straws or use your fingers and squeeze them out.
Cover and chill until ready to use, at least 1 hour or up to 2 days.
Worms will hold at room temperature up to 2 hours.
Crush the Oreo cookies into fine crumbs using a food processor (or, place the cookies in a resealable plastic bag and crush with a rolling pin).
Arrange jelly worms in a bowl with oreo crumbs and serve.
Recipe by
Cakescottage
at https://cakescottage.com/2015/09/13/jelly-worms-oreo-dirt/