Chocolate Lasagna Cupcakes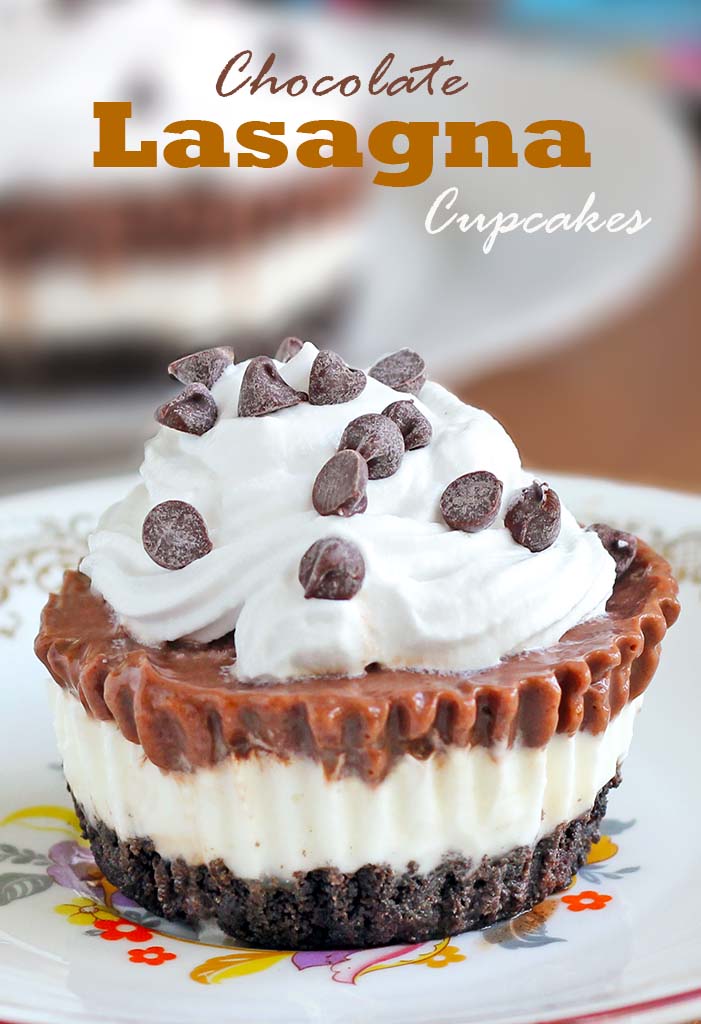 Author:
CakesCottage adapted from CenterCutCook
1 package Oreos (36 cookies) use the WHOLE cookie, cream too !
6 tablespoons butter, melted
8 ounce cream cheese, softened
2 tablespoons of milk
¼ cup white sugar
12 ounces Cool Whip, divided
2 – 3.9 ounce packages Chocolate Instant Pudding
3¼ cups milk, cold
1 cup mini chocolate chips
Crush Oreo cookies in a food processor.
Prepare the cupcake pan and set the paper liners.
Put the crushed Oreo in a large bowl and add the butter.
stir until you get a thick mixture.
Using a spoon, put Oreo crumbs mixture in each cupcake mold,
and firmly press the crumbs into the bottom of each cup.
Next comes the cream cheese layer. Mix cream cheese until fluffy, add 2 Tbsp of milk, ¼ cup of sugar and 1¼ cups of Cool Whip.
Use the spoon and evenly cover over Oreo crumb.
Make the chocolate pudding according to the instructions.
Scoop a tablespoon and spread the pudding evenly on cream cheese layer.
Chill for 5-10 mins.
Spread the rest of the Cool Whip on the top and sprinkle with the mini chocolate chips.
Put it in the freezer for at least an hour to freeze before serving .
Recipe by
Cakescottage
at https://cakescottage.com/2015/07/29/chocolate-lasagna-cupcakes/