Summer Berry Cheesecake Poke Cake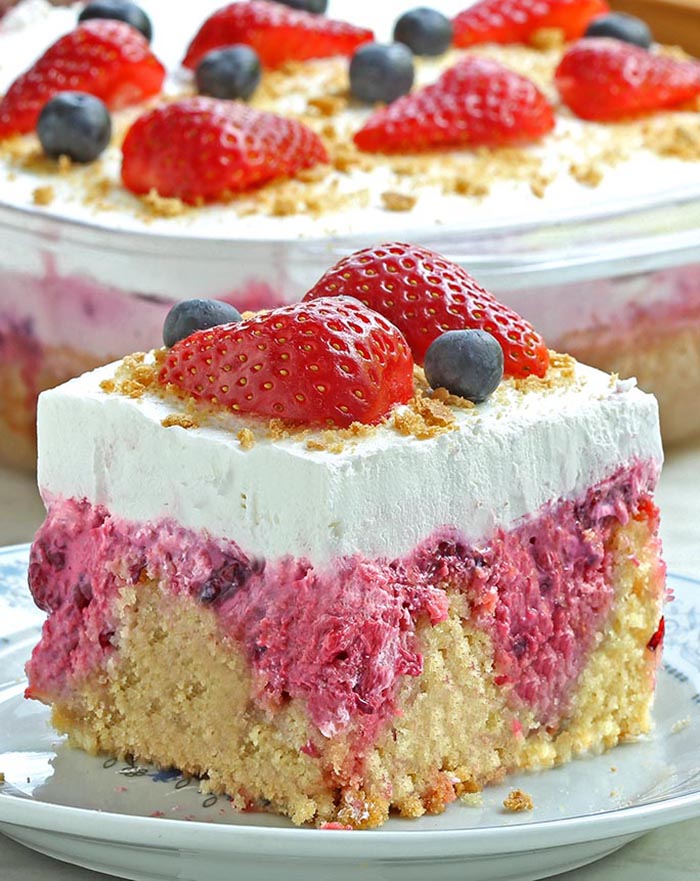 1 vanilla cake mix, bake according to ingredients on the box
2 cups strawberry, stems removed, mashed
8 oz cream cheese, softened
1 can (14 oz) sweetened condensed milk
1 cup blueberry, mashed
1 cup raspberry, mashed
8 oz frozen whipped topping, thawed
graham cracker, crumbled, for topping
strawberry, sliced, for decoration
blueberries, for decoration
Preheat oven to 350°F.
Prepare and bake your favorite vanilla 9 x 13 cake according to the directions on the box.
In a large bowl, combine the mashed strawberries, cream cheese and condensed milk, and whisk until smooth.
Add the mashed blueberries and raspberries, stir just once or twice so the colors remain separated.
Allow cake to cool completely.
With a wooden spoon handle, or some similarly-sized object, begin poking holes in the cake, at least 3 rows of 4 holes in the cooked cake, making 12 holes all over the top of the cake.
You need holes to be fairly big so that cheesecake mix has plenty of room to get down and soak the cake.
Pour cheesecake mixture over the top of the cake, making sure it goes through the holes. Some of the mixture will still stay on top, which is okay. Refrigerate for 10-20 minutes.
Spread the whipped topping evenly over the cake. Sprinkle graham crackers on top and arrange sliced strawberries and blueberries.
Chill the cake for at least 3 hours or up to overnight.
Enjoy!
Recipe by
Cakescottage
at https://cakescottage.com/2019/06/10/summer-berry-cheesecake-poke-cake/